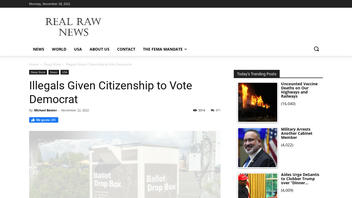 Did the Department of Homeland Security and the U.S. Citizenship and Immigration Services give illegal immigrants citizenship in exchange for voting for Democrats for the rest of their lives? No, that's not true: A Homeland Security representative pointed out the satire disclaimer that can be found on the Real Raw News website and linked to an article debunking Real Raw News headlines. No reputable news sites have reported on this claim either.
The claim appeared in an article published by Real Raw News on November 22, 2022, titled "Illegals Given Citizenship to Vote Democrat" (archived here). It opened:
A U.S. military investigation into the depth of midterm election fraud found that 160 former illegal immigrants who voted Democrat were given U.S. citizenship only weeks ahead of the election.
Users on social media only saw this title, description and thumbnail:
According to the article, the Department of Homeland Security (DHS) and the U.S. Citizenship and Immigration Services, a sector of DHS, unlawfully allowed illegal citizens the opportunity to gain American citizenship if they promised to vote for Democratic candidates in elections.
Lead Stories reached out to DHS about the claim. In a November 28, 2022, email, DHS representative Victoria Palmer sent a screenshot of Real Raw News' About Us page with an arrow highlighting the site's disclaimer. More information about Real Raw News' disclaimer can be found below. Palmer also sent a link to a 2021 Politifact article on Real Raw News' sensational headlines and why the headlines are wrong.
Media outlets like Reuters and NBC News have not reported on the claim put forth by Real Raw News. Examples of searches for this claim on those outlets' websites can be found here and here, respectively.
Real Raw News has a long history of publishing false claims in mock news stories, many of them about convictions and executions of various public figures at Naval Station Guantanamo Bay in Cuba. For example, the site reported former Secretary of State Hillary Clinton was hanged (she wasn't); former White House Chief of Staff John Podesta was executed (he wasn't); and that "the military" convicted former Attorney General William Barr on charges of treason (it didn't).
The website for Real Raw News includes a disclaimer that warns readers not to take its content too seriously. Specifically, it says:
Information on this website is for informational and educational and entertainment purposes. This website contains humor, parody, and satire. We have included this disclaimer for our protection, on the advice on legal counsel.

(Source: RealRawNews.com screenshot taken Tue Aug 3 16:39:48 UTC 2021)
Lead Stories has covered claims published by Real Raw News in the past. Previous Lead Stories debunks of Real Raw News items is collected here.