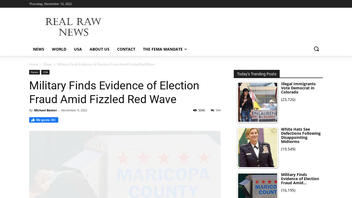 Did the U.S. military find "evidence of election fraud amid fizzled red wave"? No, that's not true: This claim was made on a website known for publishing fabricated content.
The claim originated in an article published by Real Raw News on November 9, 2022, titled "Military Finds Evidence of Election Fraud Amid Fizzled Red Wave" (archived here). It opened with the headline:
Military Finds Evidence of Election Fraud Amid Fizzled Red Wave
Users on social media saw this title, description and thumbnail:
The article says, in part:
At U.S. Army Cyber Command headquarters in Fort Gordon, Georgia, cyber security analysts began noticing election irregularities early in the day. Approximately 35% of vote tabulators--electronic devices into which ballots are fed and counted--experienced what the Maricopa County Elections Department called a 'technical hiccup,' which persisted for several hours. Unbeknownst to election officials, White Hats had undercover boots on the ground as the 'glitch' forced voters to cast ballots elsewhere or forego voting altogether. At least one machine had active Wi-Fi and was connected to the internet, a Cyber Command source told RRN.
While this article has made several claims, this fact check will only focus on the claim that the military found evidence of election fraud. This article does not name any official sources -- just anonymous sources.
A Google search using the keywords "Military Finds Evidence of Election Fraud" did not produce any evidence to substantiate this claim.
Lead Stories reached out to the Office of the Secretary of Defense and the Maricopa County Elections Department. This fact check will be updated if any responses are received.
Real Raw News has a long history of publishing false claims in mock news stories, many of them about convictions and executions of various public figures at Naval Station Guantanamo Bay in Cuba. For example, the site reported former Secretary of State Hillary Clinton was hanged (she wasn't); former White House Chief of Staff John Podesta was executed (he wasn't); and that "the military" convicted former Attorney General William Barr on charges of treason (it didn't).
The website for Real Raw News includes a disclaimer that warns readers not to take its content too seriously. Specifically, it says:
Information on this website is for informational and educational and entertainment purposes. This website contains humor, parody, and satire. We have included this disclaimer for our protection, on the advice on legal counsel.

(Source: RealRawNews.com screenshot taken Tue Aug 3 16:39:48 UTC 2021)
Lead Stories has covered claims published by Real Raw News in the past. Previous Lead Stories debunks of Real Raw News items are collected here.