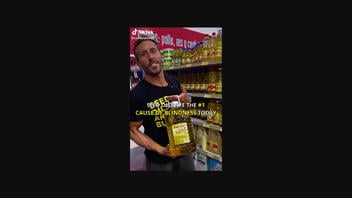 Is the consumption of seed oils the leading cause of blindness in the world? No, that's not true: The American Academy of Ophthalmology (AAO) told Lead Stories that eating seed oils does not cause blindness, and there are no definitively proven adverse eye effects related to the consumption of seed oils or linoleic acid.
The claim appeared in a TikTok video on November 6, 2022 (archived here). The caption read:
​​Seed oils are the #1 cause of blindness in the world today! Seed oils like canola, corn, soybean, and sunflower oil contain LARGE amounts of an omega-6 polyunsaturated fatty acid- linoleic acid... Linoleic acid accumulates in our tissues, including the delicate cells of the back of the eye- the retina... And there it can oxidize and break down into harmful compounds like HNE which are well know to be damaging for your body.... Is it any surprise that MANY studies consistently show strong associations between intake of seed oils and macular degeneration - the leading cause of blindness in the world today... Why aren't more doctors, ophthalmologists especially, talking about this?? If seed oils are so bad for our eyes, why do we think they are good for our hearts? The American Heart Association recommends against saturated fat and for seed oils like canola oil.... The world has gone mad! If you want your eyes to work well for your whole life, avoid seed oils like the plague...

Below is how the post appeared at the time of writing: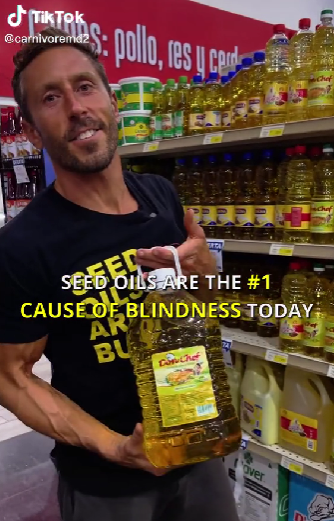 (Source: TikTok screenshot taken Tues Nov 8 17:48:00 2022 UTC)
"Leading causes of blindness are eye diseases, the top three being: diabetic eye disease, glaucoma, and macular degeneration," said Vered Hazanchuk, AAO public relations manager, in an email to Lead Stories on November 9, 2022.
Macular or age-related macular degeneration (AMD) is a common eye disorder that develops as the eye ages. It's associated with damage to the macula, a part of the retina that controls sharpness and forward-facing vision. Although the cause of AMD is not known, the Mayo Clinic suggests it may be "affected by a combination of heredity and environmental factors, including smoking, obesity and diet."
The Centers for Disease Control and Prevention (CDC) confirms that eye disease is the leading cause of blindness in the U.S. -- not the consumption of seed oils:
The leading causes of blindness and low vision in the United States are primarily age-related eye diseases such as age-related macular degeneration, cataract, diabetic retinopathy, and glaucoma. Other common eye disorders include amblyopia and strabismus.
As of October 2022, the World Health Organization (WHO) also reported that recently available figures indicate the leading causes of vision impairment globally were AMD, cataract, diabetic retinopathy and glaucoma.
While there is limited evidence to link the consumption of linoleic acid, a compound found in some seed oils, to people with eye diseases like AMD, no causal relationship has been established at this point.
Linoleic acid is a naturally occurring polyunsaturated fatty acid found in plant cells and some seed oils. Lead Stories spoke with Melissa Prest, a Chicago-based registered dietician nutritionist and spokesperson for the Academy of Nutrition and Dietetics. In an email sent on November 10, 2022, Prest said that linoleic acid is an essential part of the human diet, but can be overconsumed because it is present in foods like corn chips, pizza, bread, and salad dressings, as well as processed meats.
"Linoleic acid is a type of fat that our bodies do not produce on their own and so we must get it from our foods," said Prest. "Linoleic acid is an omega-6 fatty acid and it is used in our body as a structural component of cell membranes and as a source of energy."
The TikTok video claims two studies have "clearly associated seed oil consumption with increased rates of macular degeneration." A closer look at the cited research proves this is not the case. Both studies found associative relationships between the consumption of certain foods and their effects on health conditions that may be linked to AMD, but neither established a causal relationship between eating seed oils, thus linoleic acids, and blindness.
The first study, published in 2001 in JAMA Ophthalmology, identified potential risk factors for retinal disorders by evaluating the relationship between the consumption of some fats and the risk for advanced AMD, which the study explicitly stated was the "leading cause of irreversible blindness in adults." Researchers studied 349 people at five U.S. clinical ophthalmology centers who were 55 to 80 and had been diagnosed with AMD within the previous year.
The study did not prove seed oils caused AMD. Rather, the findings "raised the possibility that some individual dietary fats, not necessarily total fat consumption, increase or decrease the risk for advanced macular degeneration." Linoleic acid was shown to be a potential risk associated with AMD, but was not proven to cause the condition. The topic requires further evaluation, the researchers concluded.
A 2009 study published in JAMA Ophthalmology was said in the claim video to have come to "the exact same conclusion." It did not. This study assessed the relationship between dietary fatty acids -- not specifically linoleic acid -- and AMD across over 3,600 Australians. Certain foods, like fish, were found to protect against early AMD while diets low in linoleic acid were shown to hold potential benefits for eye health. Again, the study did not establish a causal relationship between the consumption of linoleic acid and blindness.
Of the studies above, Prest added that participants did not report "how much linoleic acid-rich foods were consumed, which foods were consumed, and for how long."
"We also do not know if their diets were lower in nutrients found to be protective against the development of age-related macular degeneration. So, it is unclear if the development of age-related macular degeneration was because of high linoleic-acid intake or lower intake of protective nutrients or a combination of both or if there were some other causes," she added.
"At this time, we need more evidence to conclusively say whether or not seed oils cause blindness."
None of the research presented in the video provided substantial evidence that linoleic acid found in seed oils cause blindness. Furthermore, eating seed oils is not the number one cause of blindness in the world -- that is eye disease.