STORY UPDATED: check for updates below.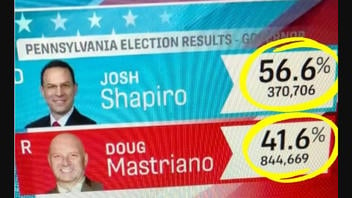 Do incorrect numbers posted to on-screen graphics during a live streamer's coverage of Election Night prove there was election fraud in the 2022 Pennsylvania governor's race? No, that's not true: Those graphics are not produced by election officials and are not official results. They are a live-streaming broadcaster's responsibility.
Anchors during a live broadcast of Right Side Broadcasting Network (RSBN) on Election Night, November 8, 2022, noticed errors in the proportions of votes attributed to Republican Doug Mastriano and Democrat Josh Shapiro in a screen graphic. It was taken down almost immediately. The next time the show aired information about the race the percentage numbers were correct.
The claim that the hiccup was evidence of fraud appeared in an Instagram post on November 9, 2022. It opened: "Anyone care to explain this from last night?" Commenters said:
Stolen elections ... fraudulent voting
This is what the post looked like on Instagram at the time of writing: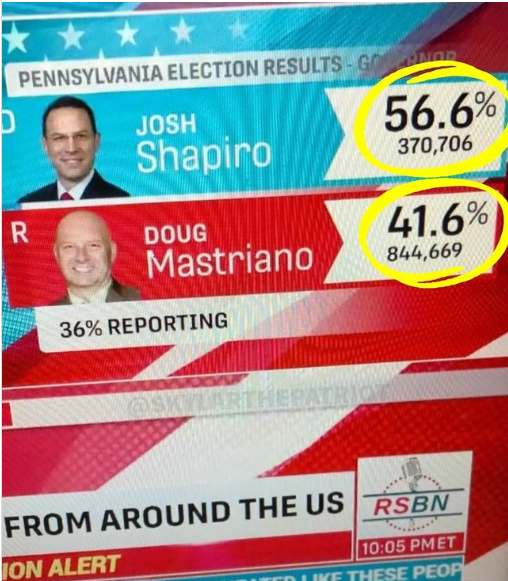 (Source: Instagram screenshot taken on Thurs Nov 10 23:58:02 2022 UTC)
The image is a screenshot of the RSBN live Election Night broadcast. In a video of the night on the RSBN website, the graphic appears at 50:12 as the anchors, Brian Glenn and Vanessa Broussard, discuss the election night returns. It shows Shapiro with 370,706 votes and "56.6%" and Mastriano with 844,669 and "41.6%." The error is a swap of which votes go with which candidate, as well as which percentage would be bigger. The percentages don't add up to 100, but that's because there were three other candidates in the race.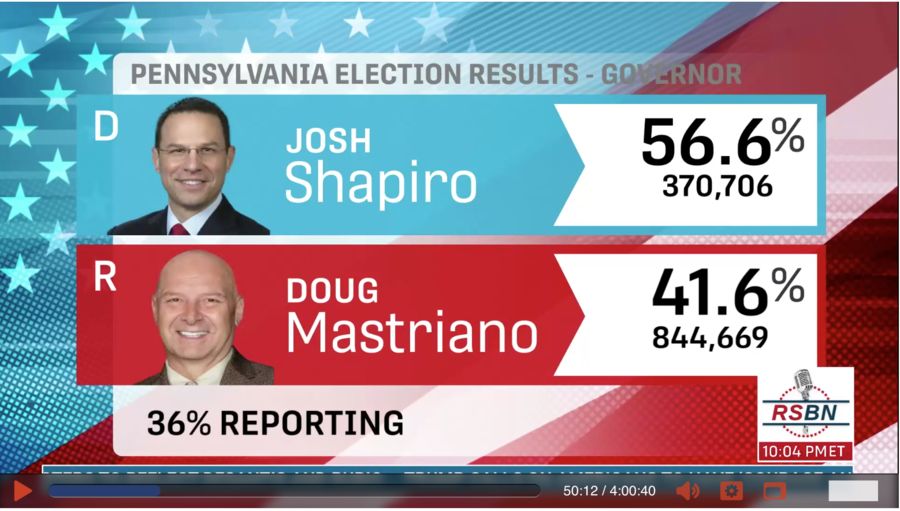 (Source: RSBN website screenshot taken on Thurs Nov 10 23:40:31 2022 UTC)
With the graphic on-screen, Glenn says, "OK, well, 36% reporting there on Mastriano. 56.6% for Shapiro. We've got some room to make up here."
A split screen shows Broussard and Glenn alongside the graphic. At 51:03 Broussard appears to touch the microphone in her ear and points ahead, seeming to notice the numbers are not correct.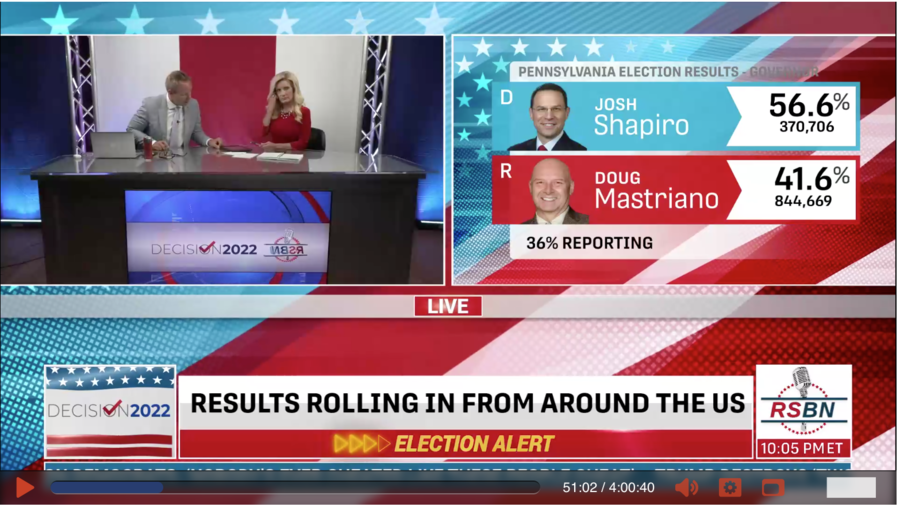 (Source: RSBN website screenshot taken on Thurs Nov 10 23:42:16 2022 UTC)
At 51:08 she says, "I'm a little confused at this graphic, Brian. Correct me if I'm wrong. Yes, the math does not add up."
The video cuts to a live shot of former President Donald Trump's party at his Mar-a-Lago home. Broussard says, "so if you can correct me there in the back."
The broadcast continues and the next report on the Pennsylvania race for governor, at the 2:08:14 mark, features an updated graphic: Shapiro with 2,185,911 votes at 54.6% and Mastriano with 1,744,382 votes with 43.6%.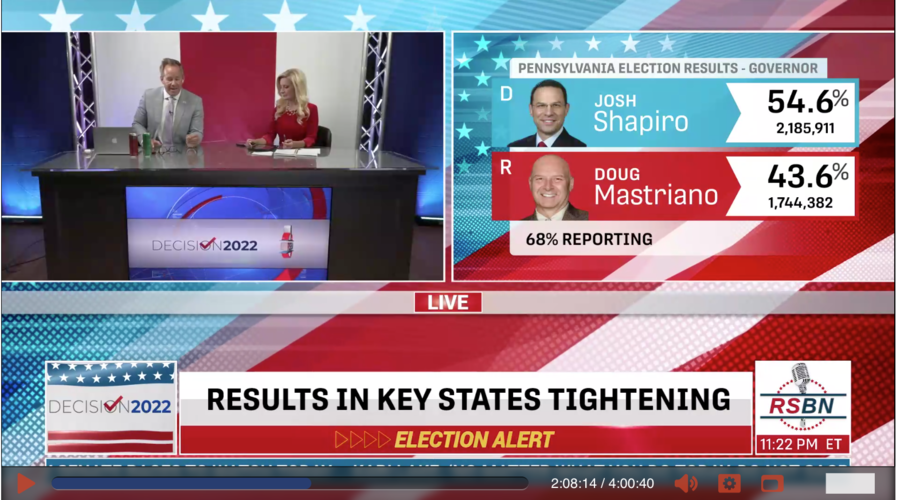 (Source: RSBN website screenshot taken on Thurs Nov 10 23:44:36 2022 UTC)
The original, mistaken graphic was due to human error and "not an intentional public misleading," RSBN wrote in an emailed press release on November 11, 2022. A production error is a common occurrence in live broadcasts with rapid updates to on-screen tables and charts of election results.
Here is RSBN's full statement: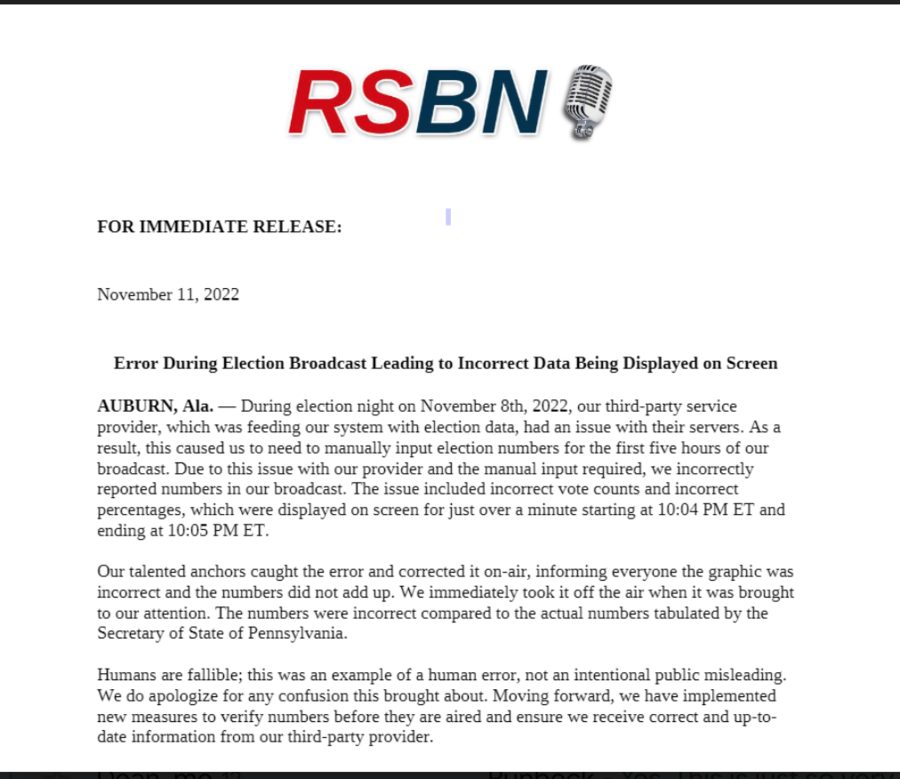 (Source: Courtesy RSBN Fri Nov 11 18:16:22 2022 UTC)
2022-11-11T17:57:02Z

2022-11-11T17:57:02Z

Adds statement from RSBN.