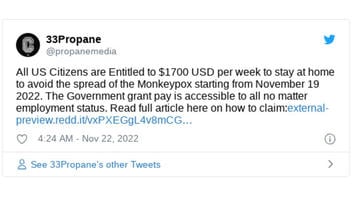 Beginning on November 19, 2022, were all U.S. citizens entitled to $1,700 per week if they mitigated the spread of monkeypox by staying home? No, that's not true: No such compensation program is in place and the claim is a set-up for a joke.
The claim seems to have originated from a tweet (archived here) posted on November 22, 2022. It read:
All US Citizens are Entitled to $1700 USD per week to stay at home to avoid the spread of the Monkeypox starting from November 19 2022. The Government grant pay is accessible to all no matter employment status. Read full article here on how to claim:

https://external-preview.redd.it/vxPXEGgL4v8mCGw06IFGsmJNtqWQg-z60xQQ79dHKPY.jpg?auto=webp&s=db7685262e9b352a4888e547f52a244e2ea2cb9f

This is what the tweet looked like at the time of the writing of this fact check: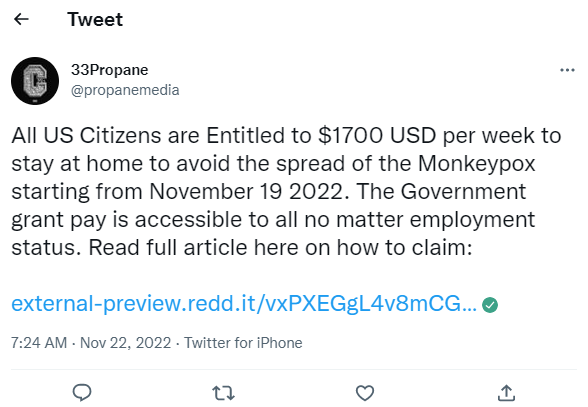 (Source: Twitter screenshot taken on Wed Nov 23 19:16:08 2022 UTC)
The link included in the tweet led users to an image of a gorilla with its middle finger up, indicating that the tweet was a joke. The image appears in the screenshot below: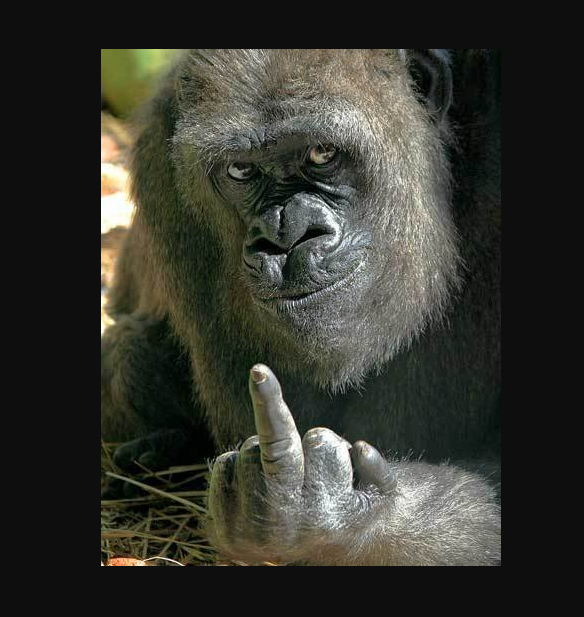 (Source: Screenshot of https://external-preview.redd.it/ taken on Wed Nov 23 19:30:57 2022 UTC)
Lead Stories found no evidence of a federal program that matches the tweet's description.
Another post on Instagram that repeats the claim also did not cite any credible information to support the claim. In this post, users were offered an alleged financial incentive to go to the bio of the user who posted the claim (who appears to be the same user who posted the tweet). The text read:
New sauce if u need some extra xmas money link in my bio!
I just ran up 80k yesterday thank me later
Once again, the link-in-bio led users to the gorilla picture.
Additional Lead Stories fact checks of claims related to monkeypox can be found here.