STORY UPDATED: check for updates below.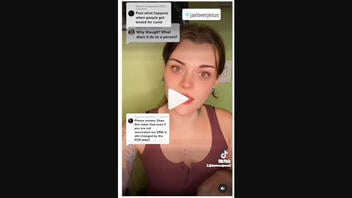 Do COVID-19 nasal test swabs contain both lithium and DARPA hydrogel that allow recipients to be remotely controlled? No, that's not true: The Food and Drug Administration (FDA) told Lead Stories that nasal swabs used to test for COVID do not contain lithium or hydrogel from the Defense Advanced Research Projects Agency (DARPA).
The claim appeared in a TikTok video on Instagram on November 21, 2022. It opened:
Great question! The nasal swab tests that everyone's been taking are not tests. So what are they and what do they do?
Here is what the post looked like at the time of the writing of this fact check: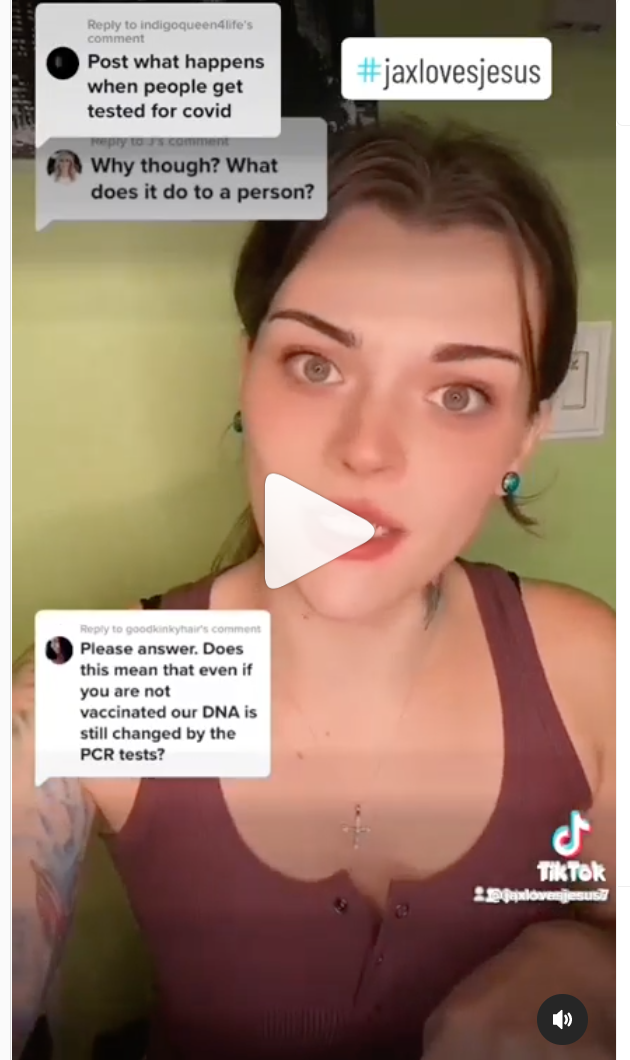 (Source: Instagram screenshot taken on Tues Nov 22 20:40:14 2022 UTC)
The person in the video quotes from a report (archived here) titled, "Analysis of test sticks from surface testing in the Slovak Republic -confirmation of genocide." The report gives no details as to where the "analysis" was actually performed; it mentions only an "unnamed hospital laboratory from Bratislava, Slovakia." The report does not discuss methodology, the analysis of the test results or who conducted the test.
The report claims:
After spawning a mixture of nylon fiber fragments, Darpa Hydrogel remains on the nasal mucosa under the pituitary and pineal gland along with lithium. This mixture immediately reacts with living structures to form crystals that are directionally oriented to the pineal gland, which has its own electromagnetic field. The shape of the crystals determines the type of hydrogel used. The crystals are conductive due to the lithium contained in it. The crystals can receive the signal from the transmitter to the cell and transmit signals from the cell to the transmitter. These are actually nano-antennas.
The report is an essay, not clinical or lab research and not published in any professional science journal. The title does not appear in any science journal, according to a search of the National Library of Medicine, which indexes a million titles: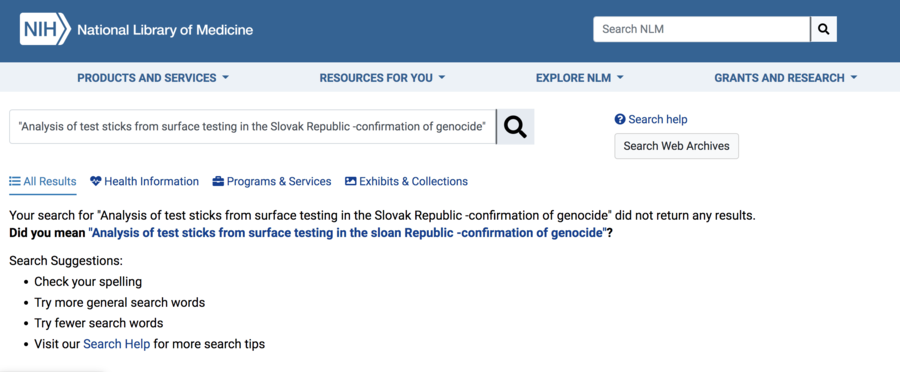 (Source: National Library of Medicine screenshot taken on Wed Nov 23 20:29:13 2022 UTC)
"Nasal swabs used to test for COVID-19 do not contain lithium or any type of hydrogel," Jim McKinney, FDA press officer, told Lead Stories via email on November 23, 2022. "The CDC [Centers for Disease Control and Prevention] recommends that upper respiratory samples for COVID-19 diagnostic testing should only be collected with sterile swabs that may include flocked, foam, spun polyester (e.g., dacron), and spun rayon tipped swabs. The types of swabs validated for use for OTC home-use COVID-19 tests can be found under reagents and materials in the authorized labeling."
As Lead Stories reported in 2021, hydrogel is not the name for a unique material. It's the term for a set of properties, regardless of chemical composition. DARPA chief spokesperson Jared Adams said that DARPA-funded hydrogel research has helped create only sensors. Those sensors are passive and too big to qualify as nanotechnology, which is commonly defined as 100-millionth of a millimeter or smaller, basically the size of atoms and molecules. DARPA confirmed to Lead Stories via email on November 22, 2022, that their original response remains accurate.
In a November 2, 2021, email to Lead Stories, Adams wrote:
The Profusa hydrogel is inert, does not have any electrical components, and is of similar material to a contact lens or corneal implant...For these reasons, there is no such thing as a 'biochip,' nor does it have self-assembling 'nanobots with artificial intelligence capabilities.'
Adams also previously refuted a claim that hydrogel sensors could enter the brain and alter it so that recipients could be controlled by a remote:
Even if the sensor were placed in the brain and were at nanoscale, which it is not, it's not possible for it to rewrite memories in the brain nor place new memories in the brain. The sensor has no means of communicating with a phone nor a computer, and it cannot send/receive any electronic signals...It is inert and incapable of self-replicating...the sensor is passive and cannot travel in the body nor 'meld' with tissue.
The "Analysis of test sticks" report ends with a common conspiracy theory -- that Bill Gates is planning a takeover of the world via vaccines:
Genetic information in the vaccine leads to the creation of a patented mutant. The dream of the dark forces around Bill Gates is to achieve to force these mutants, for example by vaccination, to regularly upgrade as a computer program.
Lead Stories has reported on conspiracy theories surrounding Gates here.

Additional Lead Stories fact checks of claims related to COVID-19 test swabs can be found here.
2022-11-28T19:02:25Z

2022-11-28T19:02:25Z

FDA press officer revises description of nasal swabs.