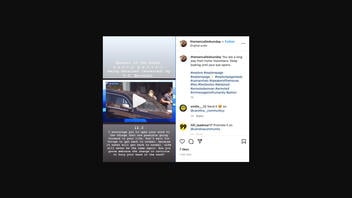 Does this video show House Speaker Nancy Pelosi being detained or arrested by U.S. marshals? No, that's not true: This is video of Pelosi leaving her home in San Francisco and getting into a GM Suburban SUV with a small security detail on October 30, 2022, as an onlooker shouts out, "Speaker, how's your husband doing?" The question referred to Paul Pelosi, her husband, who was attacked on October 28, 2022.
The claim appeared in an Instagram post on November 4, 2022. The caption started:
You are a long way from home Volunteers. Keep looking until your eye opens.
Above the embedded video, text says:
Speaker of the House,

n.a.n.c.y.p.e.l.o.s.i.

being detained (arrested) by

U.S. marshals.
Below the video it says:
I encourage you to open your mind to the things that are possible going forward in your life. Don't wait for things to get back to normal, because it will never get back to normal. Life will never be the same again. Are you gonna embrace the change or continue to bury your head in the sand?
This is what the post looked like at the time of writing:
(Source: Instagram screenshot taken Sun Nov 6 at 10:06:11 2022 UTC)
The video is from footage taken by NBC News in the San Francisco Bay area. It can be viewed here. The "NBC Bay Area" logo is clearly visible in the upper left corner of the clip used in the Instagram post.
On the NBC news website, dated October 30, 2022, it says:
WATCH: Nancy Pelosi leaves San Francisco Home.

House Speaker Nancy Pelosi is seen leaving her house in San Francisco Sunday. Her husband Paul Pelosi continues to recover following an attack at their home.
The video is higher resolution but otherwise an exact match to the video used in the Instagram post.
Lead Stories has done several recent debunks on claims regarding Nancy and Paul Pelosi after the attack: Some can be found here and here.