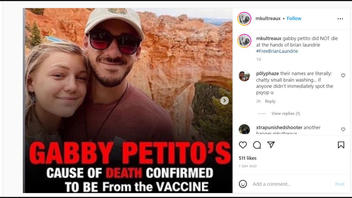 Was a COVID-19 vaccination the cause of the August 2021 death of 22-year-old Florida resident Gabrielle Petito, who disappeared while traveling through Wyoming? No, that's not true: The official coroner's report confirms that Petito's cause of death was "manual strangulation/throttling," categorized as homicide. The Federal Bureau of Investigation reported in December 2021 that a notebook was found in which Petito's fiancé, Brian Laundrie, who killed himself after her death, confessed to Petito's killing. A #FreeBrianLaundrie hashtag connected to the claim links to similar TikTok videos making dark jokes about a fictitious campaign to free the dead killer.
The claim about Petito's death appeared in a post on Instagram on November 3, 2022. The caption states:
gabby petito did NOT die at the hands of brian laundrie #FreeBrianLaundrie
The text in the post read:
GABBY PETITO'S
CAUSE OF DEATH CONFIRMED TO BE From the VACCINE
This is what the post looked like at the time of writing: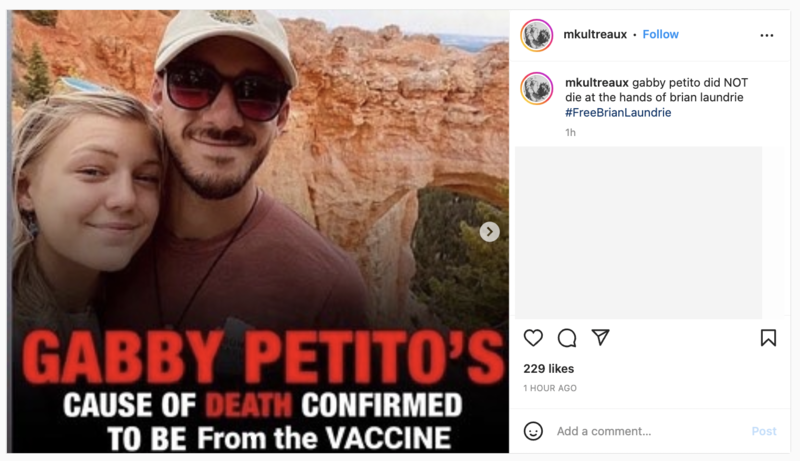 (Source: Instagram screenshot taken on Fri Nov 4 14:39:22 2022 UTC)
The expression "the VACCINE" implies a COVID-19 vaccine, currently the most hotly debated vaccine on social media.

The October 5, 2021, coroner's report from Teton County, Wyoming, recorded the finding that Gabrielle Petito's cause of death was homicide by "manual strangulation/ throttling." It contained no mention of a vaccine.

The U.S. District Court of Wyoming issued a federal arrest warrant on September 22, 2021 for a grand jury to question Laundrie, who had traveled with Petito cross-country, about his actions following Petito's death. The 23-year-old male had disappeared after returning from Wyoming to his home in Florida in early September. Less than a month after the warrant was issued, Laundrie's body was found in a Florida nature reserve.

A January 21, 2022, Federal Bureau of Investigation press release, titled "FBI Denver Provides Final Investigative Update on Gabrielle Petito Case," stated:


Upon further search of the area, investigators found human remains later confirmed to be Mr. Laundrie, along with a backpack, notebook, and a revolver. A review of the notebook revealed written statements by Mr. Laundrie claiming responsibility for Ms. Petito's death.

Laundrie died from a self-inflicted gunshot wound, according to a report from the District 12 Medical Examiner's Office in Sarasota, Florida, the FBI said.

Lead Stories earlier debunked a false claim that U.S. authorities had found Laundrie alive in Mexico.