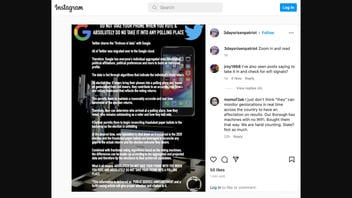 Does GPS data from voters' cellphones help election fraudsters identify those who were registered but did not vote so the fraudsters can cast illegal ballots in the name of those people? Should voters avoid bringing cellphones to polling places on Election Day for this reason? No, that's not true: Election workers most commonly rely on voters' signatures to verify absentee or mail ballots and to see who voted and who didn't. GPS data lacks the needed precision to tell whether a person cast a ballot.
Also, states have different rules about bringing phones: Some strictly prohibit the use of phones at voting stations, while others let people access candidate information via personal devices moments before casting their ballots.
The claim appeared in an Instagram post on November 6, 2022. The caption was:
Zoom in and read
Here is what it looked like at the time of writing: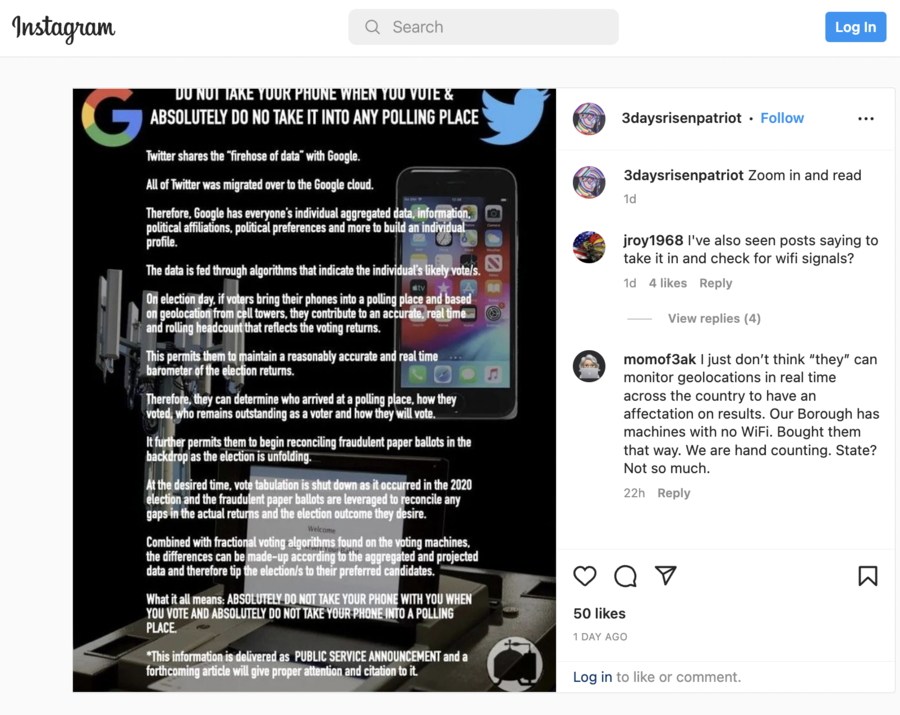 (Source: Instagram screenshot taken on Mon Nov 7 16:33:02 2022 UTC)
The post screenshot contained the purported rationale for leaving phones home on Election Day:
On election day, if voters bring their phones into a polling place and based on geolocation from cell towers, they contribute to an accurate, real time and rolling headcount that reflects the voting returns. ...

It further permits them to begin reconciling fraudulent paper ballots in the backdrop as the election is unfolding.
However, according to the National Conference of State Legislatures, election workers do not use online surveillance to determine who voted and who did not:
The most common method to verify that absentee/mail ballots come from the intended voter is to conduct signature verification. When voters return an absentee/mail ballot, they must sign an affidavit on the ballot envelope. When the ballot is returned to the election office, election officials have a process for examining each and every signature and comparing it to other documents in their files that contain the voter signature--usually the voter registration record.
GPS is not always a precise science. Under the open sky, its accuracy typically varies from 16 feet to, for some high-end users, several inches. Government data suggests that buildings, bridges and trees may interfere with it. One reason for that is satellite signal blockage. Another is that the signal starts to reflect from surrounding surfaces multiple times, worsening accuracy. A high concentration of mobile devices or incorrectly drawn maps may add to this also. Thus, GPS data cannot be fully relied upon when estimating whether or not a person voted.
Rules guiding phone usage at a polling place may vary from state to state. For example, Texas bans cellphones at polling places and within a 100-foot radius around them. North Carolina prohibits taking pictures of marked ballots but allows the use of devices to access candidate information. In 2016, Hawaii allowed its residents to share images of voted ballots via social media.
The claim about GPS data misuse is not new. In 2021, the Texas-based conservative group True The Vote said that almost 300 cellphones were spotted many times within close proximity from an absentee dropbox in Georgia. However, the Georgia Bureau of Investigation concluded that the cellphone data lacked evidence to prove manipulations with ballots. Georgia Public Broadcasting cited then-GBI Director Vic Reynolds:
As it exists, the data, while curious, does not rise to the level of probable cause that a crime has been committed
The claim resurfaced again in May 2022, in a movie called "2000 Mules" that claimed that 2,000 people were paid to pick up other persons' ballots and bring them to drop boxes during the 2020 presidential election. While some states, such as Rhode Island, do not explicitly prohibit returning a ballot on behalf of a voter, in many places, this practice is illegal. The movie used GPS data to support the claim.
However, according to The Associated Press, this strategy cannot be fully trusted due to a significant design flaw: Given the fact that polling stations are often situated in busy areas, it is nearly impossible to distinguish voters from other people who pass by drop boxes, such as election workers or taxi drivers.
Other Lead Stories fact checks about U.S. elections can be found here.