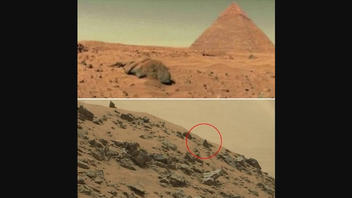 Does a NASA photograph show a "perfectly built" pyramid located on the surface of Mars? No, that's not true: A photo shared on Facebook in December 2022 said to show a pyramid on Mars is a digitally altered image using actual NASA photos, with an Egyptian pyramid added. An Egyptologist told Lead Stories that the top image in the post is photoshopped to include the pyramid of Khafre in Egypt. NASA confirmed to Lead Stories that the "pyramid" in the bottom image was nothing more than a Martian rock.
The claim originated in a Facebook post shared on December 24, 2022, by Ancient Mystery, a self-described news and media site created on July 24, 2022. The post read:
The Pyramid of Mars.

This photograph was taken on May 7, 2015 by NASA's Curiosity rover and shows a perfectly designed pyramid on the surface of Mars.
Here is how the post appeared at the time of this writing: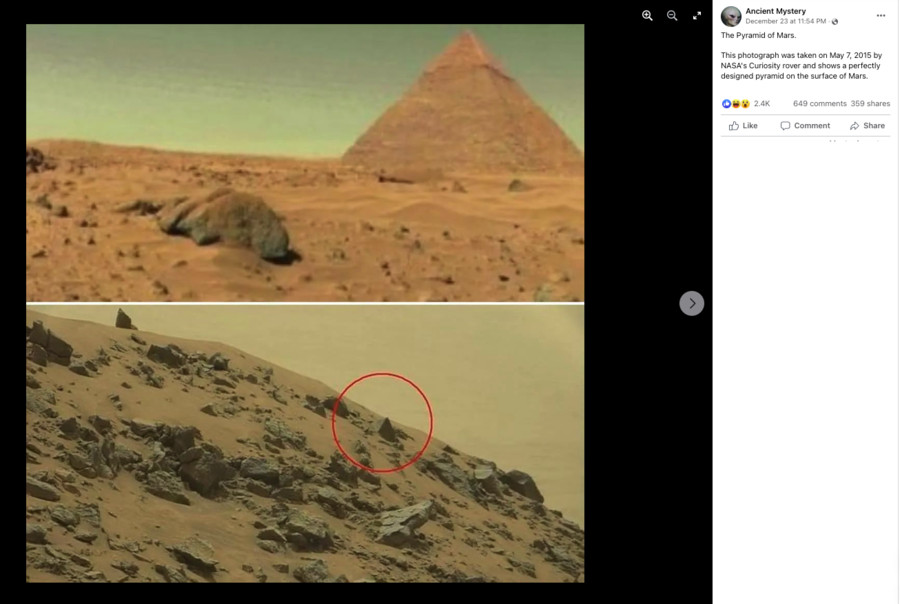 (Source: Facebook screenshot taken Tues Dec 27 10:48:35 2022 UTC)
Ancient Mystery is a Facebook page that is managed from Vietnam and features numerous digitally altered photographs that tout conspiracies related to extraterrestrial life and government cover-ups. The above post is one such example, being made up of at least three authentic photographs stitched together to depict abnormal features on the Martian surface, a trope that has circulated the internet since at least 2015.
A reverse image search of the top photo revealed that the large rock in the foreground is known as "Big Joe," a 6.5-foot-wide Martian rock first photographed by NASA's Viking Lander 1 on February 11, 1978. Big Joe is described by NASA as being covered in red soil. Portions of the rock not covered by soil are similar in color to basaltic rocks on Earth, which suggests that Big Joe may be a "fragment of lava flow that was ejected by an impact crater," according to NASA.
Below are two original images of Big Joe captured by NASA. The left photograph was taken near the Viking 1 Lander on the Chryse Plains of Mars while the right two photos depict Martian surface changes around Big Joe.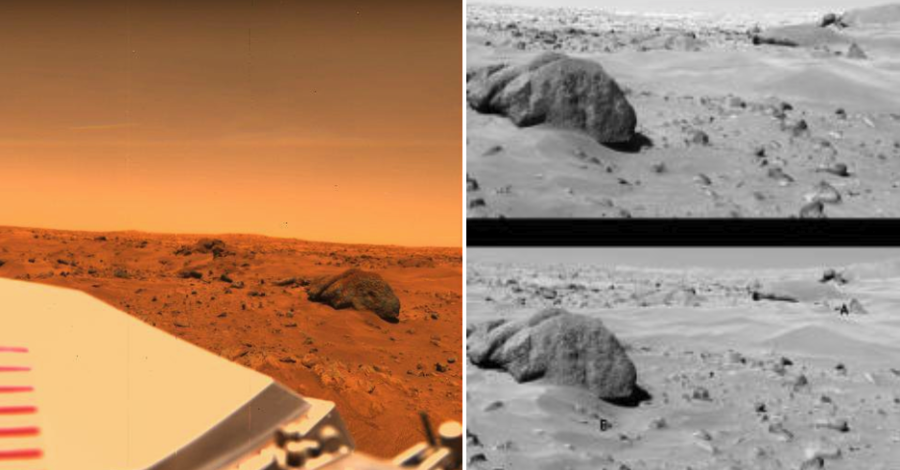 (Source: Images courtesy of NASA.)
Featured in the Facebook post is a public domain photograph of Big Joe that was said to have been digitally altered from three authentic NASA photographs. That altered image is shown below: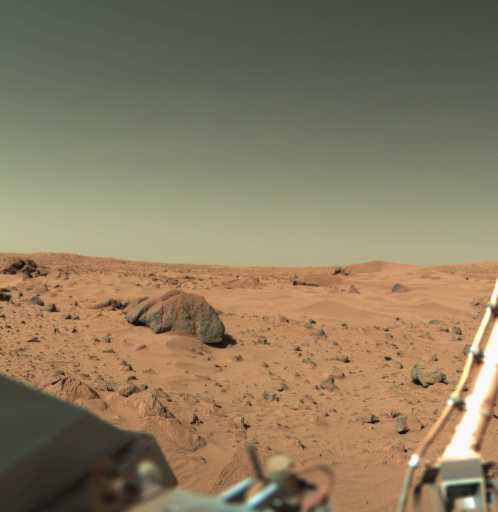 (Source: Image courtesy of Public Domain/van der Hoorn)
The above altered image of Big Joe was then cropped to create a landscape in which an image of the Pyramid of Khafre, or Chephren, was photoshopped into.
"The upper photo is a rather poorly photo-shopped image of the pyramid of Chephren (Khafre). The very clear feature that allows identification is the surviving portion of the outer limestone casing stones visible at the top of the pyramid," Yale Professor of Egyptology John Darnell told Lead Stories in an email sent December 28, 2022.
Khafre is the second-largest of the three pyramids of Giza -- all of which are in Egypt, not on Mars. Built around 2500 BCE, Egypt's Ministry of Tourism and Antiquities notes that the pyramid of Khafre "still preserves the beautifully polished blocks of high-quality limestone that once encased the majority of the structure's towering height." This is characterized by a smoother top still composed of its original white outer stones, which can be seen in aerial videos, the altered Facebook image, and the photo below.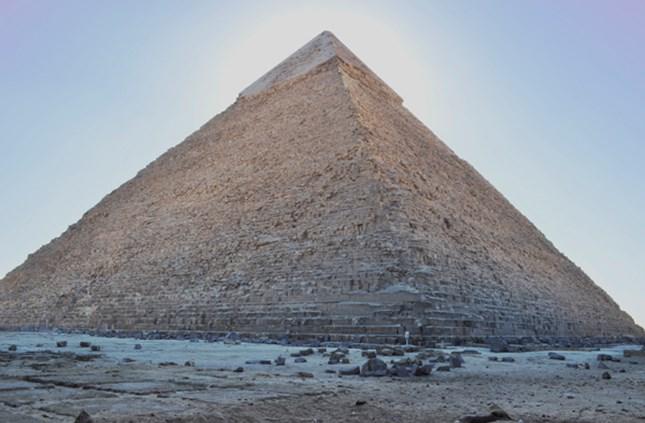 (Source: Image courtesy of Egypt Ministry of Tourism and Antiquities)
The bottom photograph featured in the Facebook post is indeed a NASA image taken by Mars Curiosity Rover on May 7, 2015. The photograph was included in NASA's raw images feed at the time and is titled "Sol 978: Mast Camera (Mastcam)". A description of the photograph read:
This image was taken by Mast Camera (Mastcam) onboard NASA's Mars rover Curiosity on Sol 978 (2015-05-07 23:22:33 UTC).
In an email to Lead Stories sent December 29, 2022, Alana Johnson, a NASA communications specialist, said that features like the "pyramid" are oftentimes the "result of wind and nature carving interesting forms in the terrain."
"Sometimes, the features seem to be more recognizable or relatable, such as a geometric shape like a pyramid. This is a normal human propensity called pareidolia and described as seeing recognizable shapes random objects or data," wrote Johnson, adding that other space-related examples of pareidolia can be seen here and here.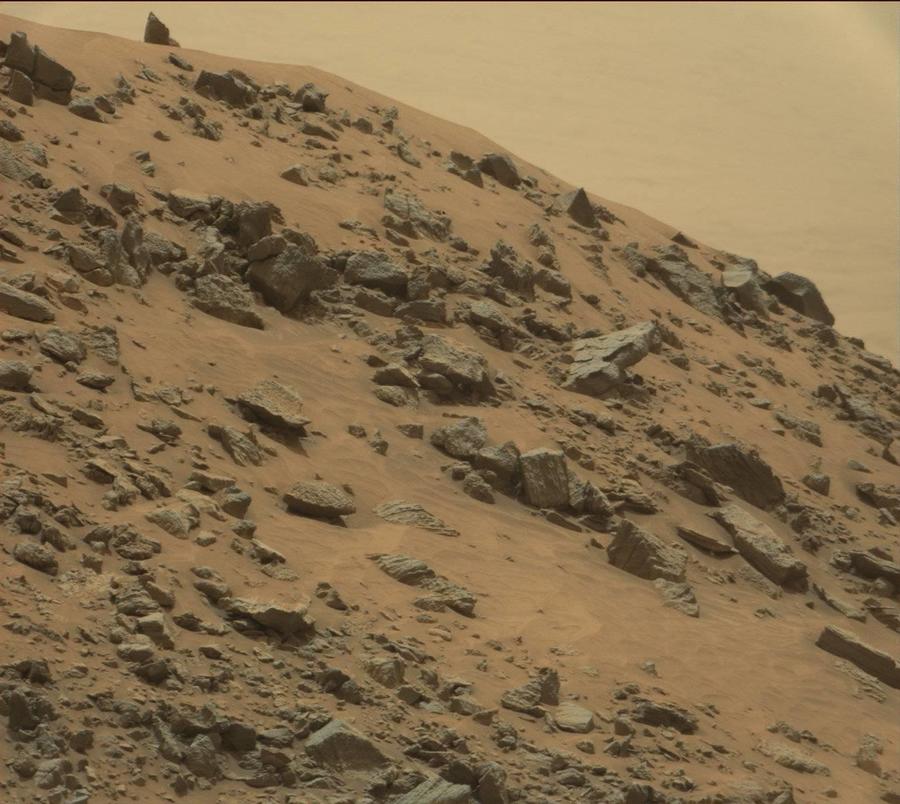 (Source: Image courtesy of NASA)