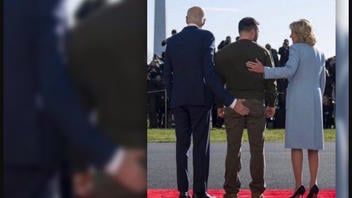 Did President Joe Biden put his hand on Ukrainian President Volodymyr Zelenskyy's buttocks while pausing for a photo op during Zelenskyy's December 2022 visit to the United States? No, that's not true: The original image was posted to Twitter by Jill Biden and shows both Jill Biden's and Joe Biden's hands on Zelenskyy's back. The image was digitally edited and the president's arm was cut-and-pasted to a new position so that his hand was on Zelenskyy's buttocks. The area of Zelenskyy's shirt where the president's arm was originally was filled with color, but lacks details of the folded material in the unaltered photo. The editor of the photo did not make an effort to correct the appearance of the president's thumb tip, which was underneath his wife's hand in the original and remains not visible in the edited version.
The photo of Zelenskyy with the Bidens as he arrived at the White House on December 21, 2022, was posted to the @FLOTUS Twitter account that same day. On December 22, 2022, the edited version of the photo was featured on the Real America's Voice program "American Sunrise Live" at about 6:27 minutes in, when the hosts discussed the edited photo without entertaining the possibility that it was a fake image. Screen captures of that morning news segment were circulated on social media: for example this copy posted on Instagram on December 23, 2022. It was captioned:
He sniffed his hand moments later.
.
#biden#trump#joebiden#usa#election#maga#politics#democrats#america#republican#donaldtrump#vote#bidenharris#democrat#conservative#kamalaharris#memes#liberal#blm#blacklivesmatter#freedom#republicans#president#obama#meme#news#berniesanders#bernie#bidenmemes
The text added to the video reads:
biden's but buddy
This is how the post appeared on Instagram at the time of writing: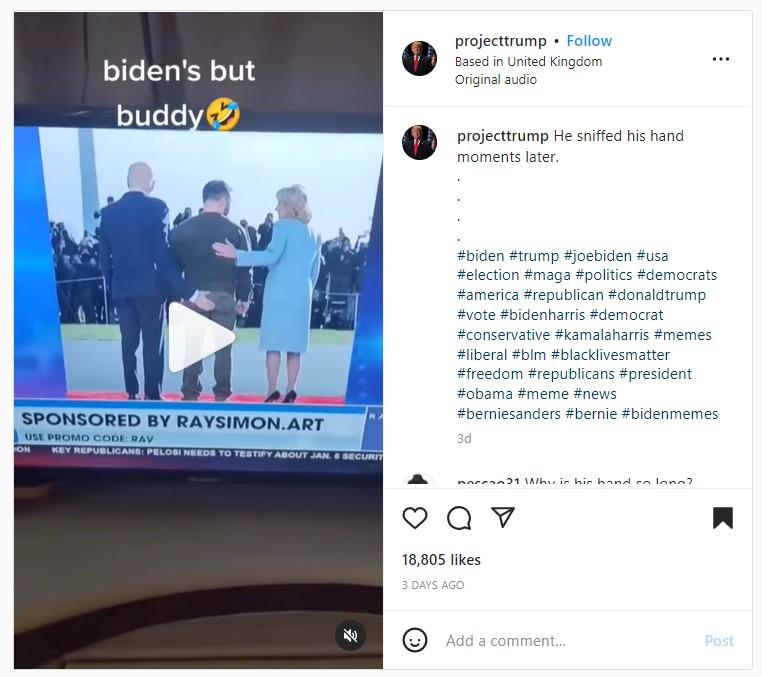 (Image source: Instagram screenshot taken on Tue Dec 27 17:21:27 2022 UTC)
As explained above, the original photo can be seen in a December 21, 2022 tweet from the @FLOTUS account embedded below (archived here). A tweet from @CSPAN shows video footage of that moment captured from a different angle.
President Zelenskyy, we hope you take our love and support back to Olena and your children, and all the families of Ukraine. 💕 pic.twitter.com/z1uqAAl8B8

-- Jill Biden (@FLOTUS) December 22, 2022
On December 22, 2022 an edited copy of the photo was added as a comment under the first lady's tweet. Below, the two photos can be seen side-by-side. This image will open larger in a new window.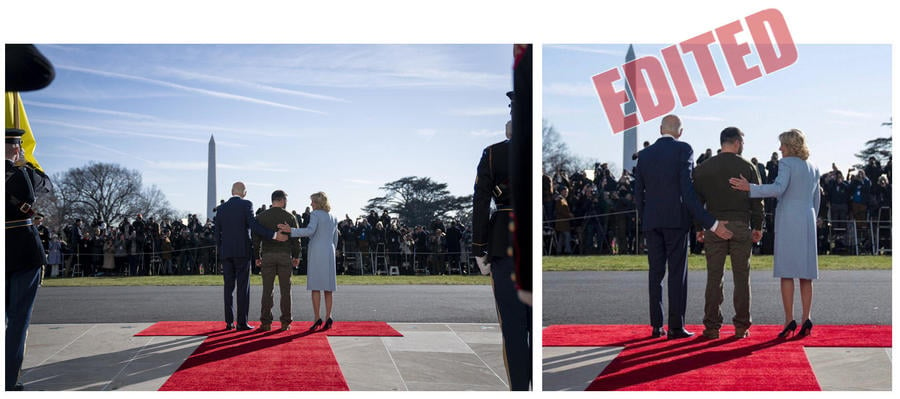 (Image source: Lead Stories composite image comparing Twitter screenshots taken on Tue Dec 27 18:02:41 2022 UTC)
In the composite image below, a detail of the same area in the two images is shown. This will also open larger in a new window. The edited photo has a much lower resolution than the original, but there are several obvious clues that the image has been manipulated. The photographers in the background are identical in both pictures, so it is clear there are not two similar consecutive photos showing a change in pose. Joe Biden's thumb is under Jill Biden's hand and is visible between her fingers in both the original and edited images. In the edited copy, Biden's thumb appears to be missing the last joint and Zelenskyy's shirt has lost most of the folds of the cloth.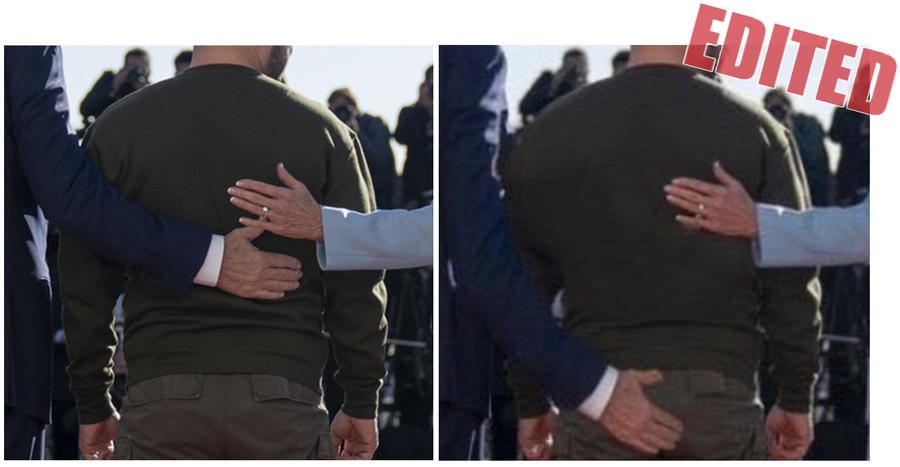 (Image source: Lead Stories composite image comparing Twitter screenshot details taken on Tue Dec 27 18:02:41 2022 UTC)
On December 22, 2022, the edited version of the photo was featured on the Real America's Voice program "American Sunrise Live." The hosts begin to discuss it about 6:27 minutes in:
Ed Henry: You've heard about the butt fumble Terrance, you're a football fan, you're a sports fan like I am, uh, Mark Sanchez with the Jets, the butt fumble. I've got the butt Presidential photo. I don't know what to think about this. Joe Biden, we've seen him sniffing people... ah, maybe they caught him at a weird moment when he was putting his arm on Zelenskyy's back. But you talk about this love affair that's going on, when we are sending all this money to Ukraine - please explain this photo Terrance.

Terrance Bates: Uh I can't, but you said love affair I think this photo redefines the idea of love affair, affairs of state as well. I can think of all kinds of words that have affairs in them that we could use for puns when it comes to this picture, but it's unfortunate. Let's just hope that it was caught at a bad moment.
This commentary mentions a fumbled play (footage here) that happened during the 2012 Thanksgiving day NFL game between the New York Jets and New England Patriots. The "butt fumble" reference is not related to Zelenskyy's visit, especially in light of the fact that the photo they are discussing is a digitally edited fake.