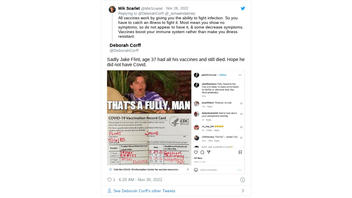 Did country singer Jake Flint die from COVID-19 or complications related to the COVID-19 vaccine, as a social media post implies? No, that's not true: Flint's publicist told Lead Stories that Flint's death was not related to the vaccine or the virus, and that his two vaccinations were more than a year before his death.
The implied claim appeared in a Twitter post (archived here) on November 30, 2022. It read:
Sadly Jake Flint, age 37 had all his vaccines and still died. Hope he did not have Covid.
This is what the post looked like on Twitter at the time of the writing of this fact check:
(Source: Twitter screenshot taken on Thu Dec 15 11:41:31 2022 UTC)
Flint, known for singles such as "What's Your Name" and "CowTown," died at age 37 in Oklahoma on November 27, 2022, according to a statement on his website. News reports stated that he died in his sleep, hours after his wedding.
At the time of this writing, medical examiners had not yet determined what caused Flint's death, but Flint's publicist, Clif Doyal, told Lead Stories in an email on December 15, 2022, that neither the COVID-19 vaccine, nor the virus played any role in the death:
Mr. Flint did not die from COVID-19 or from anything related to his two vaccinations, as they were administered well over a year prior to his death.
Doyal affirmed that Flint's COVID-19 vaccination card, which appeared in a photo accompanying the Twitter post, was authentic.
Since COVID-19 vaccines were approved for use, social media posts periodically have falsely claimed the vaccines were related to deaths. There is no evidence linking the vaccines to mass deaths, as Lead Stories reported here.
Additional Lead Stories fact checks related to the coronavirus can be found here.