STORY UPDATED: check for updates below.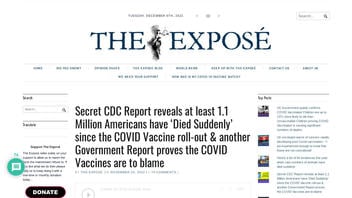 Does a "secret" CDC report reveal that at least 1.1 million Americans have "Died Suddenly" since the COVID-19 vaccine roll-out? Does a separate government report from the United Kingdom prove the vaccines are to blame? No, that's not true: There's no evidence to connect COVID vaccinations to the deaths. Simply because these people received COVID shots and later died doesn't prove the vaccine caused their deaths. There could be any number of reasons these lives ended that have nothing to do with vaccination.
The claims appeared in an article (archived here) published by The Exposé on November 24, 2022, under the title "Secret CDC Report reveals at least 1.1 Million Americans have 'Died Suddenly' since the COVID Vaccine roll-out & another Government Report proves the COVID Vaccines are to blame." It opened:
The Covid-19 injections were meant to reduce the sudden surge of deaths the USA recorded in 2020 due to the alleged Covid-19 pandemic. But unfortunately, the official figures prove that the opposite has happened.

Official reports quietly published by the United States Centers for Disease Control (CDC) confirm that over 6 million Americans have died ever since the U.S. Food & Drug Administration granted emergency use authorisation to a Covid-19 vaccine in December 2020; with 2021 being a record-breaking year for deaths.

This sadly means that at least 1.1 million Americans may have 'died suddenly' during this time frame because according to the CDC reports there have been 1,106,079 excess deaths compared to the 2015-2019 five-year average.

And with further official Government figures confirming that mortality rates per 100,000 are highest among the vaccinated population in every single age group, it would appear Covid-19 vaccination is almost entirely to blame.
This is what the post looked like on The Exposé website at the time of the writing of this fact check: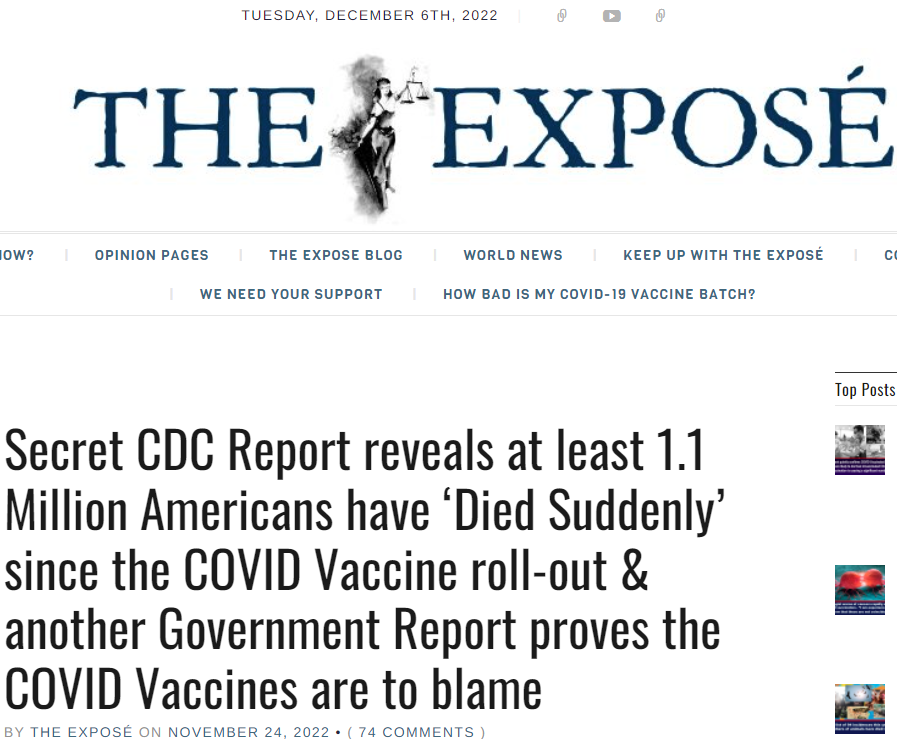 (Source: The Exposé screenshot taken on Tue Dec 6 17:19:20 2022 UTC)
Report not secret
The problems with the claims in The Exposé article start with the first word in the headline: "Secret." There's nothing secret about the Centers for Disease Control and Prevention (CDC) report from the National Center for Health Statistics that is cited in The Exposé story. It's available to anyone with a computer and a web browser. Also, the use of "Died Suddenly" in the headline is a loaded expression from an anti-vaccine movie by the same name that has already been debunked by Lead Stories.
The CDC's Media Office provided this response to The Exposé's claims in a December 12, 2022, email to Lead Stories:
Statements that imply that reports of deaths following vaccination equate to deaths caused by vaccination are scientifically inaccurate, misleading, and irresponsible. COVID-19 vaccines are undergoing the most intense safety monitoring in U.S. history. To date, CDC has not detected any unusual or unexpected patterns for deaths following immunization that would indicate that mRNA COVID-19 vaccines are causing or contributing to deaths. CDC recommends that everyone who is eligible should get vaccinated.
Dr. Georges C. Benjamin, executive director of the American Public Health Association, called The Exposé report "inaccurate and misleading" in a December 6, 2022, email to Lead Stories. The article's argument is that COVID vaccines must be responsible since the excess death toll (observed deaths minus expected deaths) in the United States increased by more than 100,000 people the year after the vaccines were introduced in December 2020. Here's the graph from The Exposé:
(Source: The Exposé screenshot taken on Thu Dec 8 17:48:25 2022 UTC)
Benjamin told Lead Stories that there's no evidence the vaccines are responsible for those excess deaths or their increase in the second year of the pandemic. He said:
We know we had decreases in longevity already because of obesity-related conditions and substance abuse before the pandemic hit. These did not go away during the pandemic. We know there were significant delays in care for other medical & surgical conditions during the pandemic as well as preventable deaths from COVID from the unvaccinated. Vaccine-related deaths are reportable separately. VAERS received 17,749 preliminary reports of death (0.0027%) among people who received a COVID-19 vaccine ... A report of a death after getting a vaccine DOES not mean they are related. They are then review[ed] to see if the vaccine was causative. The number that may have been related were exceedingly small.
VAERS data
In the United States, the Vaccine Adverse Event Reporting System (VAERS) provides data on adverse health events from vaccines. It is co-managed by the CDC and Food & Drug Administration as a crude early warning system and not as a database for quantifying specific outcomes.
Anyone with internet access can add a report to the VAERS list of reports. The public access link to it expressly warns against unwarranted conclusions based on VAERS material because the list only provides a tally of unverified notes about any health event people experience after they are vaccinated.
The list itself cannot be used to prove or quantify a claim since all it shows is a chronological correlation, not the causal link that would be more difficult to establish.
Vaccines not to blame
To prove its second claim, that COVID vaccines are to blame for killing more than a million people in the United States, The Exposé cites a July 6, 2022, "Deaths by Vaccination Status" report (download here) from the U.K. Office of National Statistics (ONS). The Exposé article goes into great detail, laying out its case over seven different age groups, from 18 to 90-plus, with many multicolored charts.
In a December 7, 2022, email to Lead Stories, ONS spokesman Glenn Garrett called The Exposé's use of the agency's dataset "highly misleading." Garrett added:
They are not always comparing the same vaccination statuses and choosing the most convenient to show. For example in the plot for 80-89 year olds they are plotting unvaccinated, first dose at least 21 days ago, second dose less than 21 days ago and third dose less than 21 days ago. It would make more sense to plot the third dose > 21 days ago as this is what most people fall into. ...

Table 1 of our dataset gives the age-standardised mortality rates for unvaccinated and vaccinated people (all ages), by month, and there is no month with a higher mortality rate for non COVID-19 deaths for vaccinated people compared to not vaccinated.
Garrett told Lead Stories that misleading information can be found throughout The Exposé article, particularly with the younger age groups where a more nuanced look at the numbers is required:
The confidence intervals on the value they [The Exposé] highlight in the report overlap (ASMRs [age-standardized mortality rates] for 18-39 year olds, non-COVID-19 deaths) so we cannot say there is a statistically significant difference.

We have always said mortality rates should be interpreted carefully, especially for children because of the way children at risk were prioritised in the vaccine roll out. Clinically vulnerable children and young people have higher mortality rates than those with no comorbidities, and this explains why vaccinated children have higher rate of death than those who remained unvaccinated. There is no evidence of the vaccine having an effect on death rates.
For further information on this point, Garrett directed Lead Stories to table 12 of the ONS's monthly deaths analysis and dataset for England and Wales.
In the United Kingdom, 75.4 percent of the population was fully vaccinated as of December 9, 2022, and nearly 80 percent had received at least one dose, according to Our World in Data. Additional details on vaccination in the UK are available on the national coronavirus website.
The high vaccination rate presents something of a paradox. It means that nine out of every 10 deaths in the country involve people who have been fully vaccinated. In a December 7, 2022, email to Lead Stories, Chris Hewett, a senior communications officer with the UK Health Security Agency (UKHSA), which addresses the public response to infectious diseases within the United Kingdom, said there's nothing that shows COVID vaccines are responsible for those deaths:
It is not because people who are vaccinated are more likely to die, it is because more people are vaccinated than unvaccinated. There will always be some breakthrough infections leading to death because no vaccine is 100% effective, but a small proportion of a very large (vaccinated) population is sometimes bigger than a larger proportion of a smaller (unvaccinated) population.

The important statistic here is the rate of death for each group. Percentage wise, the proportion of deaths remains higher in those who are unvaccinated, compared to those who are vaccinated.
Additional fact checks related to COVID-19 vaccines can be found here.
2022-12-12T18:16:53Z

2022-12-12T18:16:53Z

Adds statement from the CDC