STORY UPDATED: check for updates below.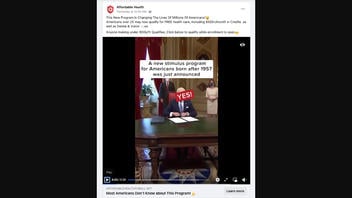 Was a "new stimulus program" providing "millions of Americans" with "free health care" and $500 monthly "credits ... just announced"? No, that's not true: U.S. government resources don't mention a new round of stimulus payments for health care needs being approved.
The claim appeared on Facebook on December 14, 2022. The caption said:
This New Program Is Changing The Lives Of Millions Of Americans!😲
Americans over 25 may now qualify for FREE health care, including $500+/month in Credits as well as Dental & Vision 🦷👀
Anyone making under $50k/Yr Qualifies, Click below to qualify while enrollment is open🤝
The attached video showing what appeared to be President Joe Biden signing a document continued:
A new stimulus program for Americans born after 1957 was just announced
This is what the post looked like on Facebook at the time of writing: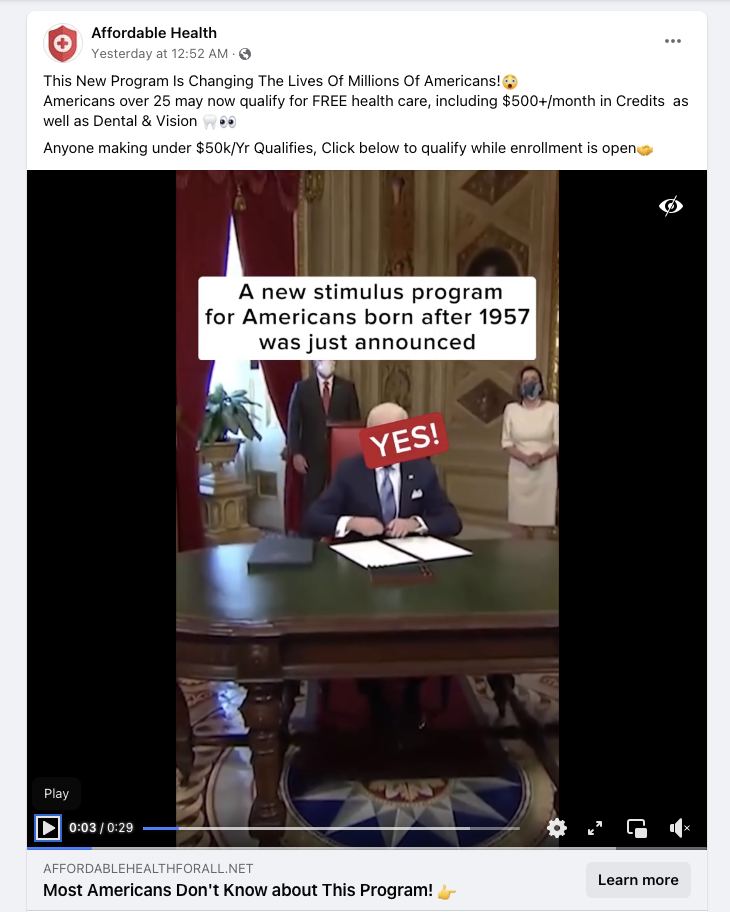 (Source: Facebook screenshot taken on Thu Dec 15 18:08:48 2022 UTC)
The post could be perceived as promotion of a government incentive due to seeing the official settings in the shared clip. This message was reinforced by the page that appeared if Facebook users clicked the Learn More button: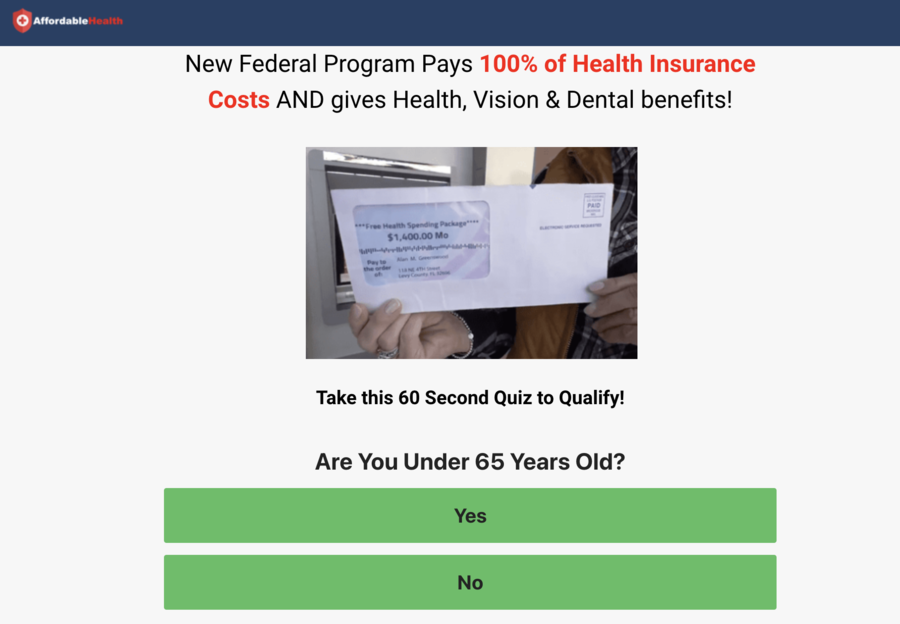 (Source: Affordablehealthforall.net screenshot taken on Thu Dec 15 20:36:37 2022 UTC)
Yet, despite promising enrollment in what was described as a "new federal program," the same page stated:
Neither getaffordablehealth.net nor any of the supplemental insurance plans to which you may be connected are endorsed by the U.S. Government or the federal Medicare program.
The disclaimer also mentions potential charges:
The helpline is free to call but the services or programs that you pursue may have costs associated with them.
The Terms and Conditions section continued:
The Service is provided without warranties of any kind, whether express or implied, including, but not limited to, implied warranties of merchantability, fitness for a particular purpose, non-infringement or course of performance
Additionally, the website's description told social media users about robocalls:
Both our text messages and phone calls may be sent or connected utilizing automated software. Carrier charges may apply. You may opt-out of any future contact via text message by replying anytime with 'STOP'.
The Federal Trade Commission warns:
Government agencies don't call people out of the blue to ask them for money or personal information. No one from the government will ask you to verify your Social Security, bank account, or credit card number, and they won't ask you to wire money or pay by gift card or cryptocurrency. ...

Scammers try to sell you a fake medical discount plan. Medical discount plans charge you a monthly fee for discounts on specific medical services or products from a list of participating providers. They're not a substitute for health insurance. While some medical discount plans provide legitimate discounts, others take people's money and offer very little in return. So if you're considering one, check out every claim the plan makes, including whether your doctor participates in the plan. And be sure to get the details of the discount plan in writing before you sign up.

Scammers want your sensitive personal information in exchange for a price quote. The Affordable Care Act's (ACA's) official government site is HealthCare.gov. It lets you compare prices on health insurance plans, check your eligibility for healthcare subsidies, and begin enrollment
Had the purported bill become law signed by the president, its text would be available on the website of Congress, but it was not as of this writing. Nothing similar could be found on the White House website or HealthCare.gov. The Centers for Medicare & Medicaid Services (CMS) did not produce any results for the term "$500 monthly credits" either.
A CMS spokesperson told Lead Stories via email on December 15, 2022, that the post:
... appears to have been marketed by a private company and was not produced or shared by CMS, nor does CMS have any official affiliation or partnership with this company. We encourage you and your readers to visit HealthCare.gov for accurate and timely information about Marketplace coverage.
The video included an image of a plastic card with the United Healthcare logo: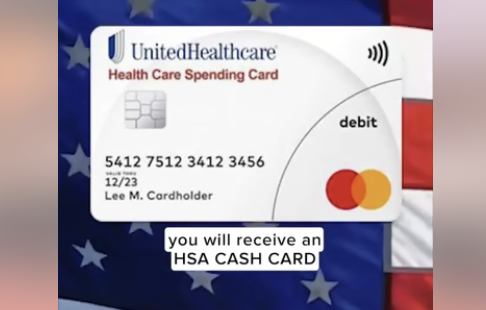 (Source: Facebook screenshot taken on Thu Dec 15 18:35:15 2022 UTC)
However, a UnitedHealthcare spokesperson told LeadStories via email on December 19, 2022, that the company doesn't offer anything similar:
That is not a card that UnitedHealthcare has, and we are unaware of any programs as mentioned.
Lead Stories already debunked claims about the fourth round of stimulus payments in 2022 (for example, here, here and here; in Spanish here and here.) As specified on the USA.gov website, the Internal Revenue Service only issued three rounds of payments: in April 2020 ($1,200), in December 2020 ($600), in March 2021 ($1,400). All of them went directly to the bank accounts of eligible individuals and were not tied to any medical needs or expenses.
The page that published the post in question distributed multiple copies of it (for example, here and here). It ran multiple ads for other variations of the same claim paired with different videos. Lead Stories circled the most similar ones:
(Source: Facebook screenshot taken on Thu Dec 15 17:26:09 2022 UTC)
According to the Transparency tab, the page identified itself as a community whose description did not indicate any professional affiliation or expertise related to medicine, health care, government or professional journalistic organizations:
I like to drink Tea and stay healthy, I decided to do a Teatox Review, I waned to great this page so
2022-12-19T22:07:20Z

2022-12-19T22:07:20Z

Adds image of purported UnitedHealthcare card and comment from UnitedHealthcare spokesperson