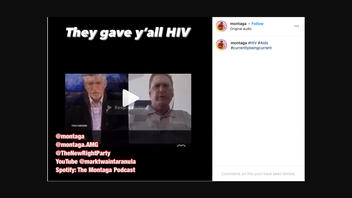 Do COVID-19 vaccines contain an "HIV protein" that is causing "vaccine AIDS," resulting in an increase in people "showing up HIV-positive"? No, that's not true: There is no evidence to suggest COVID mRNA vaccines currently available in the U.S. contain an HIV protein. Neither of the ingredient lists for the Pfizer-BioNTech Comirnaty or the Moderna Spikevax COVID vaccines contain an HIV protein, nor has any association been established between COVID vaccines and HIV infection or AIDS diagnosis.
The claim originated on Instagram on December 22, 2022, a video of an interview between TruNews host Rick Wiles and Colorado-based attorney Todd Callender. A text overlay that read, "They gave y'all HIV" was included along with the video commentary by Callender. He said:
Yes, that's what I am telling you. That is the database that we're operating on ... and if you look at the way that the charts go, and don't forget I'm in the morbidity business, we underwrite accident, sickness, health and disability insurance, if you look at the forecast, that should be in the neighborhood of 5,000% increase this year.

Yeah, this is genocide. You said it in the very beginning. Look, one easy way to look at this, it's really simple. If you look at all of the documentation, Pfizer's documentation, we did mass spectrometry on their vials, we know what's in these things. In fact, they even admit that they added an HIV protein into the shots for the purpose of disabling people's autoimmune.

Right? They couldn't slip these nanoparticles, which are in fact little bombers that carry pathogenic proteins to effectually gene modification in the individual, gene therapy. ...
Here is a screenshot of the post at the time of writing: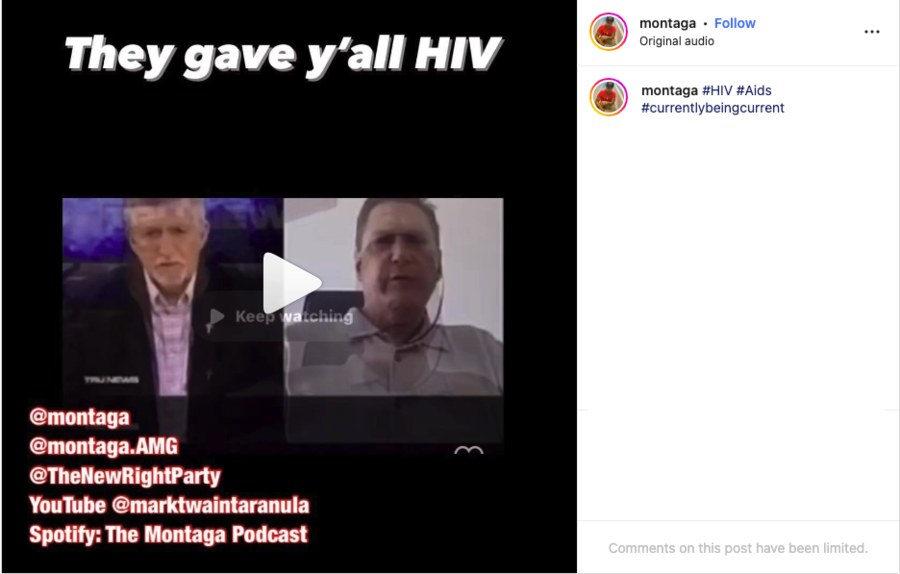 (Source: Instagram screenshot taken Fri Dec 30 23:54:01 2022 UTC)
The 20-second clip in the Instagram post can be seen at the 9:51 mark of the hourlong TruNews interview, which aired on February 18, 2022 (archived here). Callender does not specify which vaccine he was referring to nor did he state the name of the "HIV protein" mentioned. Rather, he suggested without evidence that COVID vaccines contain an unspecified "HIV protein" that is causing "vaccine aids" for the purpose of "disabling people's autoimmune." This, Callender said, is resulting in an increase in people "showing up HIV-positive" and those with "three shots have no immune system left over whatsoever."
He said at the 10:48 mark:
... as they call it. In order to get those lipid nanoparticles past your cellular defense, your body's defense, they had to disarm your immune system. And they did that. It's in all the scientific papers. What they didn't do is undo that. So effectively, when you talk to our expert witness, you call it autoimmune deficiency syndrome. That's basically vaccine AIDS. And right now, they're coming to understand this, people are showing up HIV positive. People with three shots have no immune system left over whatsoever. There is no other way to characterize this other than intentional homicide. The unlawful take of a human life except that it's in large numbers, which makes it a genocide.
Lead Stories contacted the law office of Callender by email requesting proof of the claims made. We have not received a response as of this writing.
COVID mRNA vaccine ingredient lists do not list HIV proteins
Lead Stories looked through the ingredient lists of both the Pfizer and Moderna COVID vaccines and found that neither listed any of the known HIV proteins.
Here's the Moderna vaccine ingredient list as of December 30, 2022.
Here's the Pfizer-BioNTech ingredient list as of December 30, 2022.
Lead Stories attempted to contact the Food and Drug Administration, Pfizer and Moderna by email but did not receive a response as of this writing. We will update the article accordingly.
The genomic makeup of HIV
HIV, or human immunodeficiency virus, is described by the National Institutes of Health (NIH) as a "complex retrovirus." According to the U.S. data center for the global Protein Data Bank (RCBS), HIV is made up of two strands of RNA, or ribonucleic acid, which is a compound present in all living cells that acts as a messenger to carry instructions to proteins. HIV also contain 15 types of viral proteins, as well as some proteins from the last host cell that HIV infected, which are surrounded by a lipid bilayer membrane. None of those proteins, which can be viewed here, are listed in either the Pfizer or Moderna COVID vaccine ingredient lists above.
Understanding the difference between HIV and AIDS
HIV is a virus that attacks the body's immune cells, hindering its ability to fight infections and making a person more vulnerable to diseases. If left untreated, HIV can lead to AIDS, or acquired immunodeficiency syndrome, the late stage of HIV infection that occurs when the body's immune system is damaged by the virus. HIV is considered to have progressed to AIDS when either the number of white blood cells called CD4 cells falls below a certain level, or an infected person develops opportunistic infections regardless of CD4 cell count.
In many parts of the world, most people with HIV do not develop AIDS because HIV medicine (called antiretroviral therapy or ART) prevents the progression of the disease, notes the U.S. government-run resource and information website, HIV.gov. Without HIV medicine, the World Health Organization (WHO) reports that signs of "HIV-related illness may develop within 5-10 years, although it can be sooner. The time between HIV transmission and an AIDS diagnosis is usually 10-15 years, but sometimes longer."
COVID vaccines were not widely available until 2021, according to the Mayo Clinic, which does not align with Callender's perceived timeline of vaccine rollout and an increase of HIV/AIDS infections.
Existing SARS-CoV-2 research related to COVID vaccines
The origin of the claim that COVID vaccines contain HIV proteins is unclear. As was reported by Health Feedback, a World Health Organization-affiliated fact-checking project, it may stem from an Australian study in which researchers utilized a small part of a protein from HIV to improve the stability of the SARS-CoV-2 protein in vaccines. However, that vaccine candidate was halted.
While there is no evidence to suggest that COVID vaccines contain HIV proteins and thus cause HIV infection, research conducted by Weill Cornell Medicine published in August 2022 showed that vaccination with SARS-CoV-2 mRNA vaccine revealed HIV already hiding in immune cells in blood from people with HIV.
This does not mean that COVID vaccines contain or cause HIV. Rather, this "exciting" discovery showed a possible route for scientists to find HIV cells already lying dormant in infected individuals. This research could one day help scientists diagnostic and treatment initiatives.
Additional fact checks related to COVID-19 vaccines can be found here.