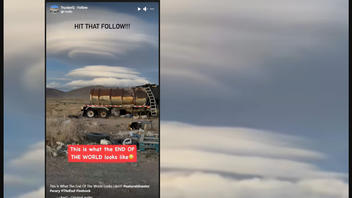 Does this short video of a dramatic layered cloud demonstrate "what the end of the world looks like" -- is it an impending scary natural disaster? No, that's not true: While we can't predict what the end of the world will look like, the clouds in the photo are Altocumulus Standing Lenticular (ACSL) clouds, which are typically formed by strong winds passing over a mountain range. Where the topography, winds and humidity levels are right for the formation of these clouds, they can be a regular feature of the landscape and not represent stormy weather.
The reel was posted on Facebook on December 20, 2022. The text captions on the video read:
HIT THAT FOLLOW!!!
This is what the END OF THE WORLD looks like😳
This is what the end of the world looks like!!! #naturaldisaster #scary #TheEnd #inshock
TruckerG Original audio
This is what the video looked like at the time of writing: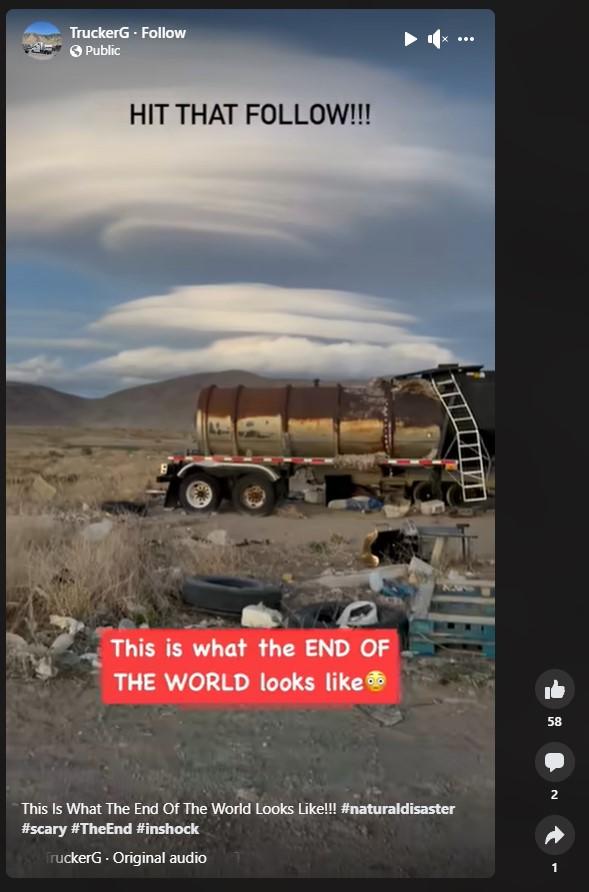 (Image source: Facebook screenshot taken on Thu Dec 22 22:44:58 2022 UTC)
The audio of the clip features the sound of a wailing air-raid-type siren and a person saying, "Oh no. Oh no!"
In the video below, meteorologist Mike Baker with the National Weather Service talks with Denver's KUSA 9News meteorologist Cory Reppenhagen about how Altocumulus Standing Lenticular clouds, a type of wave cloud, form over mountains. The video features time-lapse footage of the stationary cloud formations that seem to hover over the mountain (additional ACSL time-lapse footage here).
These clouds are not actually hovering, but constantly forming and dissipating with the flow of winds over the mountain. They are not a sign of an approaching storm. People who live near topography where they form get a feel for what they signal. Baker finishes:
Any local old timer around here knows -- you see wave clouds along here, anticipate some pretty strong, pretty gusty winds, usually the Chinook though, the warm winds.
An article about ACSL clouds from the National Weather Service in Albuquerque, New Mexico, mentions the turbulent conditions that should be understood by pilots when flying in these regions:
When aircraft encounter a mountain wave, severe turbulence is often the result. The most telling clue that a mountain wave exists is the presence of ACSL clouds. ... So while visually striking and appealing to photographers, ACSL may not be a welcome sight to those in the aviation community.
Lead Stories has written about another lenticular cloud that was sighted over Tempe, Arizona.