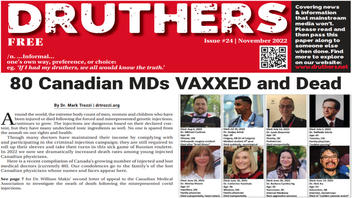 Did 80 Canadian doctors die after being vaccinated for COVID-19? No, that's not true: As of December 12, 2022, there had been no COVID vaccine caused deaths - of doctors or non-doctors - in Canada, according to the national public health agency. The claim was made with no evidence that the vaccines caused any physician deaths. Publicly available information shows doctors listed in the article died from a variety of verified causes, including cancer, stroke, heart attack and outdoor accidents.
The claim appeared in an article (archived here) published by druthers.net in November 2022 under the title "80 Canadian MDs VAXXED and Dead." It also appeared in an Instagram post (archived here). The article opened:
Around the world, the extreme body count of men, women and children who have been injured or died following the forced and misrepresented genetic injections, continues to grow. The injections are dangerous based on their declared content, but they have many undeclared toxic ingredients as well. No one is spared from the assault on our rights and health.

Though many doctors have maintained their income by complying with and participating in the criminal injection campaign; they are still required to roll up their sleeves and take their turns in this sick game of Russian roulette. In 2022 we now see dramatically increased death rates among young injected Canadian physicians.
This is what the Druthers article looked like at the time of writing: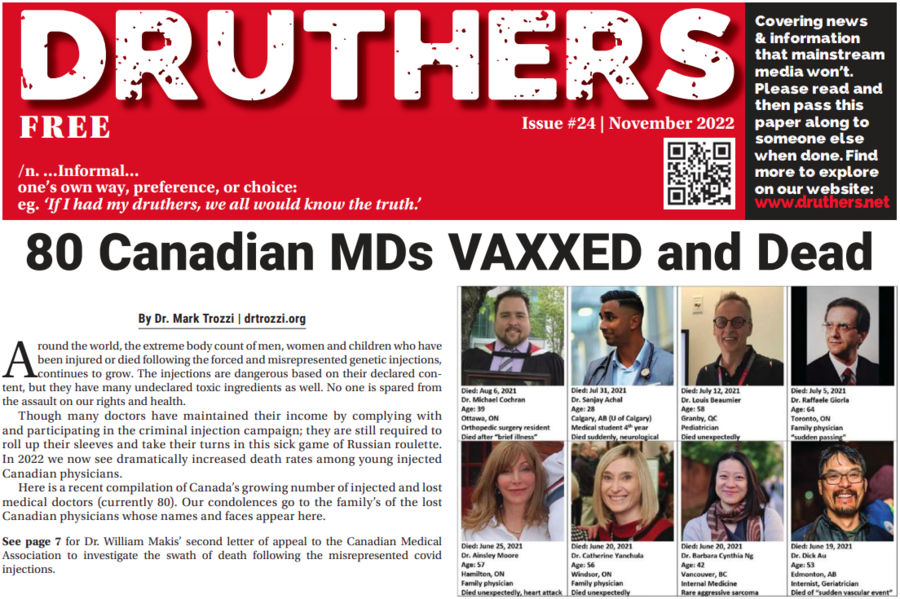 (Source: Druthers screenshot taken Mon Dec 12 at 16:44:20 2022 UTC)
At no point, does the article provide data for its claim the death rate for young physicians has risen in Canada.
The implied claim that COVID vaccination killed 80 doctors, made with no documentary or witness evidence to support it, contradicts the public record, which shows doctors dying of a variety of causes but not from receiving a coronavirus shot. In fact, the Public Health Agency of Canada said, no Canadian had yet died of COVID-19 vaccination. Merely dying at some point after receiving a COVID vaccine does not prove cause and effect.
The source of the claim, Druthers, is a print paper and website dedicated to COVID conspiracies, according to The Canadian Anti-Hate Network. The publication was started in 2020 by Shawn Jason Laplante, according to antihate.ca and has been a consistent source of conspiratorial news and a platform for doctors of a consistent anti-vaccine medical bent.
Druthers bills itself as "Canada's Most Loved, FREE, Independent Newspaper... Because Mainstream Media Sucks!" It offers to deliver its printed version "anonymously to the mailboxes in your own neighbourhood!" for a fee paid by the person placing the order.
Out of the 80 doctor information boxes in the Druthers article, 36 of them were listed as "died unexpectedly" or "sudden passing", 10 died of cancer and seven others died of heart attacks or other heart-related issues. Druthers does not document how those deaths were vaccine-caused.
For example: Three of the doctors listed had worked for Trillium Health Partners (THP) and were the subject of an earlier report by Lead Stories: Fact Check: NO Evidence 3 Canadian Doctors Died After Receiving 4th COVID-19 Shot.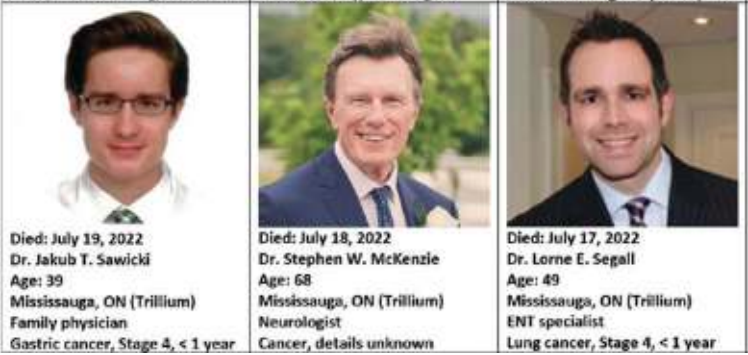 (Source: Druthers screenshot taken Mon Dec 12 at 19:24:44 2022 UTC)
Sawicki and Segall died from cancer, and McKenzie had been "seriously ill" leading up to his death, CTV News Toronto reported.
THP publicly announced their deaths via Twitter on July 27, 2022: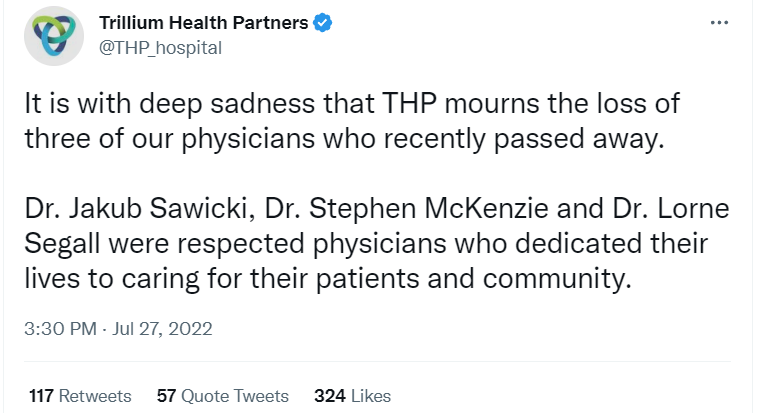 (Source: Twitter screenshot taken on Mon Dec 12 19:17:07 2022 UTC)
In a separate tweet, about two minutes later, the health care company also addressed rumors linking their deaths to COVID vaccinations: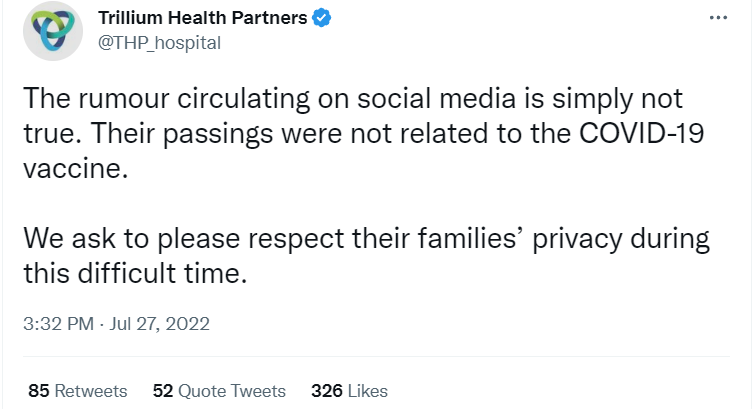 (Source: Twitter screenshot taken on Mon Dec 12 19:19:45 2022 UTC)
Dr. Jun Kawakami, another physician on the druthers.net list, died of cancer, according to the Canadian Medical Association.
Dr. Sohrab Lutchmedial "died suddenly," the CBC reported.
Canadian medical student Nelia Scheeres died in an auto accident in Ireland, according to The Irish Times.
Dr. Richard Cartier died while mountain climbing in Pakistan. Cartier and Australian mountaineer Matthew Eakin went missing while on K2, the world's second-highest peak. A CTV report said, "It's believed he fell as he was descending with his team of climbers ..."
In a December 12, 2022, email, the Public Health Agency of Canada (PHAC) told Lead Stories, "Immunization is one of the most important ways to protect the health of people in Canada and around the world." The statement continued:
The misleading or false claims that prevail often include inaccurate information about COVID-19 cures, vaccine trials, and vaccine safety. This type of misinformation puts public health at risk. The article in question clearly misrepresents vaccine safety. ...

To date, no deaths have been confirmed to be directly attributed to the COVID-19 vaccine in Canada.

Canadian epidemiological data indicate that the vaccines used in Canada are very effective at preventing severe illness, hospitalization, and death from COVID-19. The data show that individuals of all ages who were fully vaccinated and fully vaccinated with an additional dose, and who were diagnosed with COVID-19 were significantly protected from severe outcomes.
The PHAC said COVID vaccination is recommended for everyone six months and above. Serious adverse events following immunization are a tiny fraction of all doses given to Canadians:
Evidence indicates that the benefits of COVID-19 vaccines continue to outweigh the risks of the disease.
Health Canada, the Public Health Agency of Canada (PHAC), the provinces and territories, and manufacturers continue to closely monitor the safety of COVID-19 vaccines. We'll respond to any safety issues right away and will inform Canadians about any risks that arise in Canada.
Of the 52,203 individual reports (0.056% of all doses administered), 10,361 were considered serious (0.011% of all doses administered).
Additional fact checks related to COVID-19 vaccines can be found here.