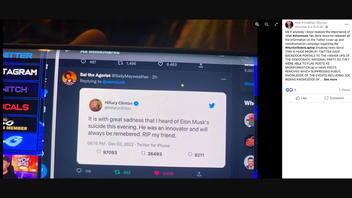 Did Hillary Clinton, the former U.S. secretary of state and 2016 Democratic presidential nominee, tweet about "Elon Musk's suicide" in response to the Twitter CEO releasing corporate discussions, now known as "The Twitter Files," about Twitter's removal of content or blocking accounts? No, that's not true: Lead Stories could not find the tweet on Clinton's verified Twitter account or its archived versions.
The claim about Clinton's tweet appeared on Facebook on December 6, 2022. The caption opened:
Idk if anybody I know realizes the importance of what #elonmusk has done since he released all the information on the Twitter cover up ...
The post shared a photo of a Twitter post from an account with a photo that matches the profile photo seen on Hillary Rodham Clinton's official Twitter account. The tweet said:
It is with great sadness that I heard of Elon Musk's suicide this evening. He was an innovator and will always be remembered. RIP my friend.

This is what the post looked like on Facebook at the time of the writing of this fact check: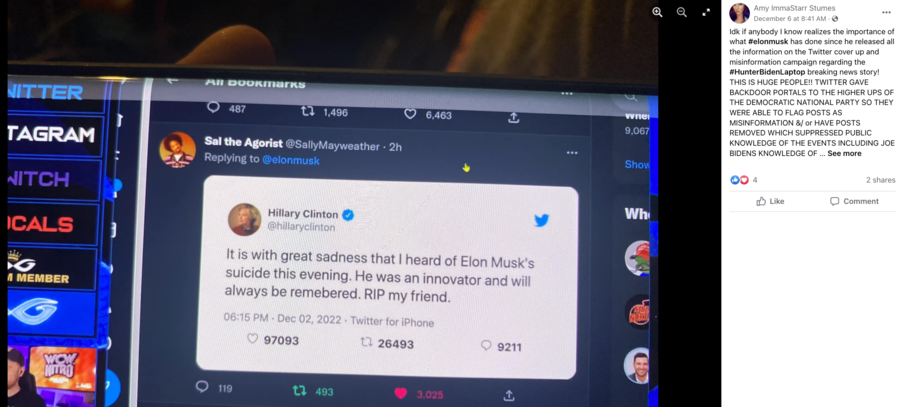 (Source: Facebook screenshot taken on Wed Dec 14 16:18:41 2022 UTC)
The picture of this supposed tweet was published for the first time on Twitter on December 2, 2022, in response to Elon Musk's announcement that he would reveal "what really happened with the Hunter Biden story suppression by Twitter." (Lead Stories fact checks of false claims about "The Twitter Files" can be read here, here, here and here.)
However, Clinton's account did not show that she tweeted about Musk or any similar topic on December 2, 2022. Instead, she promoted a summit on women's rights organized by her family's foundation.
There are no traces of such a tweet on a saved version of her account, either.
On December 4, 2022, during a Q&A session, Musk himself discounted any future claim about his suicide. Musk said that he did not have "any suicidal thoughts."

"If I committed suicide, it's not real," he added.
As of 4:05 am ET on December 14, 2022, Musk appeared to be alive and tweeting as usual, as the example below shows: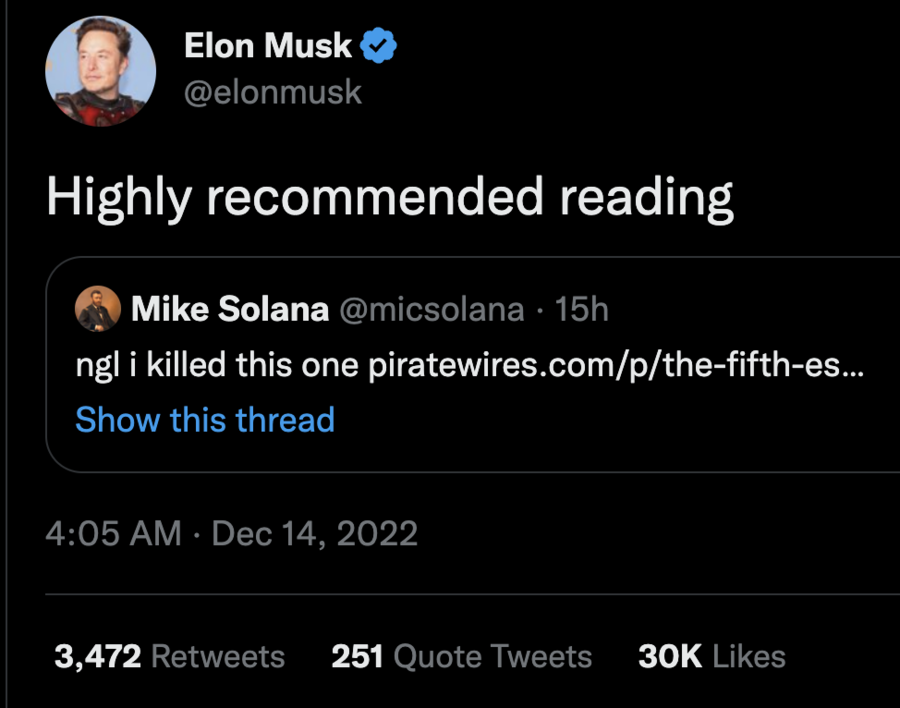 (Source: Twitter screenshot taken on Wed Dec 14 17:55:28 2022 UTC)
Other Lead Stories fact checks about Elon Musk and Twitter can be found here.