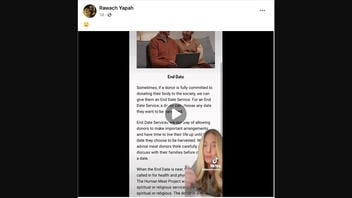 Is "The Human Meat Project" an organization that harvests food from donated human bodies "to solve overpopulation" and the problem of climate change? No, that's not true: The unnamed creators of the Human Meat Project website clarify in the site's "Terms and Condition of Use Agreement Policy that "This is purely a conceptual art project and will not be acted out in real life."
The claim appeared in a TikTok video reposted on Facebook (archived here) where it was published on December 11, 2022. It opened:
Well, I am never going to be the same again after finding out what I just found out, and after watching this video, you're never going to be the same either.

This is what the post looked like on Facebook at the time of the writing of this fact check: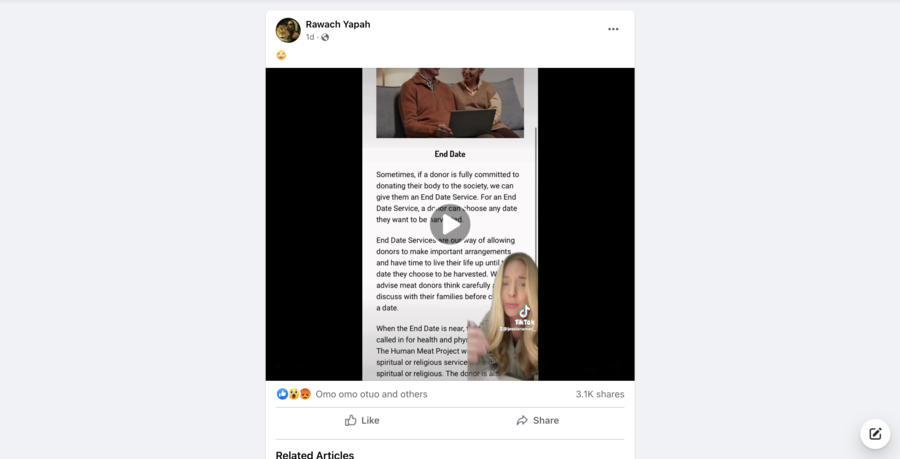 (Source: Facebook screenshot taken on Wed Dec 14 15:07:10 2022 UTC)
The woman in the video then goes on to talk about the Human Meat Project. She shows various pages from the website, such as where participants can chose their "End Date" and the nutritional labels for each body part.

The website's homepage champions cannibalism as a way to "end world starvation, overpopulation and climate change."
But these assertions are not for real. The Terms and Conditions page on the Human Meat Project site states:
This is purely a conceptual art project and will not be acted out in real life.
Under the subheading titled, "Our role," the Human Meat Project again describes itself as a conceptual art project, meant "to give understanding to the importance of accepting any services' policy and agreements."
Lead Stories could not find any detailed information about the people or groups behind this website. The site's information on ICANN, the non-profit that manages the main database of IP addresses, shows only that the registrant of the site's domain name is an individual in The Netherlands.

We have contacted the Human Meat Project to ask who created and works on the art project, and why they decided to release this "conceptual art" in the form of a professional website that replicates that of an actual organization. If we receive a response, we will update this fact check acordingly.
Additional Lead Stories fact checks of claims related to cannibalism can be found here, here and here.