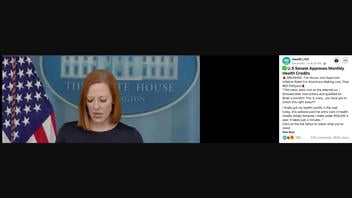 Did Jen Psaki, former White House press secretary for President Joe Biden, announce in December 2022 that the U.S. Senate has approved "Monthly Health Credits" or "Inflation Relief For Americans Making Less Than $50 000/year"? No, that's not true: Psaki left the White House seven months before this purported announcement took place. The video clip of Psaki used in the claim dates to March 2021, when Biden signed a COVID-19 pandemic relief bill that included stimulus checks for Americans.
The claim appeared on Facebook on December 1, 2022. The caption said:
✅ U.S Senate Approves Monthly Health Credits
🚨 BREAKING: The House Just Approved Inflation Relief For Americans Making Less Than $50 000/year🚨
'This news went viral on the internet so, i followed their instructions and qualified for $540 a month!!! This is crazy.. you have got to check this right away!!!'
I finally got my health credits in the mail today..this website paid me extra cash in health credits simply because i make under $50,000 a year. It takes just 2 minutes..'
Click on the link below to check what you're owed.
This is what the post looked like on Facebook at the time of writing:

(Source: Facebook screenshot taken on Tue Dec 13 14:40:48 2022 UTC)
The shared video showed Jen Psaki speaking from the podium in the White House press briefing room. Psaki said:
People in the country will start seeing those ... those direct deposits in their bank accounts this weekend. And payments to eligible Americans will continue throughout the course of the next several weeks.
However, Psaki did not make such an announcement in December 2022: She left the role of White House press secretary in May 2022 and now works as a contributor for MSNBC.

Psaki made the remarks shown in the video on March 11, 2021, in a completely different context: A longer version of the video, posted on C-SPAN, shows that she actually was discussing at that moment (the 4:16 mark) a 2021 round of stimulus payments related to the COVID pandemic.
In August 2022, after Psaki's departure from the White House, Biden did sign The Inflation Reduction Act into law. However, a search of the bill's text on Congress.gov returned no results for the term "monthly health credits." Google News also contains no mentions of this supposed provision.
The Facebook page that posted the false video about Psaki's alleged statement, Health LIVE, was created on October 15, 2022, and describes itself as a community center. It is a verified account, according to information posted under Page Transparency.
The business name, address and phone number registered for the page manager, Royal Greens Inc., however, match those of a lawn care and pest control company in Frederick, Maryland.

While the Transparency tab indicates that the Health LIVE page does not run ads, in at least one instance, another Facebook page with the word "Health" in its title and contacts for the same page manager also posted the same Psaki video. This page, Health-USA, describes itself as a community center, too.

Inaccurate posts that prompt users to click a link to receive an alleged financial benefit routinely circulate on social media. In the summer of 2022, for instance, Lead Stories debunked a false claim about the government supposedly providing "health credits" and monthly payments to Americans making less than $50,000 annually.

Government prosecutors and law enforcement have warned users to exercise caution about such posts as potential click-bait scams.