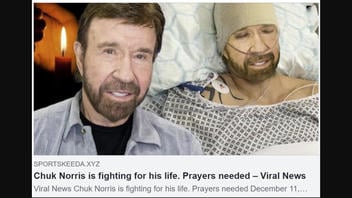 Was Hollywood action film star and martial artist Chuck Norris "fighting for his life" and hospitalized as of December 13, 2022? No, that's not true: No credible news organizations had reported the 82-year-old Norris as hospitalized and on the point of death as of that date. Norris also has been active on his verified social media accounts recently without any indication of a hospitalization for illness or injury.
The claim about Norris' supposedly dire health condition appeared on the website Viral News (archived here) on December 11, 2022. The headline read:
Chuk Norris is fighting for his life. Prayers needed
Here is how the post looked at the time of the writing of this fact check: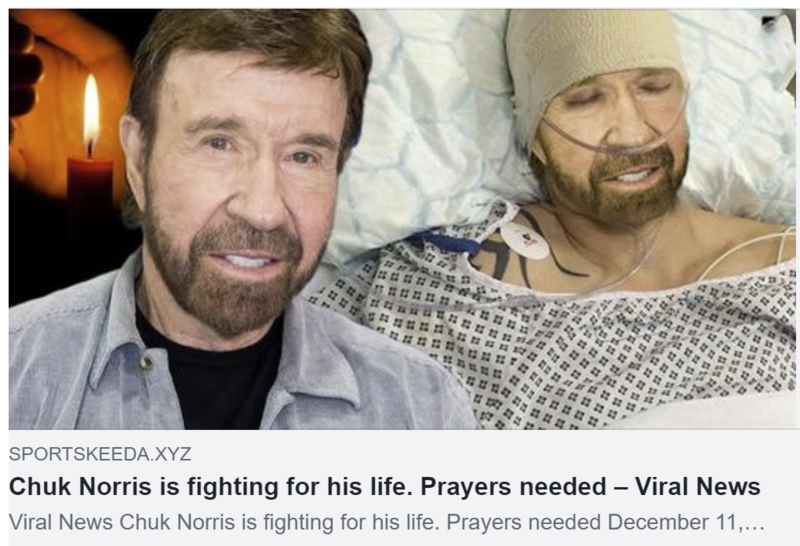 (Source: sportzkeeda.xyz screenshot taken on Mon Dec 11 17:23:12 2022 UTC)
The headline, with Chuck Norris' first name misspelled as "Chuk," and the collated image underneath do not match anything written in the accompanying article. The entirety of the article concerns Norris' wife, Gena, who, according to a 2017 Washington Post article, became ill after having MRI scans during tests for rheumatoid arthritis.
A Whois webpage shows that the domain name for the site that posted the claim about Chuck Norris' health, sportskeeda.xyz, was registered for two years on November 29, 2021 under the name "Namecheap." No additional information establishes the site's credibility.

A December 13, 2022, Google News search using the keywords "Chuck Norris Hospitalized" produced no results to substantiate this claim.
In a December 10, 2022, Instagram post published by Norris on his verified account, the actor stated that he would play the role of a character in a video game set to come out in March 2023. In a November 24, 2022, Instagram post, he is seen in a video wishing his fans a happy Thanksgiving.
Lead Stories contacted representatives of Chuck Norris about the claim that he is "fighting for his life," and will update this story if a response is received.
The claim is not the first: In May 2020, a Lead Stories fact check debunked an allegation that Norris had passed away from COVID-19.

A December 2022 Lead Stories analysis identified at least one international network that routinely spreads death hoaxes about numerous celebrities, including Norris.