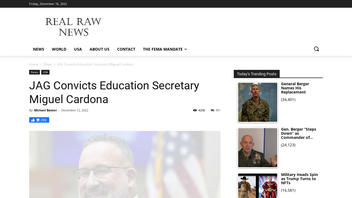 Did the U.S. Navy Judge Advocate General's Corps find U.S. Secretary of Education Miguel Cardona guilty of child endangerment? No, that's not true: A Pentagon duty officer told Lead Stories that this claim is false. Also, Lead Stories recently debunked the claim that Cardona was arrested by the U.S. military, and both claims were made on a website that publishes fabricated content.
The claim appeared in an article published by Real Raw News on December 12, 2022, titled "JAG Convicts Education Secretary Miguel Cardona" (archived here).
The article opened:
A panel tasked with deciding Education Secretary Miguel Cardona's fate Monday morning found the pronoun-loving, gender-affirming goon guilty of child endangerment after deliberating only 15 minutes.

As reported previously, Cardona was arrested Thanksgiving Day when U.S. Marines under General David H. Berger's command paid a surprise visit to the Cardona's home. The Marines had also taken Cardona's wife Marissa into custody, ostensibly as an accomplice to her husband's alleged crimes.
Users on social media saw this title and thumbnail:
Lead Stories previously found the claim purporting that Cardona was arrested of "treason and child endangerment" to be false.
In an email to Lead Stories on December 16, 2022, a Pentagon duty officer told Lead Stories that:
There is no truth to this article.
Cardona's verified Twitter account has been active since November 24, 2022, the date when the article alleges Cardona was arrested. On December 16, 2022, his account posted a tweet about students having the right to access education that evolves with industry demands and retweeted a post that featured Cardona in a virtual meeting with the founder of the Choose Love Movement on December 14, 2022.
Lead Stories has contacted the Department of Education and will update this story if a response is received.
Real Raw News
Real Raw News is a website that consistently publishes made-up stories about U.S. politics. The well-written English and news-style layout of the website make it look like a legitimate news source, so it often fools people into believing the stories are real. Screenshots and copies of the stories regularly turn up on other websites or on social media where they are presented as real.
It bills itself as "humor, parody and satire" on the "about" page (archived here):
Disclaimer:

Information on this website is for informational and educational and entertainment purposes. This website contains humor, parody, and satire. We have included this disclaimer for our protection, on the advice on legal counsel.
The same "about" page claims the main author is a man named Michael Baxter. In 2021 a PolitiFact article (archived here) identified the writer as a "Michael Tuffin" in Texas based on records found in a GoFundMe campaign set up to support the site.
NewsGuard, a tool that provides credibility ratings for websites, published a five-page PDF report (archived here) in 2021 describing realrawnews.com as, "An anonymously run website that has published baseless and debunked conspiracies about COVID-19 and U.S. politics." It cautioned that the website severely violates basic journalistic standards."
Previous Lead Stories fact checks of claims by Real Raw News can be found here.