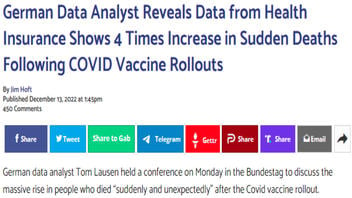 Have COVID-19 vaccine rollouts increased "sudden deaths" in Germany by four times? No, that's not true: The claim misuses billing data to make medical claims, according to the chairman of the board of the doctors who provide health under the national system and Germany's federal institute for vaccines and biomedicines
The claim appeared in an article (archived here) published by The Gateway Pundit on December 13, 2022, titled "German Data Analyst Reveals Data from Health Insurance Shows 4 Times Increase in Sudden Deaths Following COVID Vaccine Rollouts." It opens:
German data analyst Tom Lausen held a conference on Monday in the Bundestag [

German federal parliament]

to discuss the massive rise in people who died 'suddenly and unexpectedly' after the COVID vaccine rollout.
This is what the article looked like on The Gateway Pundit website at the time of writing: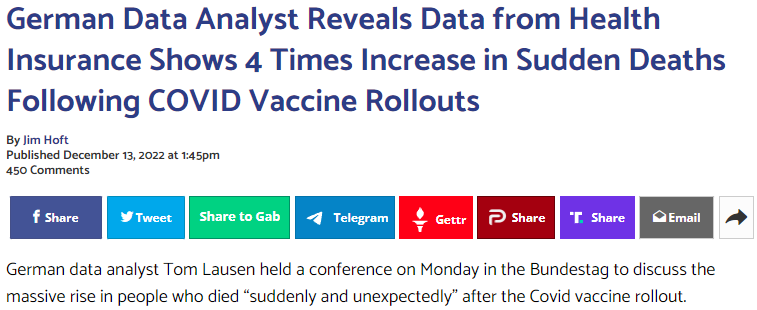 (Source: The Gateway Pundit screenshot taken on Thu Dec 15 16:23:33 2022 UTC)
The Gateway Pundit article uses figures from Germany's National Association for Statutory Health Insurance Physicians (KBV) and declarations by Tom Lausen, described in the article as a data analyst. Lausen worked with AfD, a right-wing populist political party in Germany, in analyzing the health data. He was called a "conspiracy theorist" by a German health official in an earlier Lead Stories fact check.
The KBV, which is the coordinating body of all 17 state associations of Statutory Health Insurance Physicians in Germany, put together the health data Lausen used to come to his conclusions that "the number of people who died 'suddenly and unexpectedly' skyrocketed compared to previous years, more than fourfold."
That phrase, "Died Suddenly" is the title of an error-filled anti-vaccine film and in December 2022 was frequently found in social media posts making false claims about lethal dangers of the COVID-19 vaccines.
As in the United States and other countries, International Classification of Diseases (ICD) codes are assigned by hospitals and insurers to categorize case files. Those codes came into play here, according to Dr. Dominik von Stillfried, the chairman of the board of directors of the Central Institute for Statutory Health Insurance Physician Care (Zi). In an online statement released on December 13, 2022, he said:
The excitement about a possible increase in deaths in 2021 is completely unfounded. In fact, the development of the annual raw diagnosis prevalence after the evaluation of the complete contract doctor billing data for the years 2012 to 2022 shows no abnormalities for the individual diagnosis keys highlighted by the AfD (ICD-10 codes R96-R98, I46.1, I46.9 ). There is no contradiction to the data used by the AfD. Rather, the phenomenon observed by the AfD is a logical consequence of data analysis.
(Note: The above text was translated by Google Translate.)
The Paul Ehrlich Institute (PEI), which is Germany's federal institute for vaccines and biomedicines, provided a similar statement to Lead Stories in an email on December 16, 2022. It described Lausen's explanation of the coding information as being filled with "misinterpretations":
Currently, there are false statements and analyses concerning data of public health insurances (GKV) circulating. The data were made available after the National Association of Statutory Health Insurance Physicians asked for it. The data include coding of deaths. These data are wrongly interpreted and the statements and analyses of the data are false. These false statements mislead the population and can provoke uncertainty concerning the security of COVID-19 vaccination. Based on the data of public health insurances, it is said that there would be high excess mortality since the vaccination campaign started. It also raised the question why this (claimed) excess mortality would only be seen since the vaccination started.
(Note: The above text was translated by Lead Stories staff.)
The bottom line, according to the PEI, is that Lausen isn't comparing apples to apples. Billing codes aren't the same as a diagnosis:
General statements about increasing deaths based on such coded cases of treatment are scientifically not allowable according to the Central Institute for Statutory Health Insurance Physician Care.

Analyses of deaths in general and examinations of causality are not readily possible on the basis of these data.

Billing documents of public health care services are not the same as recording and evaluating suspected cases of side effects and complications after vaccination.
(Note: The above text was translated by Lead Stories' Judith Raupp.)
In a February 15, 2022, email to Lead Stories, Dr. Jörn Wegner, a press and public relations officer with DKG, the German Hospital Federation, described Lausen and his work in a similar story about medical codes:
This 'analysis' was done by Tom Lausen, who is not a data analyst but one of the better known German conspiracy theorists concerning hospitals and health care. Therefore his 'report' was published also in English on a website full of fakenews concerning Covid-19 and vaccinations.
In the same email, Wegner noted additional limitations of classification codes, saying they don't give any information about the severity of the side effects:
Millions of people had side effects after their vaccination. The vast majority of these side effects disappeared after a short while and [were] harmless. In Germany, Paul-Ehrlich-Institut is monitoring the side effects of the vaccinations: This report [is based] on scientific data and shows that the vaccines are very safe.
Wegner's comments appeared in an earlier Lead Stories article: "Fact Check: COVID Shots Have NOT Increased 'Serious Injury' From Vaccines By Over 2000% In Germany."
Additional fact checks related to COVID-19 vaccines can be found here.