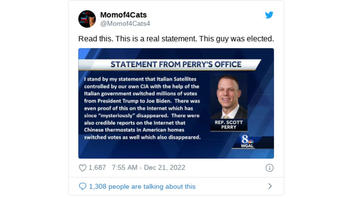 Did Rep. Scott Perry make an official statement saying that "Italian satellites," the CIA and the Italian government collaborated to manipulate votes in President Joe Biden's favor? No, that's not true: According to Perry's office and a review of his Twitter account, the television graphic containing that statement is fake. Though he made no such official statement and the television station credited with the graphic did not broadcast any such graphic, Perry has been linked to the idea that Italian satellites were used to switch votes from Donald Trump to Biden.
The claim appeared in a tweet (archived here) posted on December 21, 2022. The tweet read:
Read this. This is a real statement. This guy was elected.
The tweet was followed by a screenshot of Perry's alleged "statement," which opened:
I stand by my statement that Italian Satellites controlled by our own CIA with the help of the Italian government switched millions of votes from President Trump to Joe Biden.
This is what the tweet looked like at the time of writing: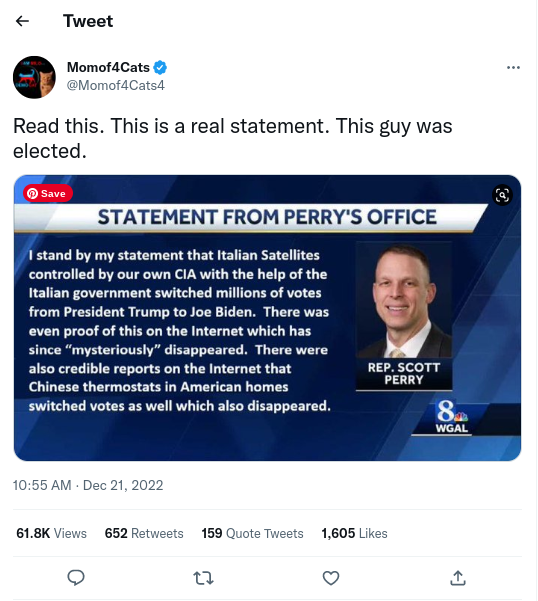 (Source: Twitter screenshot taken on Fri Dec 23 19:10:17 2022 UTC)
In an email sent to Lead Stories on December 23, 2022, Jay Ostrich, a spokesperson for Perry's office, said of the claim:
This is complete claptrap and 100% fake, he never thought this let alone said this, and this statement was never issued by our office -- pure fantasy.
Perry's Twitter account also included a tweet debunking the claim. Posted on December 22, 2022, the tweet linked to a Snopes fact check about the fake statement and read:
Sorry to disappoint the keyboard warriors & lazy journalists like former CNN reporter
@JohnJHarwood who shared a TOTALLY FAKE post designed to rile folks into a lather.
@elonmusk: keep going, Freedom works!
The Snopes fact check also noted that the WGAL attribution in the fake statement screenshot is probably a result of image manipulation. According to Snopes, whoever created the image probably took a real screenshot from a WGAL report about Scott and edited it to feature the fake statement instead.
To that point, Lead Stories used Google to search WGAL's website for any mention of the statement. We did not find any story reporting that Perry made the statement.
However, Perry has apparently engaged with a conspiracy theory like the one described in the fake statement. In June 2022, media outlets such as The New York Times and The Washington Post reported that Perry sent a video to former White House Chief of Staff Mark Meadows claiming that an Italian defense contractor worked with CIA officials to change votes for former President Donald Trump into votes for Biden during the 2020 presidential election.
Other Lead Stories fact checks about the 2020 election can be found here.