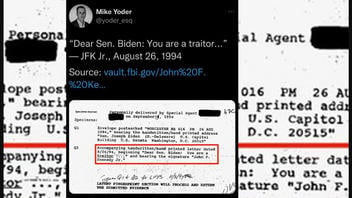 Do records in an FBI file indicate that John F Kennedy Jr. wrote a letter in 1994 to then-Sen. Joe Biden calling him a traitor and also saying, "You must die"? No, that's not true: The FBI did investigate a threat letter sent from Worcester, Massachusetts, to Biden in Washington, D.C., on August 26, 1994, that was signed "John F. Kennedy, Jr." but the FBI file does not indicate that Kennedy was suspected of being the letter writer.
Fingerprints were collected and the handwriting was analyzed. Throughout the report, law enforcement jargon for unknown subject is used, calling the letter writer, "UNSUB; aka John F. Kennedy, Jr." The case was closed in December 1994, concluding in part, "Although latent fingerprints were developed by the laboratory, there are no suspects at this time wherein latent comparisons can be made."
On November 21, 2020, Mike Yoder posted a tweet (archived here) with a screenshot and link to a PDF document. He retweeted that tweet and posted a screenshot of the original tweet to Instagram on December 22, 2022. The date of the original tweet, "11/21/20," is highlighted in yellow to emphasize that it was first posted over two years ago. The Instagram post was captioned:
First tweet since getting my twitter account back--this retweet from 11/21/20.
The more you know.
The Twitter post text in the screenshot reads:
Mike Yoder
@yoder_esq
"Dear Sen. Biden: You are a traitor..."
---JFK Jr., August 26, 1994
Source: vault.fbi.gov/John%20F.%20Ke...
This is how the post appeared on Instagram at the time of writing: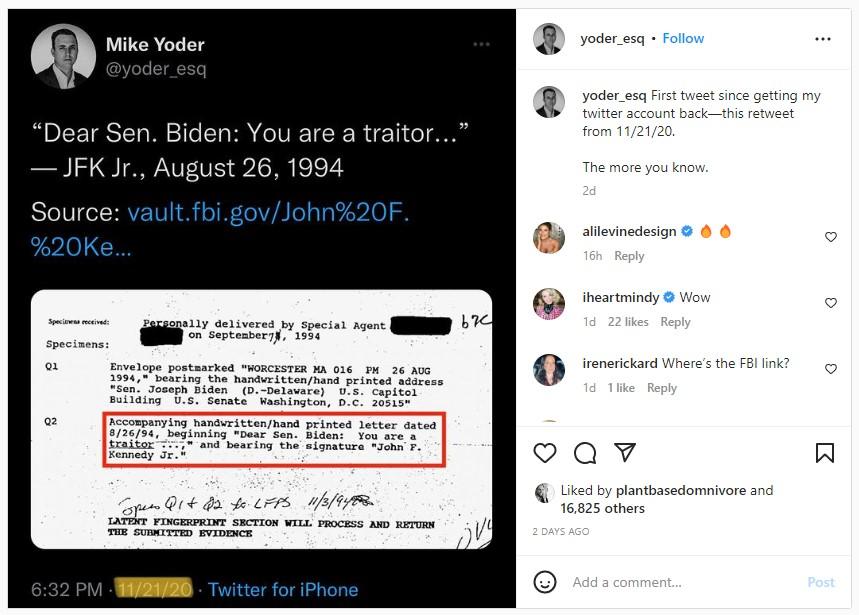 (Image source: Instagram screenshot taken on Fri Dec 23 17:18:30 2022 UTC)

The screenshot excerpt of the typewritten FBI report included in the Twitter post reads:
Specimens received: Personally delivered by Special Agent ___ b7c
____ on September 7 8, 1994
Specimens:
Q1 Envelope postmarked 'WORCESTER MA 016 PM 26 AUG 1994,' bearing the handwritten/hand printed address 'Sen. Joseph Biden (D. -Delaware) U.s. Capitol Building U.S. Senate Washington, D.C. 20515'
Q2 Accompanying handwritten/hand printed letter dated 8/26/94, beginning 'Dear Sen. Biden: You are a traitor...,' and bearing the signature 'John F. Kennedy Jr.'
Specs Q1 + Q2 to LFPS 11/3/94
LATENT FINGERPRINT SECTION WILL PROCESS AND RETURN THE SUBMITTED EVIDENCE
Yoder is not forthcoming about what he intends to communicate by tweeting and retweeting this selected piece of the 1994 FBI investigation, but it is misleading to suggest that Kennedy wrote a letter threatening Biden in 1994. The link, which functions in the original Twitter post but not in the screenshot on Instagram, goes to a
180-page PDF document
that is a collection of reports that were returned under the Freedom of Information and Privacy acts on the subject of Kennedy.
Since 1967, the Freedom of Information Act (FOIA) has provided the public the right to request access to records from any federal agency. It is often described as the law that keeps citizens in the know about their government. Federal agencies are required to disclose any information requested under the FOIA unless it falls under one of nine exemptions which protect interests such as personal privacy, national security, and law enforcement.
Included in this collection of documents requested via the FOIA were additional files on two different plots to kidnap Kennedy that had been investigated by the FBI, dating from 1985 and 1995.
In this context, the file on the investigation into a threatening letter addressed to Biden by an anonymous person who signed the letter with Kennedy's name becomes more understandable. It is not that Kennedy was suspected of writing the letter, only that someone had used the FOIA to request FBI files that include Kennedy's name. File number 89A-WF-195316 (page 157), the report on the letter threatening Biden, was included for that reason. Pictured below are some pages from the FBI report on the threatening letter of August 26, 1994 (images will open larger in a new window).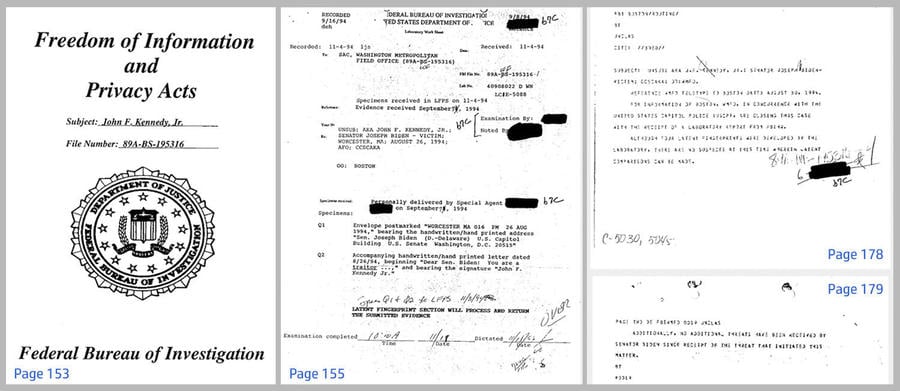 (Image source: Screenshots of pages 153, 155, 178 & 179 from PDF file taken on Fri Dec 23 20:11:29 2022 UTC)
On page 156 of the PDF file, the letter is called "anonymous" despite being signed with the name "John F. Kennedy Jr." The summary at the closure of the investigation, found on pages 178 and 179, states there were no suspects at that time, clearly indicating that Kennedy is not suspected of writing the letter:
For information of Boston, WMFO (Washington Metropolitan Field Office), in concurrence with the United States Capitol Police (USCP), are closing this case with the receipt of a laboratory report from FBIHQ.
Although four latent fingerprints were developed by the laboratory, there are no suspects at this time wherin latent comparisons can be made.
Additionally, no additional threats have been received by Senator Biden since receipt of the threat that initiated this matter.