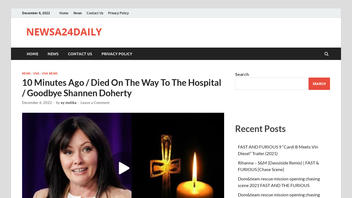 Did actress Shannen Doherty die on December 6, 2022? No, that's not true: The claim was made without credible, publicly available corroborating evidence. "She is fine," her agent told Lead Stories. Donerty is best known for roles she played in a "Little House On the Prairie" television series and Beverly Hills, 90210.
The claim appeared in an article published by Newsa24daily.com on December 6, 2022 (archived here). The title said:
10 Minutes Ago / Died On The Way To The Hospital / Goodbye Shannen Doherty
Here is what it looked like at the time of writing:
(Source: Newsa24daily.com screenshot taken on Dec 8 16:44:08 2022 UTC)
Doherty's publicist Leslie Sloane told Lead Stories over the phone on December 8, 2022:

She's fine. I just spoke to her this morning.
As of this writing, not a single credible source has reported anything that would contradict these words.
The Newsa24daily.com "article" did not contain any sources or details -- it did not have any text at all. The page consisted of multiple screenshots of a September 2022 YouTube video with the same title, with the actual clip being embedded on the bottom of the page. The content of the video, however, did not repeat the claim -- it just summarized Doherty's biography.
The website also displayed a suspicious pop-up that asked users to update their Adobe Flash Player, which was discontinued in 2020. This appears to be a tactic to trick users into installing malware on their computers.
Doherty played roles in such movies as "Little House on the Prairie," "Girls Want to Have Fun," "Our House," "90210" and "Charmed." One of her most recent works is "Fortress," released in December 2021.
The actress has been battling cancer since 2015. In February 2020, she revealed that the illness had progressed to stage 4. Doherty has been open about her journey, giving interviews, documenting it on her verified Instagram account and speaking out against stereotypes about cancer patients.
Additional Lead Stories fact checks of death hoaxes about celebrities can be found here.