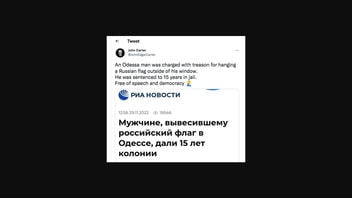 Was a man from the Ukrainian city of Odesa sent to prison for 15 years for hanging up the Russian flag? No, that's not true: The unnamed person in question was found guilty of treason, collaboration with Russian forces and kidnapping.
The claim appeared in a tweet (archived here) posted on December 1, 2022. It said:
An Odessa man was charged with treason for hanging a Russian flag outside of his window.
He was sentenced to 15 years in jail.
Free of speech and democracy
This is what the post looked like on Twitter at the time of the writing of this fact check: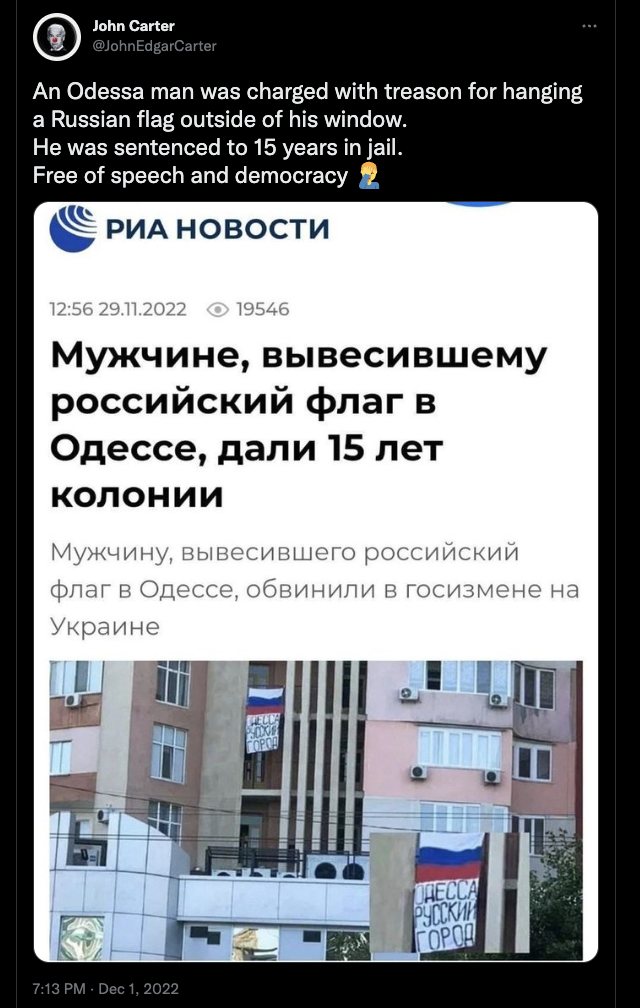 (Source: Twitter screenshot taken on Thu Dec 8 15:11:03 2022 UTC)
The tweet contained a screenshot of a Russian-language report published by the government-owned news agency RIA Novosti. It showed a Russian flag hanging from the balcony of an apartment building. A white poster attached to it said, "Odessa is a Russian city." (Note: "Odessa" is the city's Russian name. Lead Stories used that spelling here to reflect the Russian spelling in the poster.)
However, the flag was only a tiny part of the story: The Ukrainian State Bureau of Investigation charged that the man, whose name has not been released, ran a sophisticated scheme to help Russia gather intelligence about the Ukrainian armed forces, while simultaneously plotting extortion and kidnapping.
Even the November 29, 2022, RIA Novosti article, citing Ukraine's State Bureau of Investigations, said that, as translated by DeepL:
He also allegedly collected and transmitted to the Russian side information about the AFU [Armed Forces of Ukraine -- ed] and military facilities, 'recruited former law enforcement officers for subversive activities against Ukraine.'

'The traitor did not give up his usual criminal activity either. He and his accomplices planned to kidnap a patriotically-minded entrepreneur of Odessa, who was engaged in volunteer work,' the State Bureau of Investigation noted.

According to the statement, the men 'set up a basement to torture the businessman so that he would agree to give up all his property and money.'
On November 29, 2022, Ukraine's Office of the Attorney General also issued a statement about the case, describing the man as an "FSB agent" -- an agent of Russia's Federal Security Service, an intelligence agency that handles "national security" operations.

Under Ukraine's Criminal Code, the unnamed man was found guilty of treason, collaboration and kidnapping, the statement said.
He was sentenced to 15 years in prison with confiscation of property. Prosecutors in court proved that, having a pro-Russian position from the beginning of the full-scale invasion, he entered into a criminal conspiracy with the curators of the special services of the aggressor state. His task was to carry out subversive activities in the city, to provide information and political support to the Russian Federation on the territory of Ukraine.
(Translated by Google)
Additional Lead Stories fact checks about the ongoing war in Ukraine can be found here.