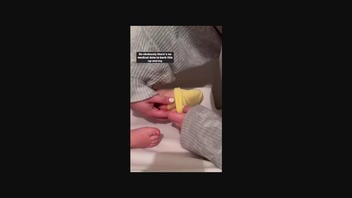 Does wearing socks that contain cut pieces of potato help children combat flu and cold symptoms by absorbing toxins from their bodies? No, that's not true: The American Academy of Pediatrics has rejected this claim as groundless. It's not on the U.S. Food and Drug Administration's list of "authorized health claims" -- claims about the health benefits of food or food components for which significant scientific evidence exists. Three registered dieticians confirmed for Lead Stories that this claim is false since potatoes, though high in vitamin C, have no medicinal value.

One example of this potato-in-a-sock claim appeared on Instagram on November 29, 2022. The video displayed a woman placing cut pieces of potato against the soles of her children's feet, using their socks to hold the potato in place. The post's caption said:
WHAT IS THIS WITCHCRAFT?!? Seriously, have you tried this before??? I'd love to hear your outcome and if it matched ours or was a total bust! According to the super reliable source that is social media, they say this works best for the flu or any virus/cough! Worth a try?!?

#parenthacks #momhacks #sickkids

#potato #potatosocks

#homeremedies #homeremedy

#naturalmedicine #fluseason

#oldwivestales #experiment
This is how the post appeared at the time of writing: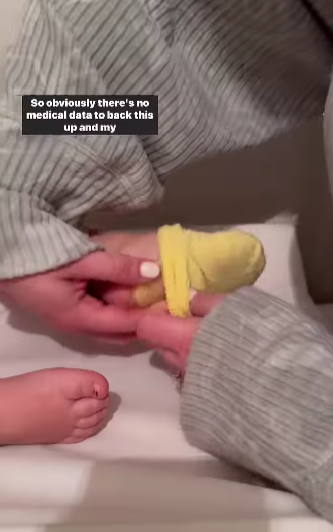 (Source: Instagram screenshot taken on Thur Dec 15 15:31:23 2022 UTC)
The woman who appears in the video says she has three children. She describes placing potato slices in a sock to cure a virus as a "home remedy" and concedes that "there is no medical data to back this up."
For an expert assessment of this claim, Lead Stories contacted the American Academy of Pediatricians (AAP). In a December 15, 2022, email to Lead Stories, Dr. Amna Husain, a pediatrician and AAP spokesperson, shared a video she had posted on TikTok on November 11, 2022, and on Instagram on December 7, 2022, to debunk this claim.

"NO evidence or data to show that applying onions or potatoes TO SKIN externally will cure symptoms," the caption for Husain's video on Instagram states.

In the video, Husain, citing her own child's experience with a virus, underlines that the duration of a virus has to do with the nature of the virus itself, rather than the fact that potatoes were placed against a sick child's feet.

As she talks, a text graphic asserts:
Whether it's onion or potato, I promise you this doesn't work
An October 4, 2019, Healthline article titled "Can Potatoes in Your Socks Cure a Cold or Other Ailments?" emphasized that this folk remedy should not be tried on children since it can cause an allergic reaction on their more sensitive skin.
A registered dietician cited in the Healthline article, Ruth MacDonald, a nutrition expert at Iowa State University, told Lead Stories in a December 14, 2022, email that the potato-sock claim was false:
I can think of no logical explanation that would support the claim that a potato can cure any aliment. Potatoes are mainly starch and water, and there would be no medicinal value in those components. I believe the idea is that bacteria and viruses are somehow drawn into a potato or an onion - but this is a false concept that has no merit.
Consuming a potato provides "an excellent source of vitamin C," but no ready cure for the flu or a cold, agreed registered dietician Bonnie Johnson, director of nutrition at Potatoes USA, a marketing firm for U.S. potatoes:
Sadly, there's no scientific evidence that putting a potato in your sock will do anything beneficial for people's health. However, if they want to cook that potato and eat it, they'll be consuming an excellent source of vitamin C. A medium (5.3 ounce) potato contains nearly one-third of the Vitamin C we need every day, which is 10% more than a medium tomato. As you know, Vitamin C helps support the body's immune system.

So while a raw potato in your sock may not keep a cold away, eating a cooked potato can boost your Vitamin C intake which supports the body's immune system!
A third dietitian, from UCLA, agreed with the other two.
The Food and Drug Administration (FDA) does not list potatoes as a cure for the flu or a cold among its "authorized health claims." In a December 14, 2022, email, a FDA spokesperson explained that these are claims about a food or food component's ability to "reduce the risk of a disease or a health-related condition" that "qualified experts" generally agree are backed "by the totality of publicly available scientific evidence."

Lead Stories previously debunked the claim that cut onions in the sock combat the cold and flu. That fact check can be read here.