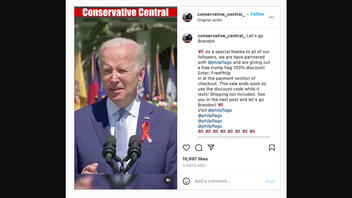 Did a crowd of hecklers shouting "Fuck Joe Biden!" interrupt the U.S. president during a White House speech about gun violence and gun safety laws? No, that's not true: The video has been digitally altered to add a loud chorus of voices. The original footage shows that only one person, the father of a shooting victim, interrupted Biden to say that more needs to be done to solve the United States' gun violence problem.
The claim appeared on Instagram on January 23, 2023, and shows the president speaking under a red and white digital banner with the name of the Instagram account that posted the video, "Conservative Central." The video opened with Biden saying:
... on dealing with gun violence. Because, make no mistake ... sit down, and you'll hear what I have to say ...
Here's how the Instagram post appeared on the day of writing: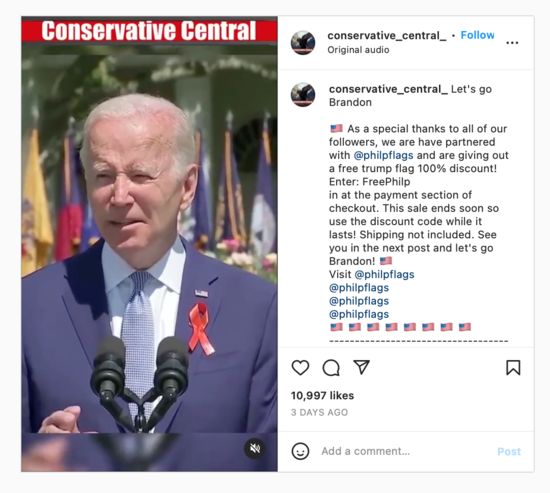 (Source: Screenshot of Instagram post taken Thurs Jan 26 at 17:28:58 2023 UTC)
In the post's video, clapping and chanting can be heard in the background, quickly growing louder and appearing to stop Biden's speech, which occurred on the White House South Lawn on July 11, 2022. In some places, the audio includes a man laughing and a chord progression that sounds as if it comes from an electronic keyboard.
The video, however, does not accurately represent the actual July 11, 2022, event where Biden spoke, reporting by Lead Stories found.
An original video of the speech, recorded by C-SPAN, shows that no chanting occurred as the president praised the Safer Communities Act, a bipartisan piece of legislation passed in the wake of the 2022 Robb Elementary School shooting in Uvalde, Texas that killed 19 children and two adults.
Rather, Biden was interrupted by Manuel Oliver, whose son, Joaquin, was among the 17 people killed during the 2018 massacre at Marjory Stonemason Douglass High School in Parkland, Florida
A timestamp on the video shows the portion of Biden's remarks featured in the Instagram post begin at roughly the 18:50-minute mark. Some of what Oliver said is unintelligible, but he is heard yelling, "We have to do more than that!" at 18:56. Interrupting the president, Oliver also shouts, "We've already gone through this for years and years."
In the C-SPAN video, Biden pauses to allow Oliver to speak, saying, "Let him talk, let him talk." C-SPAN's cameras turned to capture Oliver, who was later escorted away from the area soon after, as seen here: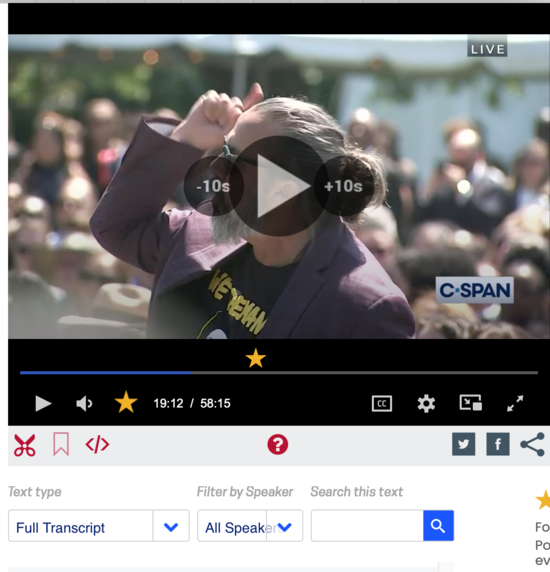 (Source: Screenshot of C-SPAN video taken Thur Jan 26 at 20:32:54 2023 UTC)
Both a transcript of the C-SPAN video and an official White House transcript of the speech document the exchange between Biden and Oliver.
Here's how the White House transcript reads, beginning with Biden: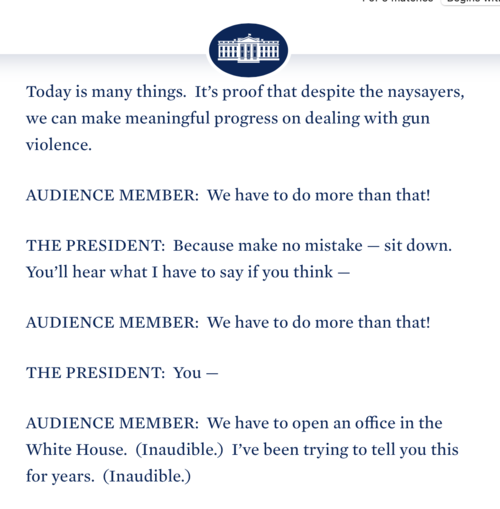 (Source: Screenshot of White House transcript taken Thurs Jan 26 at 20:55:42 2023 UTC)
Several versions of the same video have been shared online, including on Facebook and Instagram.
Additional Lead Stories fact checks of claims about President Biden can be found here.