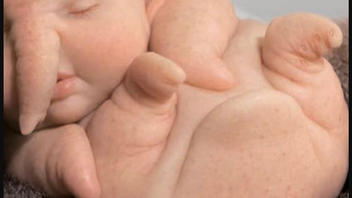 Was a baby with elephant-like facial features born in Norway, and have thousands of Hindu people flocked to Norway to see the child since media in India reported the birth? No, that's not true: The photo posted with this claim does not show a real child. It is a 2010 sculpture, a surreal human-animal hybrid composed of silicone, fiberglass and human hair, and made by artist Patricia Piccinini, who lives in Australia.
A photo of the 2010 sculpture titled, "Newborn", which had been exhibited internationally, was shared on the artist's official Instagram account on November 28, 2019. Photos of this artwork had already appeared with a false narrative on clickbait websites ( stuppid.com, thenewsbite.com and malayalam.oneindia.com) in January 2015.
The misleading article (archived here) resurfaced on latedaily.com on January 25, 2023, under the title "This alien is described as a man with human-like limbs and the head of an elephant." The opening sentence continues from the headline:
Trunk instead of a nose, and ѕtгапɡe limbs. Half man, half elephant hybrid. Hundreds of thousands of Hindus began to flow to Norway because of a ѕtгапɡe newborn because they believe it is a renamed popular god Ganesh. He is portrayed as a man with more limbs and an elephant's һeаd.
This is how the article appeared at the time of this fact check's publication: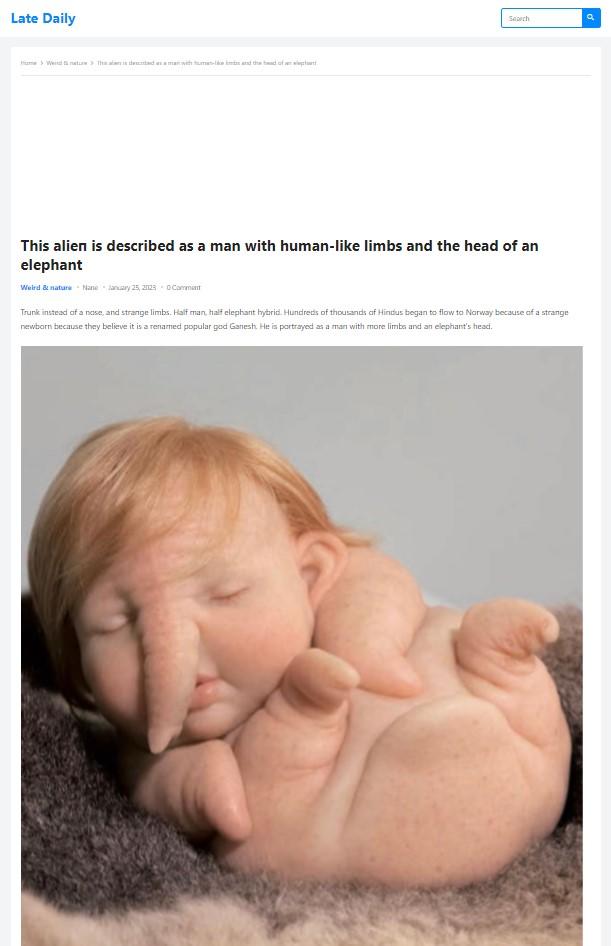 (Source: latedaily.com screenshot taken on Fri Jan 27 16:36:47 2023 UTC)
A photo of the hyper-realistic sculpture from a slightly different angle was posted on Piccinini's verified Instagram account (below) on November 28, 2019. The image is captioned:
Newborn, 2010
Silicone, fibreglass, human hair, feral New Zealand possum pelt
- -
Currently on exhibition in Belgium as part of 'Ceci n'est pas in corps' at La Boverie in Liège, Belgium.
- -
#patriciapiccinini #art #contemporaryart #sculpture #visualart #installation #artist #feminist #conceptualart #feministart #posthumanism #posthuman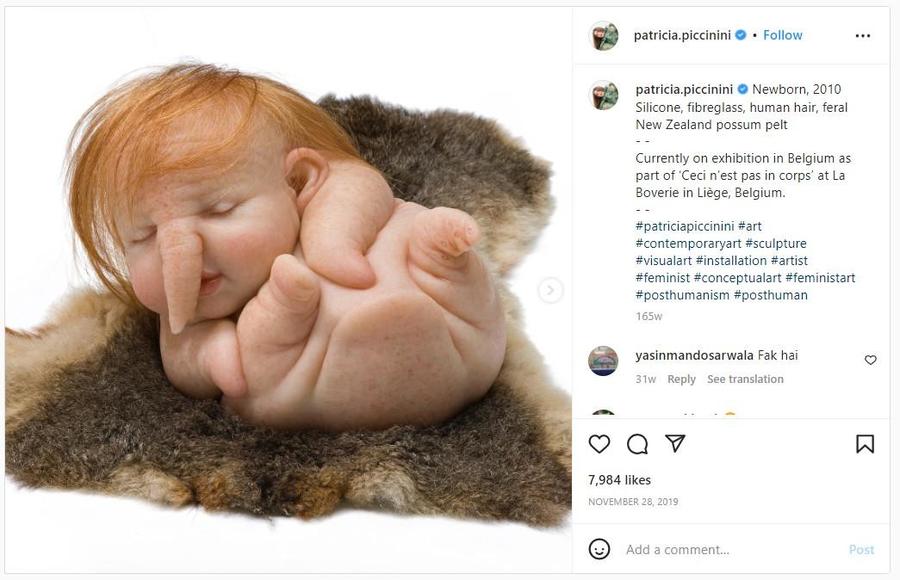 (Source: Instagram screenshot taken on Fri Jan 27 17:04:09 2023 UTC)
The About section of the artist's website, patriciapiccinini.net, describes her work:
Patricia Piccinini was born in Sierra Leone and lives in Australia. Her work encompasses sculpture, photography, video and drawing and her practice examines the increasingly nebulous boundary between the artificial and the natural as it appears in contemporary culture and ideas. Her surreal drawings, hybrid animals and vehicular creatures question the way that contemporary technology and culture changes our understanding of what it means to be human and wonders at our relationships with - and responsibilities towards - that which we create.