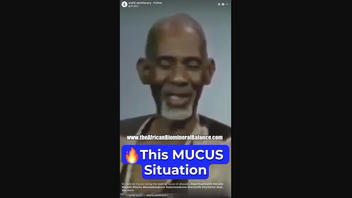 Is the sticky, gooey mucus produced by the body "the underlying cause" of all human disease? No, that's not true: Mucus plays an important and protective role in the body's immune system, filtering out harmful irritants, allergens and pathogens to keep people healthy, not to make them sick.
In addition, the claim about the dangers of mucus comes from a convicted fraudster and discredited herbalist, Dr. Sebi.
The claim appeared on Facebook on January 15, 2023, in a video with the caption "Dr. Sebi on mucus being the leading cause of disease...#spiritualhealth #drsebi #health #herbs #herbalmedicine #plantmedicine #herbalife #herbalist #naturopathicmedicine #nature #body #healthyliving" The video opened:
If the mucus goes to your nostrils, they call it sinusitis. If the mucus goes to your bronchial tubes it's bronchitis. If the mucus goes to the lungs, there's pneumonia. So we have three different disease caused by what? Mucus.
Here's how the video appeared on the day of the writing of this fact check: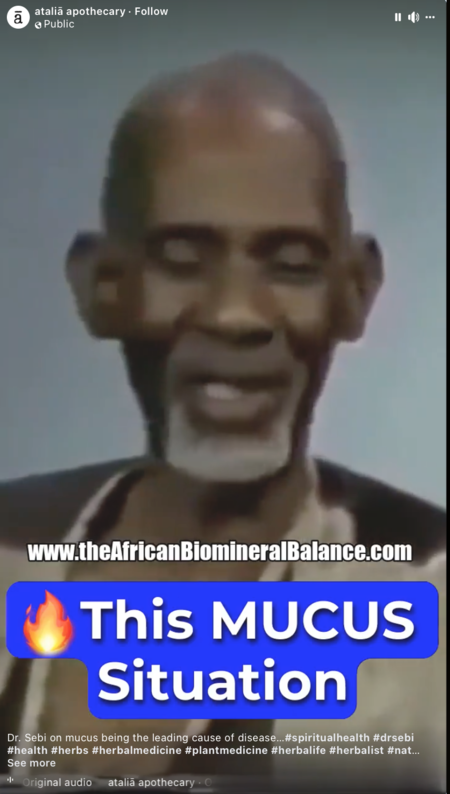 (Source: Facebook screenshot take Wed Jan 18 at 15:48:21 2023 UTC)
The speaker, identified as Dr. Sebi, goes on to claim mucus is also the cause of disease in the prostate gland and the uterus. He blames "inadequate diet" for leading to "this mucus situation." Ultimately, he claims, the viscous fluid is "the underlying cause of all disease."
This claim is false. Numerous research studies have detailed the protective benefits of mucus and its varied functions. Sebi, who died in 2016, has been dismissed by credible scientists and institutions for practicing pseudoscience.
Mucus -- also known as snot, phlegm or sputum -- is the sticky gelatinous fluid that lines the lungs, nose, sinuses, gastrointestinal tract and other body parts exposed to the external environment. As a key piece of the human immune system, its most important function is to trap airborne irritants like dust or pathogens, viruses and bacteria, and to prevent them from spreading through the body.
It also has many other functions. The body continuously produces mucus, which, according to the healthcare site MDLIVE, is made up primarily of water, "with a mix of glycoproteins, proteoglycans, lipids, proteins, and DNA."
Infections can change the consistency of mucus and lead to inflammation that clogs the nasal passages, prompting an increase in mucus production. Allergies can also produce extra mucus. For this reason, mucus is seen primarily as a symptom of disease, not the cause.

It can, however, contribute to some medical conditions. In persons diagnosed with cystic fibrosis, for example, a genetic defect alters the cells that produce mucus, making it so thick and sticky that it can clog vital ducts and passageways instead of acting as a lubricant.
A Google image search matched the video's narrator to photos, ads, books, videos and other social media posts affiliated with or promoting Sebi, who believed mucus and acidity were the cause of all disease.
An extensive critical review of Sebi's claims -- including that herbal remedies could cure AIDS -- by McGill University's Office of Science and Society dubbed the health theories "pseudoscience" and said they showed a fundamental lack of understanding about genetics.
Sebi, born in Honduras in 1933 as Alfredo Bowman, had no formal medical education. His website biography says he was educated by his grandmother and studied herbs in Africa, the Caribbean and the Americas.
He brought his theories to the U.S. in the 1980s with clinics in New York and Los Angeles. New York authorities charged Sebi with practicing medicine without a license in 1987. Although acquitted of the charges, he lost a subsequent civil lawsuit and was barred from making therapeutic claims about his supplements.
Sebi died of pneumonia in a Honduras jail in May 2016 as he awaited trial on a money-laundering charge. His website continues to sell his products. It provides no links to research that would support its claims of health benefits, but does include a statement on its product pages that the U.S. Food and Drug Administration has not evaluated its products.
Other Lead Stories fact checks of claims by Dr. Sebi can be found here.