STORY UPDATED: check for updates below.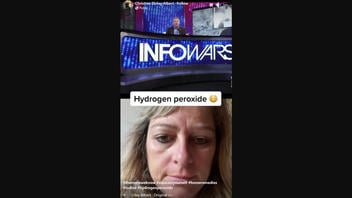 Does the combination of hydrogen peroxide and iodine cure respiratory ailments when used as a makeshift medication in a nebulizer? No, that's not true: An emergency medicine toxicologist at the non-profit National Capital Poison Center told Lead Stories that such a practice is "unsafe." A U.S. Food and Drug Administration (FDA) spokesperson further verified that this claim is false as the nebulization of hydrogen peroxide and iodine is not at all FDA-approved.
The video that makes the claim about combining hydrogen peroxide and iodine in a nebulizer is from a show whose founder is known for publishing conspiracy theories.
The claim appeared in a Reel on Facebook on January 16, 2023. The caption says:
#themoreweknow #educateyourself #homeremedies #iodine #hydrogenperoxide
Below the video of a man sitting behind what appears to be a news desk with the word "INFOWARS" written on it is text that reads:
Hydrogen peroxide 😳
This is what the post looked like at the time of the writing of this fact check: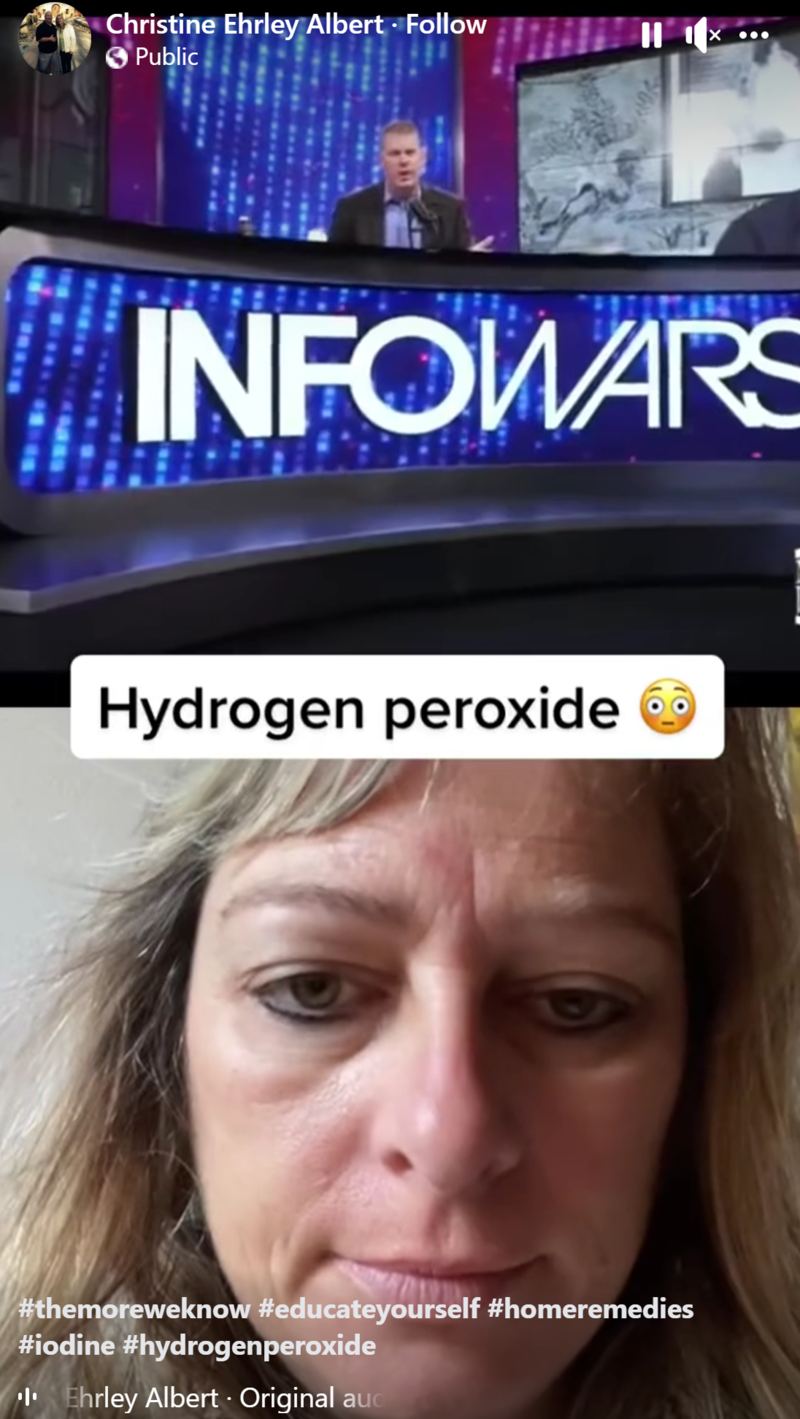 (Source: Facebook screenshot taken on Fri Jan 20 12:17:18 2023 UTC)
In this Reel, a woman records herself reacting to a video of a man using an essential oil diffuser -- not a nebulizer -- to combine the liquid forms of hydrogen peroxide and iodine. The man says the mixture will purportedly coat the lungs to combat "pathogens in the body," cure a sore throat, "relieve symptoms overnight" and ultimately cure all respiratory ailments.
The man in the video appeared on the show "Infowars." The Library of Congress' online archive defines "Infowars" as a "far-right American conspiracy theory and current events news website owned by Alex Jones and founded in 1999." The Southern Poverty Law Center describes Alex Jones as "the most prolific conspiracy theorist in contemporary America," the founder of the "far-right radio and internet conspiracy website Infowars," where his "most notable conspiracies revolve around national tragedies and terrorist attacks he labels as 'false flag' operations."
In an email to Lead Stories on January 19, 2023, Dr. Kelly Johnson-Arbor, a board-certified physician in emergency medicine and toxicology at the National Capital Poison Center, a non-profit organization in Washington, DC, explained that, when inhaled, hydrogen peroxide and iodine are respiratory irritants:
Hydrogen peroxide is a respiratory irritant that can cause coughing, shortness of breath, and airway inflammation and irritation after inhalational exposure. When inhaled, hydrogen peroxide can cause distant tissue damage as well: in one published report from 2007, a 51-year-old man experienced persistent bilateral visual loss after inhaling hydrogen peroxide for only 15 minutes (article is attached for your review). Combining iodine and hydrogen peroxide in a nebulizer is also unsafe. Iodine is highly corrosive and can cause significant irritation, inflammation, and damage to internal organs when it comes into contact with bodily tissues.
Iodine is a chemical substance, and hydrogen peroxide is a chemical compound, an oxidizing agent typically found in disinfectants.
Darcy O'Brien-Genrich, a registered respiratory therapist and manager of respiratory care at Nebraska Medicine, a healthcare network associated with the University of Nebraska Medical Center, similarily told Lead Stories in a January 19, 2023, email that the video's claim is false:
During these times where false information continues, nebulizing iodine and hydrogen peroxide would be toxic and harmful to the lungs - especially if someone has a known or unknown allergy to iodine.

We, as respiratory therapists, only recommend nebulized medications by the FDA that are proven safe and effective in maintaining lung health.
In a January 25, 2023, email, an FDA spokesperson also confirmed for Lead Stories that this claim was false:
Hydrogen peroxide and iodine are not FDA-approved for nebulization. These products have not been evaluated by the FDA for safety and effectiveness. There could be serious safety concerns with nebulization of hydrogen peroxide or iodine. Consumers should not nebulize hydrogen peroxide and/or iodine to treat respiratory conditions, nor should they rely on products that are not FDA-approved as safe and effective to treat respiratory conditions.
In an October 8, 2021, Nebraska Medicine article, medical toxicologist Dr. Ron Kirschner said that gargling iodine can cause a toxic reaction since it is not meant to be used internally at all. Inhaling hydrogen peroxide can cause a direct tissue injury in the human body, Kirschner added.
Lead Stories previously wrote about using hydrogen peroxide and colloidal silver separately in a nebulizer to fight off pathogens and about using colloidal silver in nebulizers to treat viral infections.
2023-01-26T00:44:14Z

2023-01-26T00:44:14Z

Adds January 25, 2023, response from FDA spokesperson.