STORY UPDATED: check for updates below.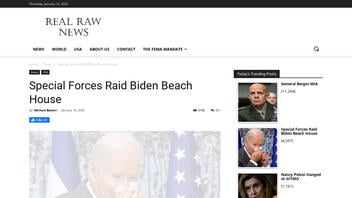 Did the Special Forces, a branch of the U.S. Army, raid the Biden family beach house in Delaware? No, that's not true: There is no evidence to back up the claim, and Real Raw News has a history of writing about fake Special Forces raids. This website is also well known for making up stories about public figures.
The claim appeared in a Real Raw News article (archived here) published on January 10, 2023. It opened:
Not long after a story about classified documents being found at an old D.C. office used by then-Vice President Joseph Biden hit the news, U.S. Special Forces raided one of three Delaware properties owned by the illegitimate president and his wife, Jill, sources in General Eric M. Smith's office told Real Raw News.
This is what the article looked like at the time of writing: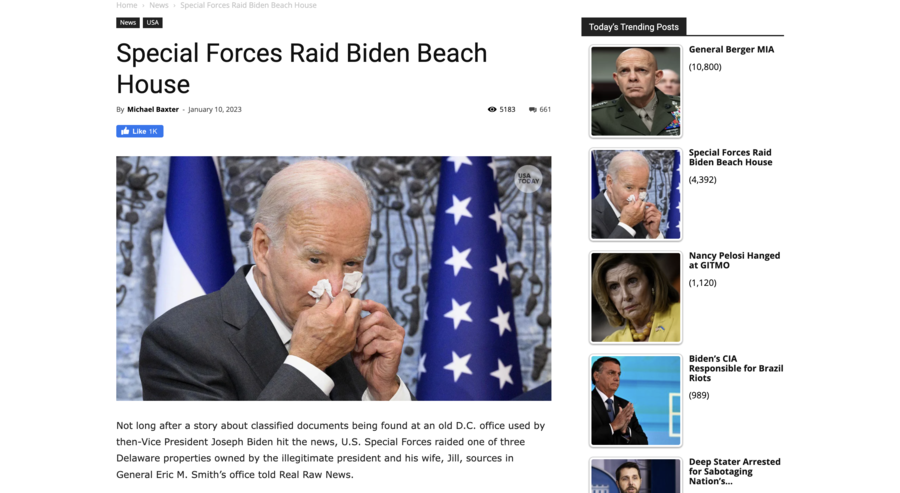 (Source: Real Raw News screenshot taken on Thu Jan 12 14:47:03 2023 UTC)
The Posse Comitatus Act prohibits the U.S. military from carrying out domestic law enforcement. However, this act can be voided under certain circumstances explicitly authorized by the U.S. Constitution or Act of Congress. Congress.gov does not show any bills that would allow the military to raid Biden's Delaware property.
A Google News search of "Special Forces raid Biden beach house" did not result in articles from any reputable media outlets.
Kenneth McGraw, a member of the U.S. Special Operations Command Communication Office, responded to a Lead Stories inquiry regarding the purported raid. In a January 12, 2023, email, he wrote:
No, Special Forces did not raid President Biden's home in Delaware. U.S. Army Special Forces is a Department of Defense organization not a law enforcement agency. The U.S. military is generally prohibited from participating in law enforcement activities in accordance with the Posse Comitatus Act.
Real Raw News has a history of claiming with no evidence that Special Forces raids happened. Lead Stories fact checked a similar claim where Real Raw News claimed that in 2021 that the Delta Force, a U.S. special missions unit, raided a Biden compound in Ukraine.
In that fact check, we compared the similarities between that story and an even older story by Someonesbones.com that claimed "an Obama-controlled stronghold" had been raided in Thailand. Both of these fact checks had identical details.
Politifact debunked the Obama-Thailand raid claim in 2018, writing that the night-vision images in that story were taken from the 2013 movie, "Zero Dark Thirty" and the photo of the fake Obama compound was Villa Rak Tawan, an estate in Phuket, Thailand.
Michael Tuffin
Michael Tuffin is (likely) the real name of "Michael Baxter," the main byline used on articles published on RealRawNews.com, including this one. He was identified by Politifact in 2021 on the basis of data connected to a fundraiser for the site.
Real Raw News
Real Raw News is a website that consistently publishes made-up stories about U.S. politics. The well-written English and news-style layout of the website make it look like a legitimate news source, so it often fools people into believing the stories are real. Screenshots and copies of the stories regularly turn up on other websites or on social media where they are presented as real.
It bills itself as "humor, parody and satire" on the "about" page (archived here):
Disclaimer:

Information on this website is for informational and educational and entertainment purposes. This website contains humor, parody, and satire. We have included this disclaimer for our protection, on the advice on legal counsel.
NewsGuard, a tool that provides credibility ratings for websites, published a five-page PDF report (archived here) in 2021 describing realrawnews.com as, "An anonymously run website that has published baseless and debunked conspiracies about COVID-19 and U.S. politics." It cautioned that the website severely violates basic journalistic standards."
Lead Stories has covered claims published by Real Raw News in the past. Previous Lead Stories debunks of Real Raw News items are collected here.
2023-01-12T19:44:04Z

2023-01-12T19:44:04Z

Added a response from U.S. Special Forces Command Communication Office.