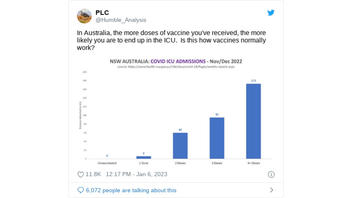 Do health data from the Australian state of New South Wales (NSW) show the more doses of COVID-19 vaccine a person has had, the more likely they are to end up in the intensive care unit (ICU)? No, that's not true: Health officials and medical experts contacted by Lead Stories said the figures do not take into account the number of people in each group and the underlying risk of ICU admission in each group. They also do not take into account that unvaccinated people are no longer "non-immune" -- as they have probably all been infected once or twice already.
The claim appeared in a post on Twitter (archived here) on January 6, 2023. A copy of it appeared on Instagram on January 9, 2023. The post says:
In Australia, the more doses of vaccine you've received, the more likely you are to end up in the ICU. Is this how vaccines normally work?
This is what the post looked like on Twitter at the time of writing: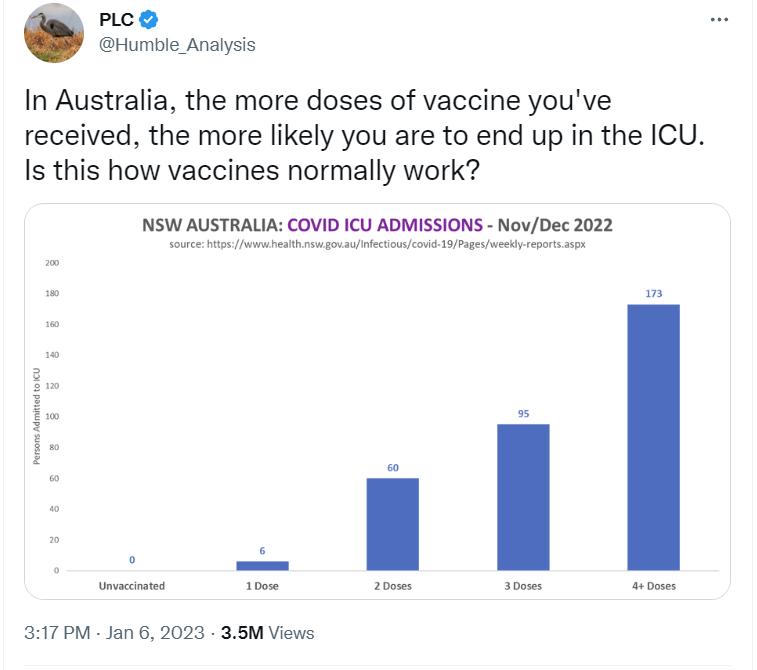 (Source: Twitter screenshot taken on Wed Jan 11 22:39:51 2023 UTC)
A similar claim appeared in another post on Twitter (archived here). It was published on January 10, 2023. This is what it looked like at the time of writing: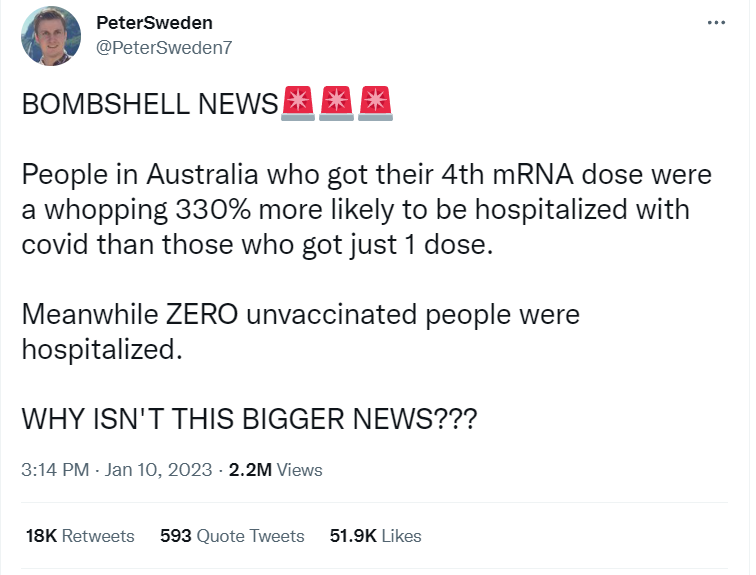 (Source: Twitter screenshot taken on Thu Jan 12 16:21:09 2023 UTC)
In a January 12, 2023, email to Lead Stories, a spokesperson for the New South Wales Ministry of Health (NWS Health) challenged the claims made on Twitter and elsewhere. Their statement opened:
The assertions made in these social media posts are completely incorrect. There is no evidence to support the notion that vaccination increases a person's chances of hospitalisation from COVID-19.

To the contrary, staying up to date with COVID-19 vaccinations is the most important factor in protecting against serious outcomes from infection.
Raina MacIntyre, a professor at the University of New South Wales Sydney and the head of the biosecurity program at The Kirby Institute, said in a January 12, 2023, email to Lead Stories that the phenomenon observed in the COVID numbers and seen in the chart above is known as "the paradox of vaccination or Simpson's Paradox." MacIntyre explained:
In Australia, over 95% of people are vaccinated, so it is a ubiquitous exposure. Vaccines wane rapidly over time, even after a 3rd dose, and with immune evasive variants such as XBB, prevention of infection is not great with current vaccines. Also, people who have had 3rd and 4th doses are more likely to be at high risk of complications of COVID-19.
Bottom line: When most of the population is vaccinated, most of the admissions to the ICU for COVID are in vaccinated people. The official numbers provided by NSW Health in its email show 95.8 percent of those aged 16-plus and close to 100 percent of those aged 65-plus have received at least two doses of COVID vaccine. MacIntyre's email continues with her explanation:
Most people eligible for a 4th dose have had it over 6 months ago, so have waned protection and most are not eligible for the bivalent booster as a 5th dose. That is why we are seeing vaccinated people in hospitals, yet in a highly vaccinated country like Australia, still over 40% of deaths are in unvaccinated - which should tell you how effective vaccines are.
Unlike in the United States, additional vaccine doses aren't automatically available for everyone, only those who need them most, MacIntyre said:
Until quite recently only older people were eligible for a 4th dose.


Even when these rules were relaxed, people under 30 cannot get a 4th dose (unless severely immunosuppressed)

So, the majority of people who have received a 4th dose would be over 50 years (this came in May [25, 2022], and prior to that was even more restrictive.)
The NWS Health spokesperson said there are important factors to consider when looking at the numbers for COVID hospitalization risk:
Vaccination coverage increases with older age, while age is also the main determinant of serious outcomes from COVID-19 infection. Most COVID-19 deaths in NSW are occurring in people aged 80+. The presence of significant underlying health conditions is also an important factor.

With such high levels of vaccination coverage in the community, and the high levels of past infection, determining the risk of serious outcomes from COVID-19 infection for individuals has become much more complex.

Different age groups and people with significant underlying health conditions will also have completed different recommended vaccination schedules, making this data even more difficult to interpret if looked at in isolation.
Additional Lead Stories fact checks of claims about COVID-19 vaccination can be found here.