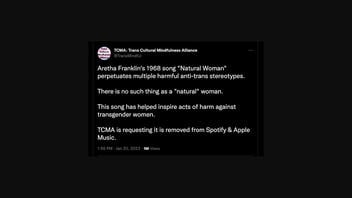 Did a Norwegian group of trans activists request that Aretha Franklin's song "Natural Woman" be removed from audio streaming services Spotify and Apple Music on January 20, 2023? No, that's not true: The account that started the thread on Twitter later added a disclaimer explaining that it does not represent any real-life trans rights advocacy group and only posts parody and satire.
The claim originated from a tweet (archived here) published on January 20, 2023. It said:
Aretha Franklin's 1968 song 'Natural Woman' perpetuates multiple harmful anti-trans stereotypes.
There is no such thing as a 'natural' woman.
This song has helped inspire acts of harm against transgender women.
TCMA is requesting it is removed from Spotify & Apple Music.
This is what the post looked like on Twitter at the time of writing: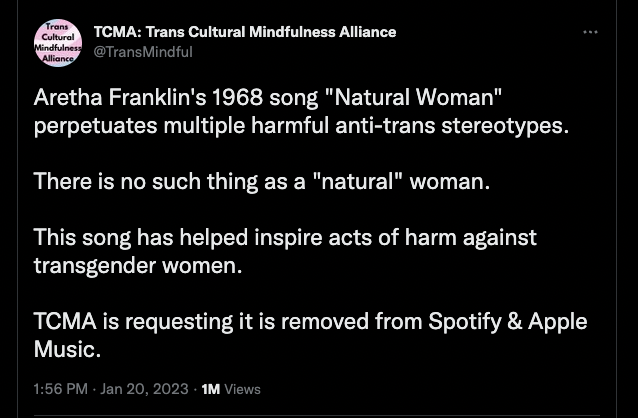 (Source: Twitter screenshot taken on Tue Jan 24 17:03:03 2023 UTC)
The combination of the account's name ("TCMA: Trans Cultural Mindfulness Alliance") and the tweet's message created a false impression that it was an authentic request from a group advocating for the rights of trans people. That grabbed the attention of the press, and several media outlets published stories about it (for example, here.) The claim also quickly appeared on alternative platforms such as Breitbart and a one-person blog.
An archived version of the account in question shows that on the day after the tweet's publication, as the controversy continued to grow on Twitter, its self-description said:
Founded January 2023. exclusively by trans individuals, promoting cultural changes to ensure the inclusivity of trans individuals. DM us to support our mission.
According to an attached geotag, the account represented itself as based in Oslo, Norway.
On January 23, 2023, it added a line identifying it as a "Non-Governmental & Nonprofit Organization" and said "DM us to support our movement."
But later that day, the account published a tweet admitting that it posted satirical content and shared a variation of the song it previously attacked: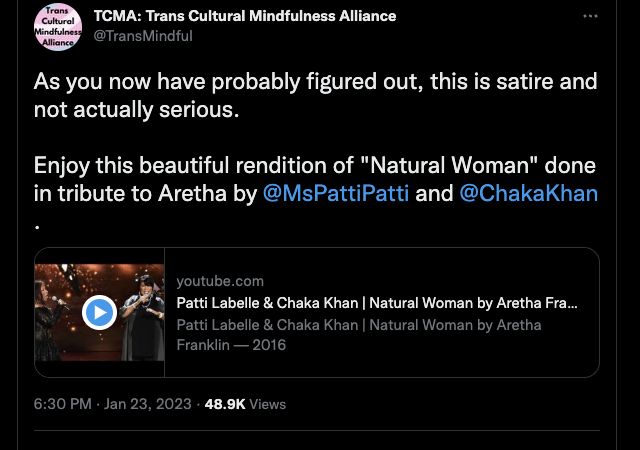 (Source: Twitter screenshot taken on Tue Jan 24 18:20:33 2023 UTC)
The January 24, 2023, archived version of the page showed the change: The account added a disclaimer saying that it's "PARODY/SATIRE." As of this writing, it was still there: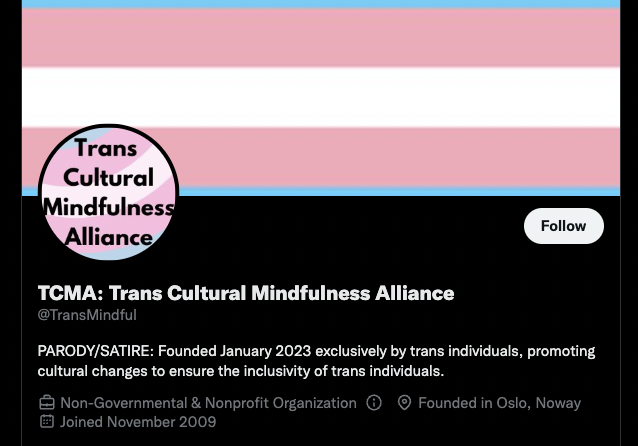 (Source: Twitter screenshot taken on Tue Jan 24 18:04:50 2023 UTC)
The discrepancy between the age of the account and the purported date when the "organization" came into being remained unaddressed. As of this writing, the earliest available tweet was published on January 20, 2023. It said:
Thank you for following us.

Our mission is to push forward the culture and remove harmful anti-trans associations in music, movies and television.

Mindfulness of the transgender population is our only priority.
That tweet was not labeled as satire, nor was the entry about Aretha Franklin's song.
The "group" does not appear to have an official website that would reveal what exactly they do and who the people behind the account are.
"A Natural Woman" is a 1967 single that became one of the signature songs in Franklin's repertoire. The lyrics focus on portraying the female narrator's personal journey. A 2016 New Yorker article described the backstory of this song:
Up in the first tier, sitting next to the Obamas, Carole King is about to fall over the rail. She is an honoree, and wrote 'A Natural Woman' with her first husband, Gerry Goffin. From the moment Franklin starts the first verse--'Looking out on the morning rain, / I used to feel . . . so uninspired'--King is rolling her eyes back in her head and waving on the music as if in a kind of ecstatic possession. She soon spots Obama wiping a tear from his cheek. ('The cool cat wept!' King told me later. 'I loved that.') ...

King recalls how the song came about. It was 1967, and she and Goffin were in Manhattan, walking along Broadway, and Jerry Wexler, of Atlantic Records, pulled up beside them in a limousine, rolled down the window, and said, 'I'm looking for a really big hit for Aretha. How about writing a song called "A Natural Woman."' He rolled up the window and the car drove off. King and Goffin went home to Jersey. That night, after tucking their kids into bed, they sat down and wrote the music and the lyrics. By the next morning, they had a hit.