STORY UPDATED: check for updates below.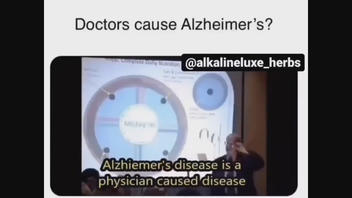 Do cholesterol-lowering drugs, also known as statins, cause Alzheimer's disease (AD)? No, that's not true: A neurologist told Lead Stories there is no truth to this claim and such statements "are not based on any scientific data or valid understanding of the disease." Furthermore, modern scientific literature largely suggests that statins may actually play a role in the prevention of some forms of dementia, including AD.
The claim originated in a video shared on Facebook on February 11, 2023, with a caption overlay reading, "Doctors cause Alzheimer's?" Text that accompanied the post read, "The Real Reason For Alzheimers?? #Health #Gholmes #Followme #Doctors #Sick" while a speaker in the video said the following:
Do not listen to doctors when it comes to nutrition. They know nothing. Alzheimer's disease is a physician-caused disease. The reason I can say that is this. Alzheimer's disease did not occur 40 years ago, even by another name. Now it's the number four killer of adults in the United States over the age of 65. But what is Alzheimer's disease? Well, it's the going away of the myelin, the installation material of the brain, the white matter of the brain, which makes up 75% of the brain weight.

When the myelin goes away and you don't have enough raw material to replace it, these naked nerve fibers get all tangled up, and you all heard of the nerve tangles, right? Of the myelin. They short-circuit and your memory doesn't work. That's what Alzheimer's is. Well, this myelin in the brain that makes up 75% of your brain weight is 100% cholesterol. So you go on a cholesterol-restricted diet ... then they give you cholesterol-lowering drugs. Then you can't remember who you are because you have Alzheimer's disease.
Below is how the post appeared at the time of writing: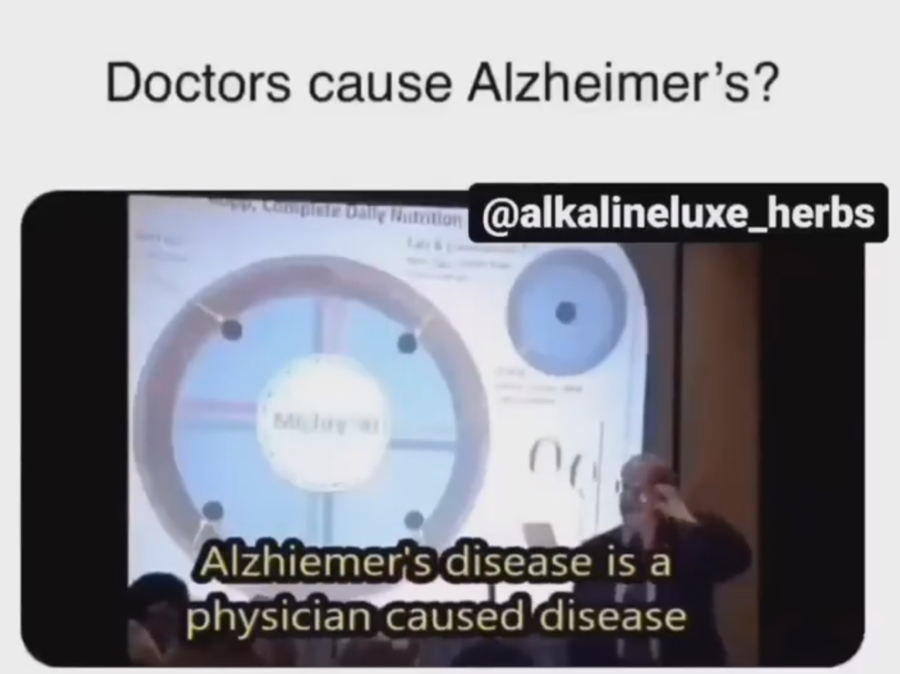 (Source: Facebook screengrab taken Fri. Feb 17 11:40:00 UTC 2023)
No details were provided by the original poster of the video to verify the claims made, including information about who the speaker was, their credentials, or where and to whom they were presenting the information.
"There is no truth to these statements. None," said Dr. Paul Aisen, a professor of neurology and director of the Alzheimer's Therapeutic Research Institute at the University of Southern California, in an email to Lead Stories received on February 21, 2023.
The statements made in the video "are not based on any scientific data or valid understanding of the disease" and are "pure garbage," he added.
Understanding AD
AD is a form of dementia characterized by a gradual decline in memory, thinking, behavior and social skills that result in the loss of a person's ability to function. The brain disorder is believed to be caused by an abnormal buildup of certain proteins in and around the brain cells, ultimately causing the organ to shrink and change, which eventually leads to the death of brain cells, the Mayo Clinic writes.
Available data published by the Centers for Disease Control and Prevention in 2020 showed that AD was the fifth leading cause of death in the U.S. -- not the fourth, as was stated in the video. It is also false that AD "did not occur 40 years ago," as the speaker said. The brain disease was first discovered in 1906, according to the National Institute on Aging.
In an email to Lead Stories received February 25, 2023, Dr. Steven DeKosky, deputy director of the McKnight Brain Institute and a professor of neurology and neuroscience at the University of Florida, added that AD has been brought to the public sphere in large part because older generations are living longer.
"Not being aware of the disease is not the same as saying it did not exist," DeKosky told Lead Stories. "The biggest risk for AD is advancing age. So, lots of [baby] boomers living longer has led to the increase in the disease and our awareness of it."
Such claims date to 2012
The claim stems from a 2012 advisory issued by the Food and Drug Administration (FDA) that reported concerns about short-term cognitive impairment that occurred in some users taking statins, a class of drugs used to lower low-density cholesterol. However, these changes were temporary, rare and did not lead to clinically significant cognitive decline. Furthermore, the FDA noted then that these cases did not appear to be associated with fixed or progressive dementia such as AD.
Causes of AD remain unknown
Medical experts have not pinpointed the exact cause of AD or why certain proteins build up, but researchers largely believe the disease is caused by a combination of factors, including age, family history and genetics as well as conditions like head injury and cardiovascular disease, according to the Alzheimer's Association.
Because scientists do not fully understand the cause of AD, the role of statins in disease development remains controversial and related data is somewhat inconsistent. DeKosky of the McKnight Brain Insitute adds that the memory loss in AD is "due to neurodegenerative changes in the gray matter.
"Elevated cholesterol in the blood in middle age is a risk factor for subsequent heart disease and Alzheimer's disease. With elevated cholesterol, dietary restriction usually does not on its own lower cholesterol to the normal range, hence the long search for drugs that would lower it," said DeKosky, adding that cholesterol-lowering drugs lower elevated levels to a normal range -- there is no cholesterol deficit as is stated in the social media video.
By and large, though, research over the last three decades suggests that statins likely either do not influence dementia or may in fact help reduce the risk of some forms.
"This is a complicated topic," Aisen told Lead Stories. "Some epidemiological studies do suggest a beneficial effect of statins in reducing the risk of AD, though interpretation is difficult because of a number of potential bias issues in the data."
Recent medical research into relationship between statins, AD
Below is a quick overview of some of the recent research in the field of neurology:
Lead Stories has previously reported that coconut oil neither prevents nor treats Alzheimer's, that Alzheimer's patients do not always have high aluminum levels, that a metal spoon rubbed on a foot does not cure Alzheimer's in seven seconds and that world maps don't show a connection between fluoride and Alzheimer's.
2023-03-01T19:19:03Z

2023-03-01T19:19:03Z

Updated with comments from Dr. Steven DeKosky, deputy director of the McKnight Brain Institute.