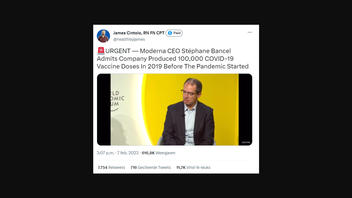 Did Moderna CEO Stéphane Bancel admit that the company produced 100,000 COVID-19 vaccine doses in 2019 before the pandemic began? No, that's not true: A video snippet shared to social media does not make it clear Bancel is saying his company had manufactured 100,000 vaccines for all diseases in 2019, not those targeting SARS-CoV-2, the virus that causes COVID-19 -- a disease that had not yet been recognized by global health leaders.
The claim originated in a video shared on Twitter on February 7, 2023, that snipped a small part of a January 18, 2023, World Economic Forum (WEF) panel discussion Bancel was participating in. Text with the post read:
🚨URGENT -- Moderna CEO Stéphane Bancel Admits Company Produced 100,000 COVID-19 Vaccine Doses In 2019 Before The Pandemic Started
Here is how the post appeared at the time of writing: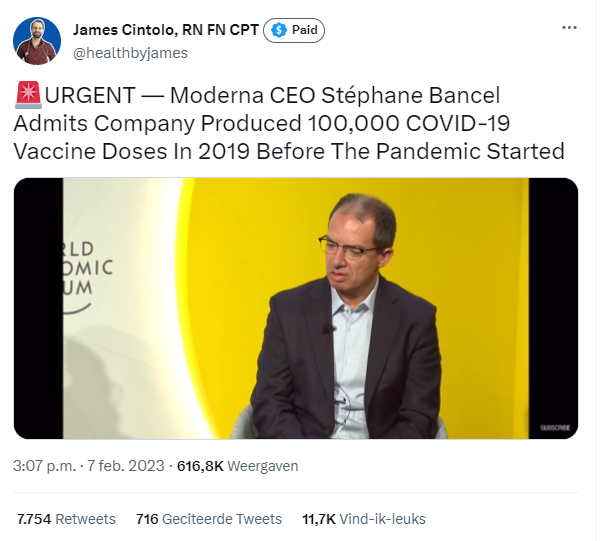 (Source: Twitter screenshot taken on Tue February 7 14:24:00 2023 UTC)
A closer listen to the above video reveals that Bancel did not state that Moderna had produced 100,000 COVID vaccine doses in 2019, but that the company produced 100,000 vaccine doses total for that year. He then compared this total to the increase in manufacturing in later years in response to the pandemic.
The Twitter video was taken from a 46-minute live session of a WEF panel titled, "State of the Pandemic" (archived here). A description of the panel read:
How can the world shift its COVID-19 strategy from pandemic response to endemic management and close the persistent gaps in access to diagnostics, therapeutics and health services?
Below, Lead Stories transcribed the relevant section of the panel, in which moderator Sasha Vakulina, a senior business editor for Euronews, asked Bancel a question at the 10-minute mark regarding variants and subvariants of COVID:
Vakulina: Let's talk about vaccine development because we've heard how it happened with COVID-19 starting from 2022 and how extraordinary the process was also in terms of the speed. How is development adoption and scaling of vaccine going on when it comes for different variants and subvariants? Because this is one of the big concerns as we're all here now and we're discussing, we understand the context and this is a great deal?

Bancel: Sure, good morning and thank you for having me on the panel. So, the great news versus 2020, where we are today, is we are at manufacturing capacity ... When the pandemic happened, Moderna had made 100,000 doses in 2019 for the whole year. And I remember walking into the office of my head of manufacturing and I said, 'How will we make a billion doses next year?' And he look at me a bit funny, 'Say what?' I said, 'Yeah, we need to make a billion doses next year, there's going to be a pandemic.'

... So, where we are now is, we have plants in the U.S. and in Switzerland. We've shown this summer that we're able to adapt to variants very quickly. If you think about it, you know, in the U.S., Peter Marks told us on June 28, we want for the U.S. a BFI Omicron booster, and by early September, on Labor Day weekend, it was in U.S. pharmacies ... In the old world of vaccines, would have been unthinkable.
Moderna's 2019 annual report filed with the Securities and Exchange in 2019 described the intention to develop mRNA vaccines against SARS-CoV-2. In the same report filed in 2020, Moderna described plans for production of mRNA vaccines, including for the development of a SARS-CoV-2 vaccine.
Examining Moderna shareholder documents
To cross-reference Bancel's claims, Lead Stories looked through Moderna's shareholder letters dating back to 2019. At the end of 2019, the company stated its books were closed at roughly $1.2 billion. In 2021, that number increased to over $17 billion. This, Bancel stated, was due to Moderna's ability to build on existing technologies and data to rapidly produce a vaccine in response to the pandemic.
In a letter dated January 3, 2020, which recapped the previous year, Bancel made no reference to COVID-19 or the virus that causes it, SARS-CoV-2. He did, however, highlight the importance of developing novel vaccines for potentially new infectious diseases, and "driving faster manufacturing cycle times":
Based on the clinical data we generated in 2019, I believe that infectious disease vaccines will be an important backbone of growth and stability for Moderna and provide large cash flows in years to come. We have an opportunity to reinvent the vaccine business--with our vaccines designed to cause cells to produce antigens that mimic the ones presented to the immune system during natural infection.
In his letter, Bancel also highlighted the possible importance of mRNA vaccines in response to future health emergencies, writing that Moderna believed mRNA vaccines had the "potential to provide some critical advantages for preventing the spread of debilitating and deadly infections."
In short, at the end of 2019, Moderna was both prioritizing mRNA vaccine research and scaling up the manufacturing of vaccine technologies broadly -- not those specific to COVID, a disease that had not yet been identified.
Bancel did refer to the global pandemic in his 2020 shareholder letter, published on January 3, 2021. He wrote that Moderna "started the year not knowing there was going to be a new virus," and adding:
It took our team less than 12 months to go from the [genetic] sequence made available online by the Chinese authorities to having completed a Phase 1, a Phase 2 and a 30,000 participant, placebo-controlled Phase 3 trial, and to get the vaccine authorized for use in the U.S. and Canada, with several other regulatory rolling reviews in process around the world. That is an extraordinary accomplishment for a biotech company of 1,300 people.
Bancel also wrote that the company was able to capitalize on its 2019 priorities in response to the pandemic:
The early investment we made in our manufacturing and digital capabilities prepared us to rapidly scale our production to accommodate at least 500 million doses and potentially up to 1 billion doses of our COVID-19 vaccine in 2021.
In January 2020, shortly after the SARS-CoV-2 was genetically sequenced, the National Institutes of Health worked in collaboration with a Moderna infectious disease research team to finalize the sequence for the company's COVID vaccine, mRNA-1273. The COVID Moderna vaccine was produced by comparing similarities to the Middle East Respiratory Syndrome (MERS), a genetically similar virus to SARS-CoV-2 that was first reported in 2012 and has since caused infections around the world.
Lead Stories contacted Moderna for comment on the claims made in social media posts but did not receive a response at the time of writing. We will update the article should we receive a response.
More Lead Stories fact checks related to COVID-19 and vaccines can be found here.