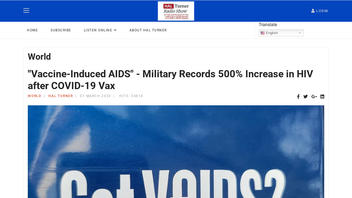 Do COVID-19 shots cause "vaccine-induced AIDS" (VAIDS) and did they cause a 500 percent increase in HIV in the U.S. military during 2021? No, that's not true: "The claims are false," U.S. Department of Defense spokesperson Lisa Lawrence told Lead Stories in a March 3, 2023, email.
Only one thing causes AIDS and that's HIV. Even if there had been a fivefold increase in HIV in the military, it wouldn't have been caused by COVID vaccination.

The claim appeared in an article (archived here) published by the Hal Turner Radio Show website on March 1, 2023, and titled, "'Vaccine-Induced AIDS' - Military Records 500% Increase in HIV after COVID-19 Vax." The article opened:
The Armed Forces of the United States recorded a five hundred percent (500%) increase in AIDS after administering the COVID-19 Vaccine to US Troops. The COVID-19 Vaccine is implicated.
This is what the article looked like on the Hal Turner Radio Show website at the time of the writing of this fact check: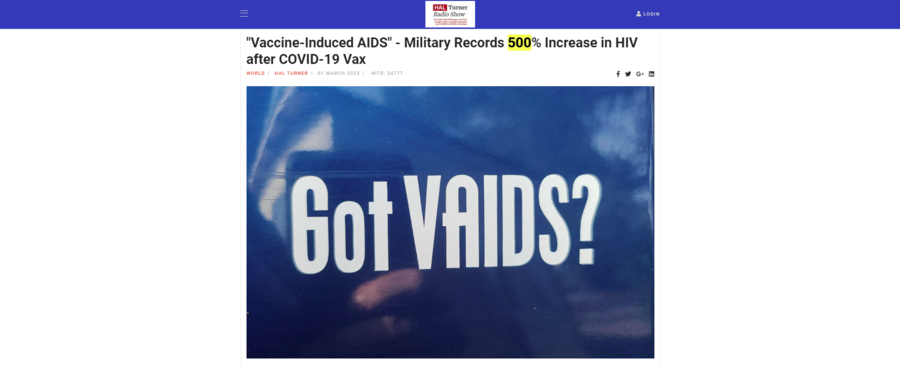 (Source: Hal Turner Radio Show screenshot taken on Fri Mar 3 16:30:17 2023 UTC)
The article's claims circulated widely on social media. Internet-based talk show host Stew Peters shared the headline on Twitter on March 2, 2023: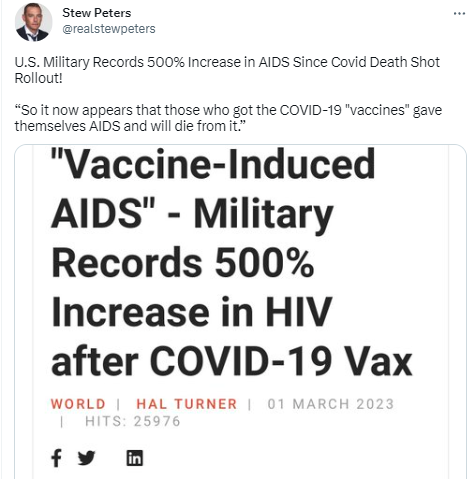 (Source: Twitter screenshot taken on Fri Mar 3 18:23:06 2023 UTC)
The Hal Turner Radio Show article includes a video clip that features Colorado-based attorney Todd Callender, who shares similar information. The video clip appeared on Twitter on February 28, 2023, and Facebook on May 17, 2022. The tweet appears below: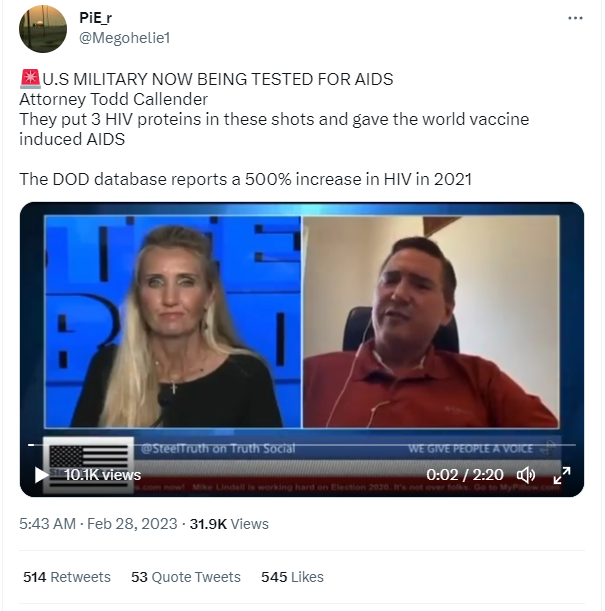 (Source: Twitter screenshot taken on Fri Mar 3 18:28:05 2023 UTC)
The social media posts and articles with Callender promote a false claim that COVID vaccines were produced with three HIV proteins. Callender does not provide sourcing for this claim. In 2020, the development of a COVID vaccine by the University of Queensland in Australia was shelved after the shot, made with harmless HIV fragments, triggered false positives for the disease during trials.
World Health Organization
Dr. Federico Martinón-Torres, the head of the World Health Organization's Collaborating Center for Vaccine Safety, said in a video released on April 11, 2022, that COVID vaccines can't cause AIDS:
There is no evidence from clinical trials or from the field following worldwide use of currently available COVID-19 vaccines that COVID-19 vaccination causes any type of immunosuppression in any population group.

It is not possible for COVID-19 vaccines to cause AIDS, which is caused by the Human Immunodeficiency Virus (HIV). Suggestions that COVID-19 vaccination can cause a similar immunosuppressed outcome, which some have dubbed 'VAIDS,' are not based on any observed or reported evidence.
The video featuring Martinón-Torres appears below:
Centers for Disease Control and Prevention
The CDC website answers a similar question, "Do COVID-19 vaccines increase the risk of someone getting HIV?":
No. There is no association between COVID-19 vaccines and risk for HIV infection. COVID-19 vaccines improve the immune system's ability to prevent COVID-19 and protect vaccinated people from the more severe complications of COVID-19.
The CDC recommends COVID vaccination for everyone 6 months and older, and states that it is safe for those with HIV.
Lead Stories previously has debunked other claims about a link between COVID vaccines and HIV here and here.
Additional Lead Stories fact checks of claims related to COVID vaccines and HIV can be found here.
Other Lead Stories fact checks related to Callender can be found here.