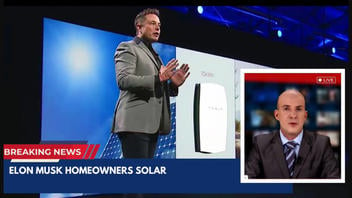 Did Elon Musk offer to pay 100 homeowners to test the "newest technology of solar panels"? No, that's not true: This offer that's too good to be true is a ruse to collect personal information and is not associated with Musk or Tesla in any way. Schemes such as this, involving false solar panel installation promotions in order to generate leads, have been an ongoing problem for years.
The video posted on Facebook by Solar Panel Rate on February 25, 2023, was captioned:
⚡️Reduce Your Electric Bill by 87%

Homeowners In Your Location Are Getting Paid $2,591 For testing the newest technology of Solar Panels!

If You are paying more than $83.91 Month on your electricity bill... Congratulations, you qualified!

To be contacted minutes after submission

Click 'Learn More' now to get start!
This is how the video appeared on Facebook at the time of the writing of this fact check: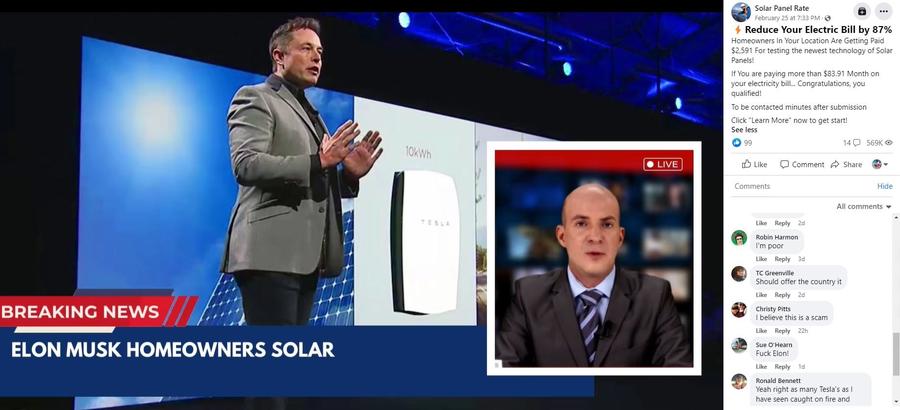 (Source: Facebook screenshot taken on Thu Mar 02 22:51:19 2023 UTC)
Elon Musk just announced that he's offering a hundred homeowners a free Tesla Home Technology. If your meter looks like this, Tesla will pay you $2,500 and give you a free installation and the best part is -- you'll never have to pay for electricity again. This offer ends in 15 days for the first hundred homeowners who apply. All you have to do is go to this website, enter your zip and see if you qualify -- I'll leave the link below.
This is not true. Musk, the CEO of Tesla, Twitter and SpaceX, has not announced a free installation of Tesla Home Technology for 100 homeowners. The only search results featuring these terms return to this false ad. This promotion is an apparent ruse by Solar Panel Rate to harvest personal information from Facebook users.
This deceptive tactic is not unique to Solar Panel Rate. These false enticements are a common way for lead-generating companies to collect personal information from homeowners. Another page, called Adam Andersson, is running ads featuring Elon Musk that also make a false promise that homeowners will be paid for testing solar panels.

(Source: Facebook ad library screenshot taken on Fri Mar 03 18:41:28 2023 UTC)
In April 2019, one such scheme, described in a Telegraph.co.uk article, was uncovered. Facebook filed a lawsuit on May 30, 2019, in the California Superior Court of Santa Clara County against TOLOCAL, INC., TOMONGOAD, INC., and MIN GE for allegedly violating the social media company's terms of service. The suit was eventually settled.
The lawsuit's case documents (search case number 19CV348954) contain clear descriptions of how the scheme worked and also provide images of the deceptive ads that targeted Facebook users. The complaint's introduction cites actions reminiscent of Solar Panel Rate's ads:
... Defendants used deceptive and misleading ads to lure Facebook users from the Facebook platform to websites designed to harvest their email addresses and other contact information for email spam and automated telemarketing campaigns ('robocalls'). Defendants' ads falsely represented to Facebook users that they could check their eligibility for tax credits and rebates related to solar energy initiatives by clicking on links in the ads. Defendants' ads redirected Facebook users to websites controlled by Defendants that prompted Facebook users, with false and misleading promises of tax credits, solar panel installations, and other purported state-sponsored solar energy initiatives, to input their contact information, including their name, physical address, email address, and phone number. Defendants then collected and sold the users' contact information to online marketers and advertisers. Defendants' actions violate Facebook's Terms of Service ('TOS'), Advertising and Page Policies, and California law. Facebook brings this action for damages and to stop Defendants' use of its platform in violation of its TOS and Policies.
Solar Panel Rate page
To run ads on Facebook, a marketer must have a Facebook page. The Facebook Page transparency report shows that the Solar Panel Rate page was created on October 24, 2022, and has three page managers in Indonesia.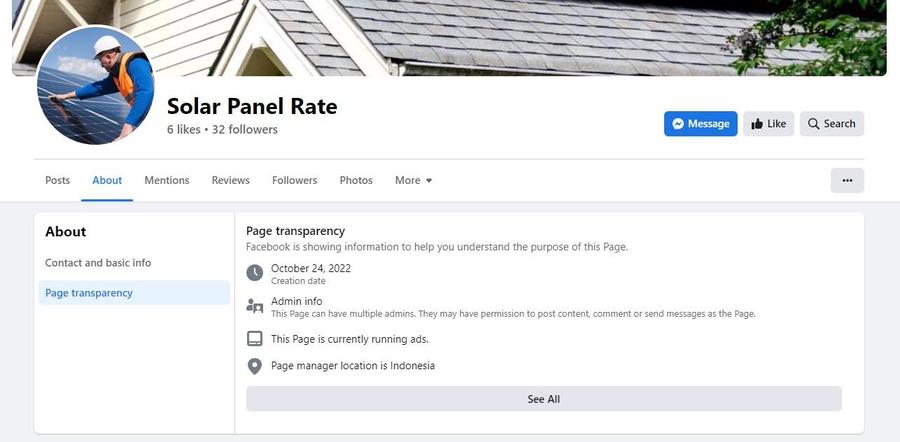 (Source: Facebook screenshot taken on Thu Mar 02 22:51:19 2023 UTC)
Solar Panel Rate ads
For a Facebook user to see the full context of the video, they would have to see this misleading promotion as a sponsored post (below left) from Solar Panel Rate on Facebook. At the time of writing, the Solar Panel Rate page is running 31 active ads on Facebook that feature this ad's video, text and link (below left), according to the Meta Ad Library. The ad's link goes to an eligibility survey (below right) at https://solarpanelrate.com/v3/.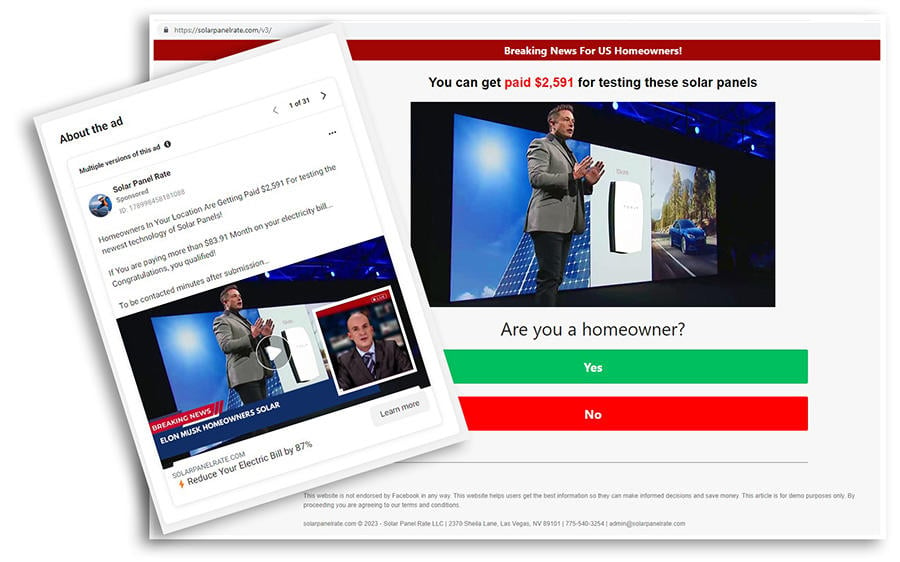 (Source: Lead Stories composite image with Facebook and solarpanelrate.com screenshots taken on Thu Mar 02 22:51:19 2023 UTC)
Multiple versions of the website landing page
The webpage for https://solarpanelrate.com/v3/ is pictured above. There are also landing pages at https://solarpanelrate.com/v1/ and at https://solarpanelrate.com/v2/ (pictured below) that feature different promotions and a different company address. Versions one and three show Solar Panel Rate LLC at 2370 Sheila Lane, Las Vegas, Nevada 89101, an address that does not exist, according to Google Maps. Version two shows an address of 129 Bottom Lane, Grand Island, New York 14072, which also does not exist, Google Maps shows.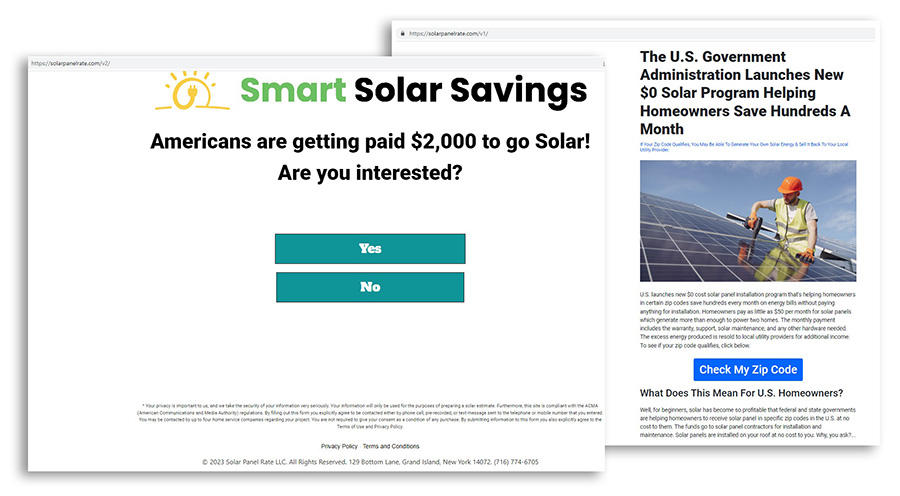 (Source: Lead Stories composite image with solarpanelrate.com screenshots taken on Thu Mar 02 22:51:19 2023 UTC)
No evidence of a registered business
Lead Stories searched the New York and Nevada state business registries and neither showed a registered business with the name Solar Panel Rate. The Better Business Bureau also did not have any results for that business name in New York or Nevada.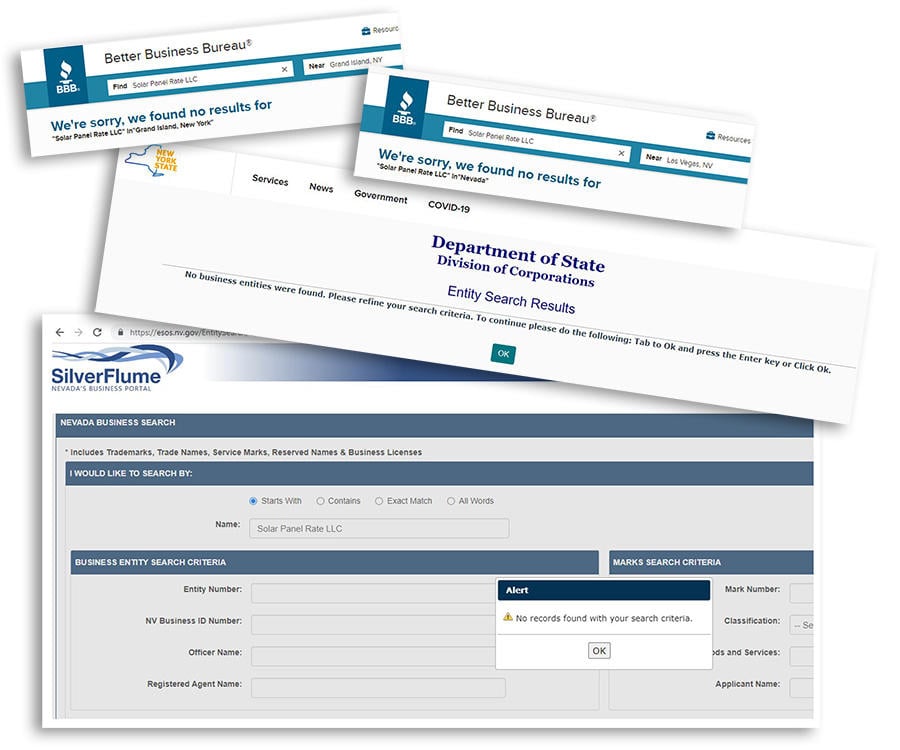 (Source: Lead Stories composite image with bbb.org, dos.ny.gov, and esos.nv.gov screenshots taken on Thu Mar 02 22:51:19 2023 UTC)
Lead generation service
Solar Panel Rate's website plainly spells out it exists to generate leads. Section 12 of its Terms of Use page states:
The Site is a lead generation service that matches requests from potential customers with service providers that offer products or services that may be able to meet such potential customers request. We are not involved in the actual transaction between potential customers and service providers. Consequently, we cannot ensure that a transaction will occur. Further, if a transaction does occur between a potential customer who submits their information and a service provider with whom we work, we have no control over the quality, safety or legality of the item or service sold. If we are unable to match your request to businesses within our network, we retain the right to match you to businesses outside our network through our approved partners.
Several bullet points below that is a disclaimer about the information on the site:
While information on the Site has been obtained from sources believed to be reliable, neither we nor the content providers warrant the accuracy of product content, or other data of any nature contained on this website. Neither we nor the content providers guarantee that the content on this Site covers all possible uses, directions, precautions, or adverse effects that may be associated with any energy-related product.
Lead Stories has debunked other false promotions that capitalized on the names Elon Musk (here) and Tesla (here and here).
(Editors' Note: Facebook is a client of Lead Stories, which is a third-party fact checker for the social media platform. On our About page, you will find the following information:
Since February 2019 we are actively part of Facebook's partnership with third party fact checkers. Under the terms of this partnership we get access to listings of content that has been flagged as potentially false by Facebook's systems or its users and we can decide independently if we want to fact check it or not. In addition to this we can enter our fact checks into a tool provided by Facebook and Facebook then uses our data to help slow down the spread of false information on its platform. Facebook pays us to perform this service for them but they have no say or influence over what we fact check or what our conclusions are, nor do they want to.)