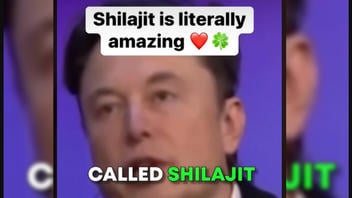 Did Elon Musk endorse a remedy called shilajit? No, that's not true: This video clip of Musk speaking at the Ted2022 Conference has been dubbed with a sound-alike clone copy of Musk's voice to make it appear he was touting shilajit, when in fact he was speaking about purchasing Twitter and other topics at the conference. He did not discuss shilajit -- a natural compound found in the Himalayas -- during that appearance.
The video reel was posted on Facebook on March 6, 2023 by the Facebook page Avonet Health. It was captioned:
You need shilajit in your life. #shilajit #shilajitbenefits #healthfood #elonmusk #healthylifestyle
This is what the post looked like on Facebook at the time of writing: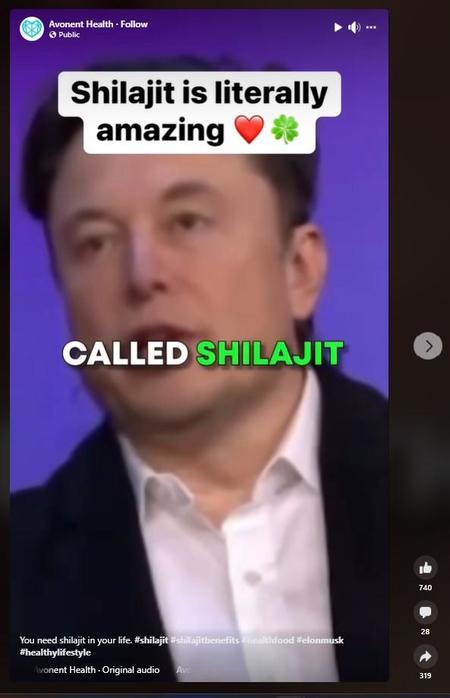 (Source: Facebook screenshot taken on Mon Mar 13 14:12:56 2023 UTC)
Text on the video says:
Shilajit is literally amazing ❤🍀
The transcript of this promotion is included in a text overlay on the video. While only a few seconds of this ad shows Musk's face with lips moving, the audio track of the cloned voice of Musk goes through the entire video. It says:
There's this stuff called shilajit, I think, and it's supposed to be an anti-aging remedy, a hair loss remedy, and the most powerful source of energy for our body.
I get mine from a company called NaturalRems they are amazing.
On the page of Avonet Health's Reels, there are four different videos with Musk and the purple background (pictured below). These are all shilajit promotions for the brand NaturalRems, and they all use the same video clip of Musk speaking, but each has been dubbed with a different script, with a cloned voice audiotrack that sounds like Musk -- evidence that Musk's voice in the videos is fake. The focus of this fact check is not the substance shilajit, but whether this is an authentic video promotion featuring Elon Musk.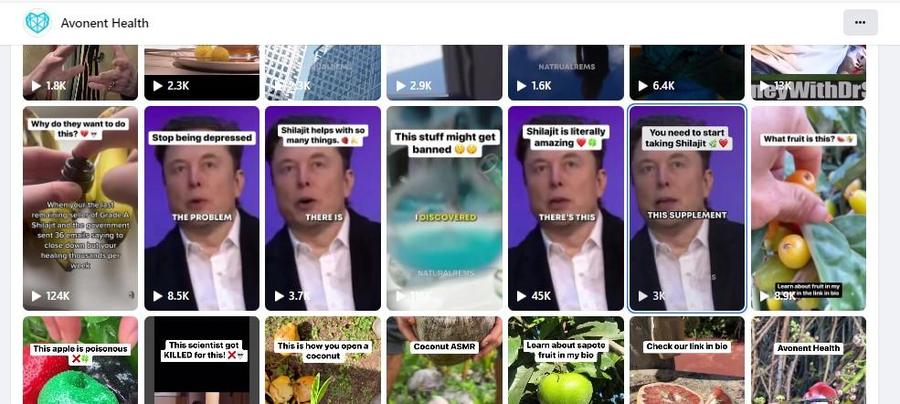 (Source: Facebook screenshot taken on Mon Mar 13 14:12:56 2023 UTC)
The transcripts of the other videos are provided here. One claims shilajit will treat depression:
The problem is that you're depressed. You're depressed because you live a terrible unhappy lifestyle. You eat bad, you don't sleep, and you have no energy. But what if I told you there is a way to fix all of that with this supplement called shilajit from NaturalRems?
In another, the focus is fulvic acid:
There's this stuff called Fulvic Acid and your body is definitely in need of it. It prevents all diseases, increases immune defense, lowers inflammation, and doubles your brain power. It's found in Shilajit and I get it from this brand NaturalRems.
Another features claims about anti-aging and energy:
This supplement called shilajit is scientifically proven to be better than coffee. It contains 86 out of the 107 minerals your body needs. Helps reverse aging and provides healthy real energy. This brand NaturalRems has the best shilajit in the game. You guys need to get some.
The screenshot below shows the 13:20 minute mark of Musk's appearance at the Ted2022 conference which was streamed Live on April 14, 2022. A search of the transcript of the 54:45 minute long video shows no discussion of shilajit. A Google search for "Elon Musk" "Shilajit" finds additional false promotions as well as fact checks about them, but no credible proof that Musk ever promoted the supplement.
(Source: YouTube screenshot taken on Mon Mar 13 14:12:56 2023 UTC)