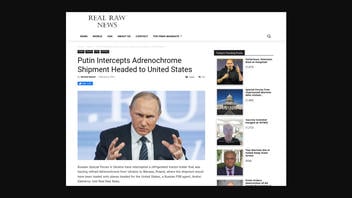 Did Russian President Vladimir Putin intercept an adrenochrome shipment that was in transit to the United States? No, that's not true: The claim contains a hodgepodge of conspiracy theories and it originated in an outlet known for publishing fictitious "news" stories.
The claim originated in an article titled "Putin Intercepts Adrenochrome Shipment Headed to United States," published on February 8, 2023, by Real Raw News (archived here). It opened:
Russian Special Forces in Ukraine have intercepted a refrigerated tractor-trailer that was hauling refined Adrenochrome from Ukraine to Warsaw, Poland, where the shipment would have been loaded onto planes headed for the United States, a Russian FSB agent, Andrei Zakharov, told Real Raw News.
After the claim was published by Real Raw News, it reappeared in a post published on Instagram on March 10, 2023. The post included a screen recording of the Real Raw News article posted on another website (archived here) as if it were legitimate news.
This is how the article looked at the time of writing: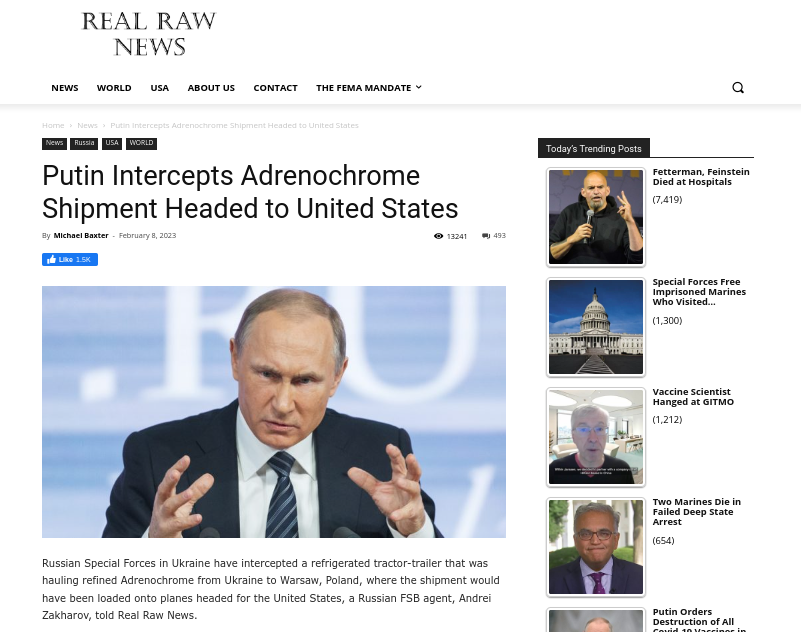 (Source: Real Raw News screenshot taken on Mon Mar 13 18:30:36 2023 UTC)
A simple Google News search of "Putin adrenochrome shipment" does not generate any results from credible reliable news outlets that corroborate the claim.
Adrenochrome, a chemical compound that can result from the oxidation of adrenaline, is also a term co-opted by QAnon conspiracy theorists to describe a substance that is purportedly harvested from children for use by global elites during satanic rituals. However, there is no evidence that such a version of the compound actually exists.
Real Raw News has written about a similar claim in an article titled "Putin Destroys Adrenochrome Lab in Ukraine" and published on January 20, 2023. Lead Stories debunked that claim in this fact check.
Real Raw News has a long history of publishing false claims in mock news stories, many of them about convictions and executions of various public figures at Naval Station Guantanamo Bay in Cuba. For example, the site reported former Secretary of State Hillary Clinton was hanged (she wasn't); former White House Chief of Staff John Podesta was executed (he wasn't); and that "the military" convicted former Attorney General William Barr on charges of treason (it didn't).
The website for Real Raw News includes a disclaimer that warns readers not to take its content too seriously. Specifically, it says:
Information on this website is for informational and educational and entertainment purposes. This website contains humor, parody, and satire. We have included this disclaimer for our protection, on the advice on legal counsel.

(Source: RealRawNews.com screenshot taken Tue Aug 3 16:39:48 UTC 2021)
Lead Stories has covered claims published by Real Raw News in the past. Previous Lead Stories debunks of Real Raw News items is collected here.