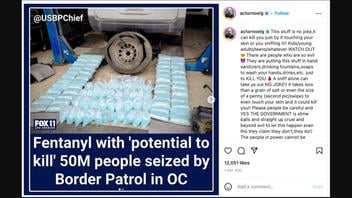 Can fentanyl be lethal during brief contact with the skin? No, that's not true: While this drug can alleviate pain in cancer and post-surgery patients in hospital settings via skin patches, this type of absorption is an extremely slow process requiring certain conditions, including moisture. Authoritative professional medical organizations and law enforcement have issued multiple statements over the years saying that incidental skin contact with powder fentanyl is unlikely to cause any harm.
The claim appeared in a post on Instagram on February 28, 2023. It contained a picture of what appeared to be a drug in powdered form, with text on the photo describing it as fentanyl. The caption said:
This stuff is no joke,it can kill you just by it touching your skin or you sniffing it!! Kids/young adults/teens/whatever WATCH OUT 🥺 There are people who are so evil 👿 They are putting this stuff in hand sanitizers,drinking fountains,soaps to wash your hands,drinks,etc. just to KILL YOU 🩸
Here is what it looked like at the time of writing: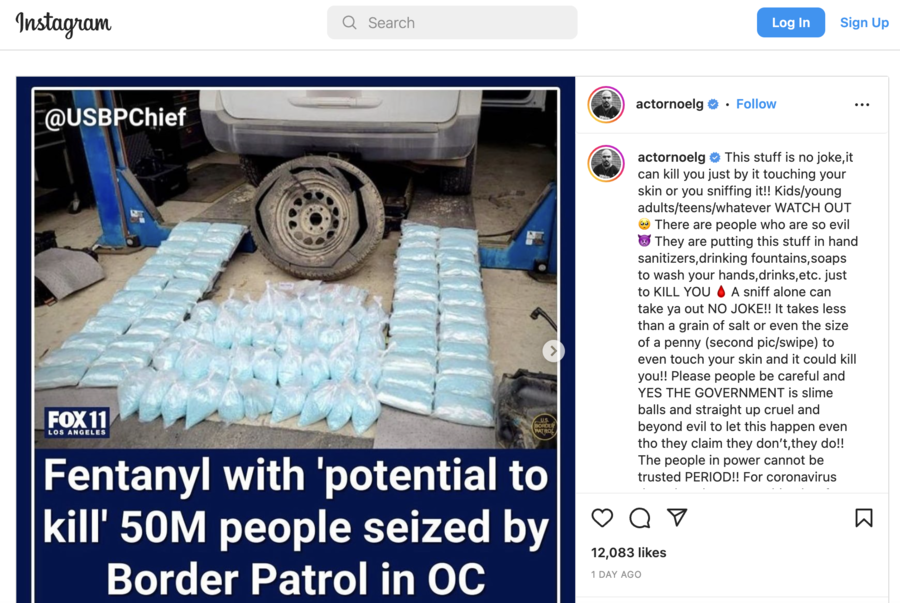 (Source: Instagram screenshot taken on Thu Mar 2 15:29:43 2023 UTC)
According to the Centers for Disease Control and Prevention website, fentanyl is "a synthetic opioid that is up to 50 times stronger than heroin and 100 times stronger than morphine." However, brief skin contact is not known for being deadly.
According to a 2021 paper, law enforcement officers who were increasingly likely to encounter fentanyl in the line of duty widely believed the misinformation that they were personally at risk while touching the substance.
In 2017, the American College of Medical Toxicology (ACMT) and American Academy of Clinical Toxicology (AACT) addressed that:
To date, we have not seen reports of emergency responders developing signs or symptoms consistent with opioid toxicity from incidental contact with opioids. Incidental dermal absorption is unlikely to cause opioid toxicity. For routine handling of drug, nitrile gloves provide sufficient dermal protection.
While fentanyl might be absorbed through the skin, the process takes a lot of time compared to other forms of exposure, continued the ACMT and AACT position statement:

Depending on the specific product, transdermal delivery systems ('patches') take 3-13 h to produce a therapeutic serum fentanyl concentration and 35 h to reach peak concentration.
It clarified that there is a significant difference between patches used in hospital settings that require moisture to have the drug delivered and unplanned skin exposure to fentanyl powder:
... incidental dermal absorption is unlikely to cause opioid toxicity.
A safety brochure for first responders shared on the Drug Enforcement Administration website additionally emphasized:
Incidental skin contact may occur during daily activities but is not expected to lead to harmful effects if the contaminated skin is promptly washed off with water.
In 2022, Dr. Daniel Colby, assistant professor and co-medical director for the Department of Emergency Medicine at UC Davis Health, said that combating this false belief about fentanyl is crucial to avoid delaying help:
It is a common misconception that fentanyl can be absorbed through the skin, but it is not true for casual exposure. You can't overdose on fentanyl by touching a doorknob or dollar bill. ...

It is important that we clarify and let everyone know that fentanyl cannot really be absorbed through the skin because people who have overdosed on fentanyl may have only minutes to live. Pausing or waiting for other people to arrive means that person might die. They need our help and it is safe to help them.
In September 2022, Lead Stories found no evidence to support a claim that a Tennessee woman experienced a fentanyl overdose after touching a folded dollar bill at McDonald's.
Other Lead Stories fact checks about fentanyl can be found here.