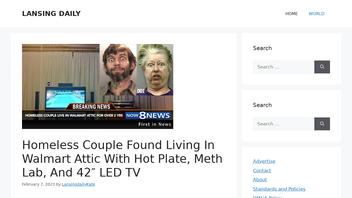 Was a homeless couple found living in a Walmart's attic with a hot plate, meth lab and 42-inch TV? No, that's not true: This story has been ripped from a fake news website called Now8News and reposted to another fake news website. No other news websites have reported on this event.
The claim appeared in an article (archived here) published by NEWSBREAK on February 7, 2023, under the title "Homeless Couple Found Living In Walmart Attic With Hot Plate, Meth Lab, And 42" LED TV." It opened:
Being homeless has to be very difficult, especially in the colder times of the year. But not for this Tennessee couple who had been 'living in the lap of luxury' above a Tennessee Walmart store.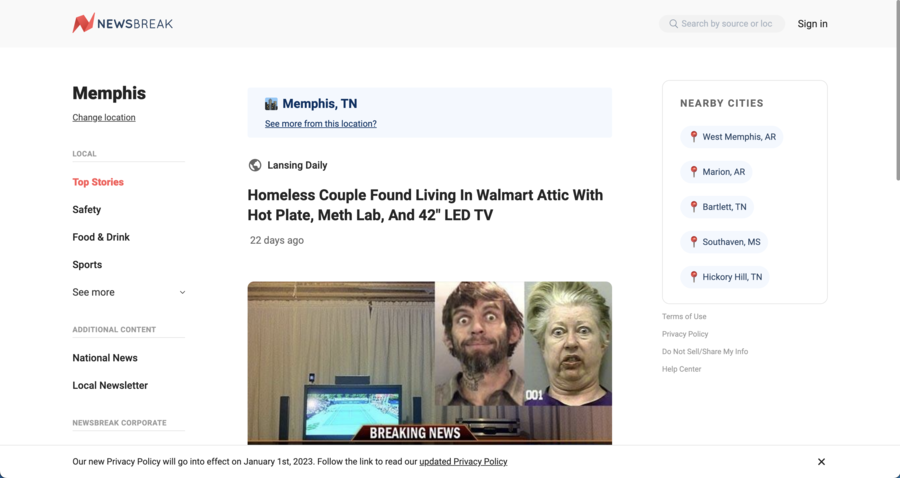 (Source: Newsbreak screenshot taken on Thu Mar 2 14:59:14 2023 UTC)
The story says the couple was caught after employees heard banging coming from above the break room. When they were discovered, the Tennessee police found 2 pounds of meth, a hot plate, food, a TV, clothes and a bedroom set.
This article, published by a site calling itself Lansing Daily on February 7, 2023, has been taken from another website that also writes fake stories, Now8News. No information about Lansing Daily can be found in its About section or Standards and Policies, which are all advertisements. Now8News does not have an About page. The date this was published on Now8News is not shown on their site, but Snopes debunked this claim in December 2015.
Lead Stories could not find the original source for the male mug shot (example of search here), but the female mug shot was first put on the Internet in 2012. The woman was arrested for violating her probation.
We could not find any other reputable news media outlets talking about this story (example of search here).
We also searched for Lt. Marshall Weiss who worked for a Tennessee police department and could not find one (example of search here). The story does not specify what Tennessee county police department responded to this event.
Now8News
Since registering in 2015 Now8News has been a site pretending to be a local news station using the slogan "First in News." It has been fact-checked countless times (by Lead Stories, Snopes, PolitiFact and others) for publishing fantastical but made-up stories about bizarre crimes, weird sex acts or gruesome tales. Stories from the site have been circulating on other websites for years but can often be identified by the tell-tale Now8News logo in the chyron on the thumbnail image.
More Lead Stories fact checks on Now8News can be found here.