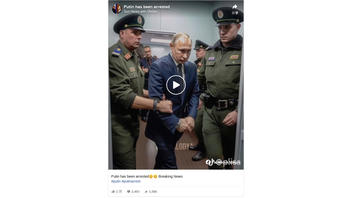 Do viral images of Russian President Vladimir Putin actually show him being arrested? No, that's not true: The "photos" were created by AI-based software, and, as of this writing, Putin is not under arrest, despite a warrant issued by the International Criminal Court.
The claim appeared in a post published on Facebook on March 26, 2023. It contained a video titled:
Putin has been arrested
This is what the post looked like on Facebook at the time of writing: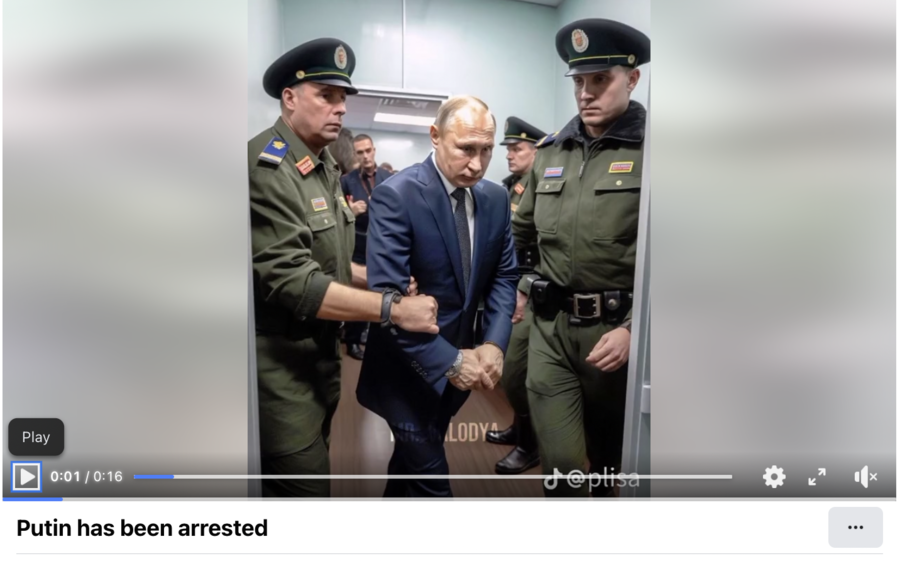 (Source: Facebook screenshot taken on Tue Mar 28 14:40:23 2023 UTC)
The video included two other "photos":
(Sources: Facebook screenshot taken on Tue Mar 28 14:39:34 2023 UTC, Facebook screenshot taken on Tue Mar 28 14:39:57 2023 UTC; composite image by Lead Stories)
These images appeared on YouTube and Twitter, including one reply to a tweet posted by the account of the Russian Embassy in the U.K. One entry on social media contained a specific reference to the AI origin of the visuals, saying in Russian, as translated by DeepL, that "a neural network draws beautiful things":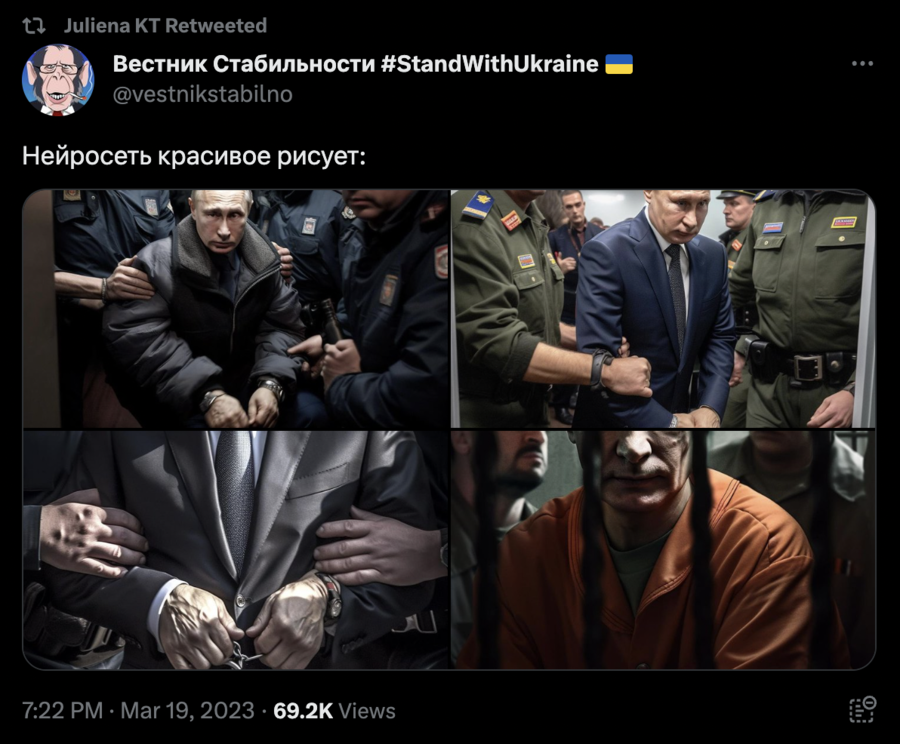 (Source: Twitter screenshot taken on Tue Mar 28 16:00:22 2023 UTC)
A "neural network" is a reference to machine learning modeled after the human brain.
On the same day, another account shared the same "photos" on Telegram, explicitly stating that they were artificially created by algorithms.
The surge of AI-generated photos supposedly showing the Russian president being handcuffed, tried or locked in a prison cell followed issuance by the International Criminal Court of a warrant for his arrest on March 17, 2023. However, Putin hasn't been arrested as of this writing, and some even doubt whether it is doable at all in the near future.
One set of such images of Putin in an orange prison jumpsuit first appeared in a widely publicized Twitter thread posted by Bellingcat founder Eliot Higgins who tested the capabilities of Midjourney, an AI-based program that creates images in response to the prompts beginning with the word "imagine" sent by users into the chatbot.
The same software was responsible for fake images of arrested former President Donald Trump and Pope Francis wearing a white puffer coat.
Midjourney does have a list of banned words that includes persons such as Hitler, "all pornstar names" and "President Xi." As of this writing, it was unclear whether it was extended to include Pope Francis, Trump or Putin.
On March 24, 2023, Meduza, a bilingual Russian and English independent news outlet based in Riga, Latvia, reported that while the words "arrested" and "prison" appeared to have been forbidden as well, the restriction could be easily evaded if users typed in "jail" instead.
As of this writing, Midjourney refused to produce any images inspired by the prompt "imagine Russia without Putin."