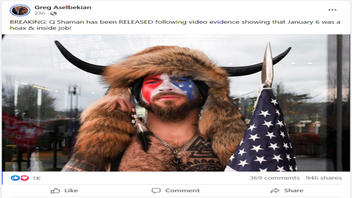 Was Jacob Chansley, the Capitol rioter better known as the "QAnon Shaman," released early from prison to a halfway house "following video evidence showing that January 6 [2021] was a hoax" and an "inside job"? No, that's not true: The Bureau of Prisons told Lead Stories that Chansley was transferred from a federal correctional institution to community confinement on March 28, 2023, under the First Step Act, which provides time credits for inmates who take part in programs to help reduce recidivism. Chansley's attorney said the changes in his client's status had nothing to do with recently released videos that aired on the Fox News Channel.
The claim appeared in a post on Facebook (archived here) on March 30, 2023. The post said:
BREAKING: Q Shaman has been RELEASED following video evidence showing that January 6 was a hoax & inside job!
This is what the post looked like on Facebook at the time of writing: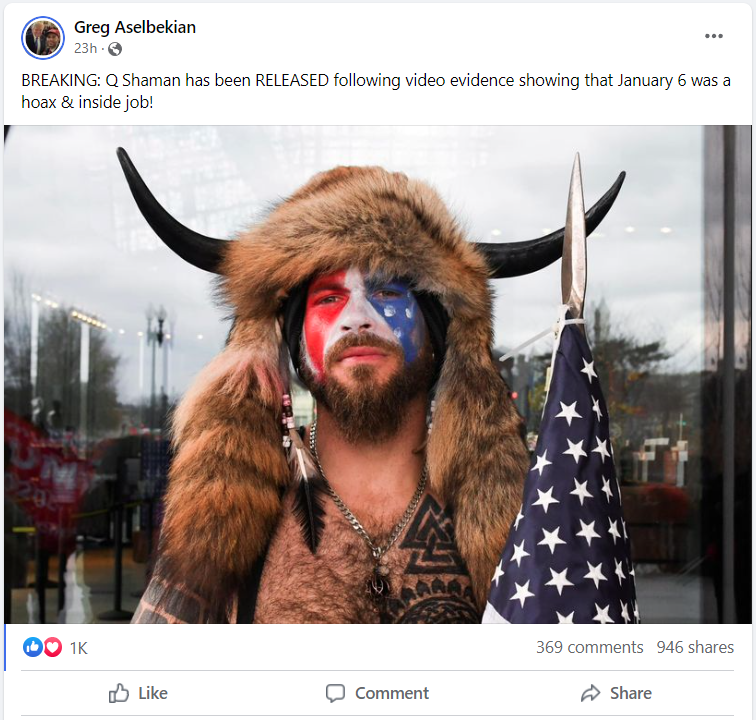 (Source: Facebook screenshot taken on Fri Mar 31 14:40:54 2023 UTC)
No evidence is provided to support the claim in the post. Multiple variations of it were circulating widely on social media (for instance, here, here and here) in late March 2023.
Chansley was sentenced to 41 months in prison after being convicted for his role in the January 6, 2021, Capitol riot.
In a March 31, 2023, email, Chansley's attorney, Albert Watkins, told Lead Stories that his client's transfer to a halfway house in the Phoenix area had nothing to do with videos aired on Fox News by talk show host Tucker Carlson. Watkins continued:
Mr. Chansley was released as part of an established U.S. Bureau of Prisons ('BOP') protocol which relied on terms of the plea deal, the sentence, unique characteristics of Mr. Chansley, his model behavior while confined, his successful participation while confined in programs, and a host of other factors. This was a decision of the BOP, not one borne of or related to the recently released videos.
BOP spokesperson Scott Taylor provided this response in a March 31, 2023, email to a Lead Stories query about Chansley:
Jacob Anthony Chansley transferred on March 28, 2023, from the Federal Correctional Institution Safford to community confinement overseen by the Bureau of Prisons' (BOP) Phoenix Residential Reentry Management (RRM) Office.

Community confinement means the inmate is in either home confinement or a Residential Reentry Center (RRC, or halfway house). Mr. Chansley's projected release date from custody is May 25, 2023, via First Step Act release.

For safety, and security reasons, we do not discuss the conditions of confinement for any inmate, including transfers or release plans, nor do we specify an individual's specific location while in community confinement.
On its website, the BOP describes First Step Act this way:
The First Step Act or FSA (Public Law 115-39) passed on December 18, 2018. It requires the Attorney General (AG) to develop a risk and needs assessment system for BOP to assess the recidivism risk and criminogenic needs of all federal prisoners and to place prisoners in recidivism reducing programs and productive activities to address their needs and reduce this risk. Federal regulations regarding time credits are final and are published in the Federal Register.
In a January 13, 2022, news release, U.S. Attorney General Merrick Garland described the Federal Time Credits program:
The First Step Act, a critical piece of bipartisan legislation, promised a path to an early return home for eligible incarcerated people who invest their time and energy in programs that reduce recidivism ... Today, the Department of Justice is doing its part to honor this promise, and is pleased to implement this important program.
Additional Lead Stories fact checks of claims related to the January 6, 2021, riot at the U.S. Capitol can be found here.