STORY UPDATED: check for updates below.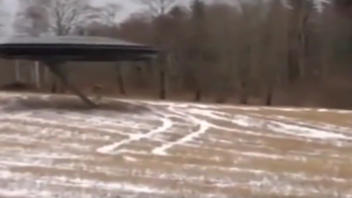 Does a short video show in reality a lanky extraterrestrial boarding a hovering spaceship in a snowy field before flying away above a Siberian forest? No, that's not true: The animated clip is a cropped version of a science fiction short film that first appeared on social media in early 2018.
The claim appeared in a post and video on Twitter (archived here) published on March 15, 2023. The text above the 35-second video in the tweet says:
Filmed by a ranger in Siberia
So what do you say
Some will believe it, others will be in denial, video editing
As I tell everyone their truths and beliefs.
Maybe they are coming soon 👌
This is what the post looked like on Twitter at the time of writing: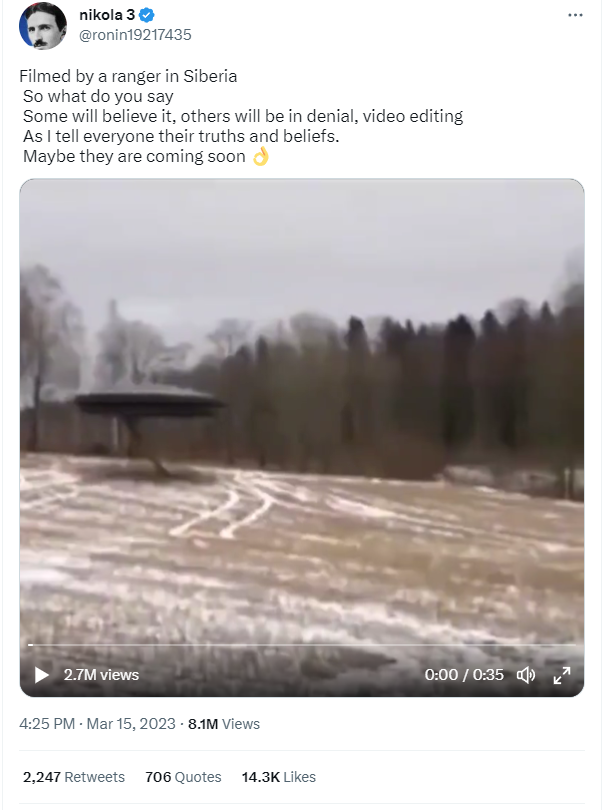 (Source: Twitter screenshot taken on Thu Mar 16 18:59:32 2023 UTC)
The video has made the rounds before on social media, offered as proof of space aliens on earth. The clip was posted on January 3, 2018, on a Facebook page called Târgoviște+. Târgoviște is a city in Romania. The page no longer exists on the site but there is an archived version of it. Here's a screenshot of the archived page:
(Source: Archive Today screenshot taken on Thu Mar 16 21:47:28 2023 UTC)
Translated from the original Romanian by the DeepL website, the description of the video says:
It happened just a few minutes ago, near Targoviste!!!
This is no joke, no hoax, no trick!
Folks, my hands are still shaking with excitement...
It's filmed with my modil phone and even now I can't believe I witnessed such a scene!
The same video was billed as an "Alaska Ufo attack," according to another version of the video also published on January 3, 2018, with titles in Turkish.
But, what appears to be the original video was published a day earlier on a YouTube channel called "Alien Unleash." While the channel does not identify the creative force behind the videos, it does say, "I make funny animations about futuristic stuff."
In all, more than 200 videos of similar UFO and alien sightings are featured. The 35-second clip found on Twitter comes from a 10-minute-long video on the channel called, "Funny creature walks to a future saucer, travels through mountains (Sci-Fi Short Film)."
Morgan Kelly, an associate professor of computer graphics animation at the University of Southern California School of Cinematic Arts and a 3D layout artist at Marvel Studios, told Lead Stories in a March 18, 2023, email that the footage is clearly animated. He said three things stood out to him:
It utilizes a walk-cycle for the creature's walking. A walk-cycle is created by animating the full stride of a character in place, and then looping that cycle as long as needed, then translating the character across the screen. It's evident when there is no variety in the overall walk. For example, no variation in stride, weight, adjustment in body to different inclines or subtleties like head turns or arm poses. It's more obvious when the walk does not change as the character ascends the ramp of the ship.
The compositing of the 3d ship moving beyond the tree line also makes it look fake. Adding a cg element over a clip or picture is easy, but having the elements pass behind objects in the scene requires composition work. It's especially tricky with a tree line since there are many detailed branches that need to be cut out to pass over the cg. It's called masking, and software like Aftereffects has tools for it, but a common tell-tale sign is when the masked tree line shows a soft white pixelated border around it. ...
Lastly, I'd say that this is not a video, but actually, a photo that 2d tracks around the scene to emulate a camera. It also has some digital 'camera shake' that also cycles and doesn't feel natural. Many of the camera moves are also linear in their movements. And there is no parallax of foreground trees in relation to others deeper in the environment.
Here are additional Lead Stories fact checks on UFOs and aliens.
2023-03-20T20:16:53Z

2023-03-20T20:16:53Z

Adds analysis from Morgan Kelly, an animation professor at USC and a 3D animator at Marvel.