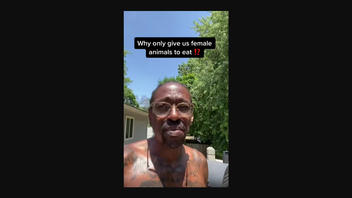 Does eating only the meat of female animals alter the hormones of human males, purportedly increasing their estrogen and making them take on more traits associated with femininity? No, that's not true: Multiple medical and meat experts verified for Lead Stories that this claim is false. A report from the U.S. Department of Agriculture (USDA), for instance, shows that more male animal meat than female animal meat was harvested as of March 16, 2023.
The claim appeared in a reel on Facebook on March 8, 2023. The caption opened:
Just advice and information‼️ #estrogen #testosterone #meat #holistichealth #knowledge #knowledgeispower #mindfulness
The text above the video of a man speaking in the reel reads:
Why only give us female animals to eat !?
This is how the post appeared on Facebook at the time of writing: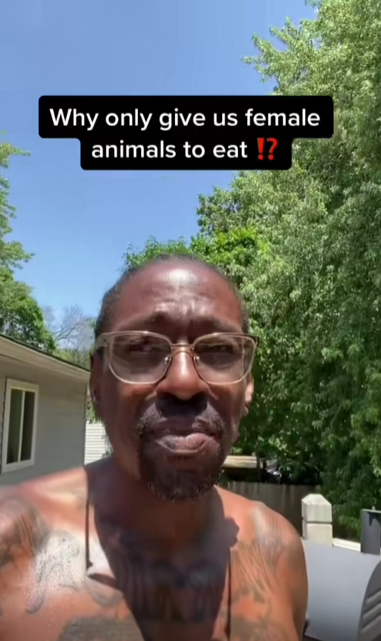 (Source: Facebook screenshot taken on Thur Mar 16 15:14:08 2023 UTC)
The speaker in the video claims that all meat humans eat is female animal meat. He warns that men should beware of eating female animal meat as it can purportedly increase estrogen production, thus increasing "feminine traits" of human males, both physically and psychologically.
Lead Stories reached out to Dr. Deena Adimoolam, a specialist in endocrinology, diabetes and metabolism at Summit Health in New Jersey. In a March 15, 2023, email, she responded that this claim is "not true":
This gentleman suggests that we are being fed all female animals, when in fact both male/female animals are consumed.

The amount of estrogen in the animals that we eat is not sufficient enough to cause the 'feminization' that he is referring to.
Janeal Yancey, a program technician at the Dale Bumpers College of Agricultural Food and Life Sciences at the University of Arkansas, wrote in a March 15, 2023, email:
1st falsehood. - No everything is not female. In all types of meat, beef, pork, lamb poultry, we harvest both males and females. Most males in the US are castrated in beef, pork and lamb, but in no way are we consuming more female meat than male. Even if you only consumed non-castrated males, you would not get enough testosterone to matter.

2nd - all meat has hormones (both male and female), but it's a very very very small amount. Our bodies produce so much more than we could ever consume in meat.

3rd - Most hormones in food are broken down by our digestive system, only about 10% of orally consumed hormones are actually absorbed.
She also provided this March 16, 2023, USDA report, saying it displayed the number of "steers (castrated males)" and "heifers (females)." It showed 31,115 steers and 13,673 heifers.
In a March 16, 2023, email, John Robinson, the senior vice president of membership and communications at the National Cattlemen's Beef Association, stated there is publicly available scientific evidence proving that this claim is false:
This is a paper we helped with in 2019. https://pubmed.ncbi.nlm.nih.gov/31742680/. Of note from the abstract:

While a tofu burger contained around three times the estrogenic activity of a daily dose of estrogen replacement therapy (125 mg, Premarin®, 303,000 pg); the other foods--a quarter pound ground beef burger at approximately equal calorie count, a serving of milk, or rice, were all at least 750-fold less estrogenic. PRACTICAL APPLICATION: When consuming the recognized serving size of a food, how much estrogenic activity can we expect? While the public assumes that some foods, such as milk and ground beef from cattle receiving steroidal implants, are associated with estrogenic hormones, other foods are presumed 'safe' or nonestrogenic.
He listed facts from other scholarly publications:
• Beef has a very low estrogen level, regardless of whether cattle received supplemental hormones or not, and regardless of the gender of the animal. (Beck, et. al, 2022)
• In fact, compared to other foods, beef has a miniscule amount of estrogen. (Beck, et. al, 2022)
• For example, 4-oz ice cream contains 272 times more estrogen than beef from cattle that received hormones. (Preston, 1997)
• Further, 4-oz of:
• Soybean oil has 226,757 ng [nanograms] of estrogen
• Cabbage has 2,721 ng of estrogen
• Eggs have 3,968 ng of estrogen
• Beef from cattle with hormones has 2.5 ng of estrogen
• Beef from cattle without hormones has 1.8 ng of estrogen (Beck, et. al, 2022)
• To put these numbers in perspective, natural estrogen production is significantly higher.
• For example, a pregnant female produces 90,000,000 nanograms of estrogen/day, a non-pregnant adult female produces 5,000,000 nanograms of estrogen/day, an adult male produces 100,000 nanograms of estrogen/day and a pre-pubertal child 40,000 nanograms of estrogen/day (Preston, 1997).
• To put these numbers in perspective, natural estrogen production is significantly higher.
1. Beck, et. al, 2022. Implants and Their Use in Beef Cattle Production. Oklahoma Cooperative Extension Service. https://extension.okstate.edu/fact-sheets/print-publications/afs/implants-and-their-use-in-beef-cattle-production-afs-3290.pdf
2. Preston, R. (1997) Rationale for the Safety of Implants. Proceedings: Impact of Implants on Performance and Carcass Value of Beef Cattle. Oklahoma State University, P-957. Pg 199.
In a March 15, 2023, email, Dana Hunnes, a senior clinical dietician at the Ronald Reagan UCLA Medical Center, provided this response regarding the claim in this post:
Yes, it's possible for the sex hormones of animals to affect humans.
Dairy is the only one that comes to mind though.
Dairy cows are near-constantly pregnant and giving birth, which is how they produce milk. That's a lot of naturally occurring hormones that CAN affect the human body since they are the same hormones that are in our body.
I've not heard of this association w/ muscle though.
Lead Stories previously found a similar claim -- that "The Impossible Whopper causes men to grow boobs" -- to be false.