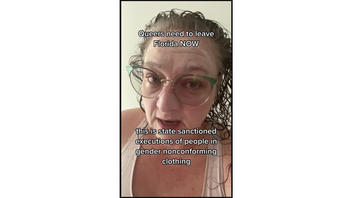 Would a bill in the Florida legislature impose the death penalty for admitting children to drag shows? No, that's not true: Bills before lawmakers in the Sunshine State would make it illegal to take children to drag shows, and would also impose the death penalty for certain sexual offenders against children, but those are two separate pieces of legislation. Taking children to a drag show would be a misdemeanor, while capital sexual battery would be a felony.
The claim appeared in a post and video on TikTok (archived here) by Beck Duff on April 19, 2023. A title in the video that says, "Queers need to leave Florida NOW." The video also appeared on Facebook on April 20, 2023, and Instagram on April 19, 2023. The description for the TikTok post includes these hashtags:
#lawyersoftiktok #lawyer #feminist #antifascist #antifa #florida #fla #desantis #gop #lgbt #lgbtq #lgbtqia #transrights #trans #gender #gay #lesbian #queer #bisexual #drag #loveislove #firstamendment #ally #allyship #activism #liberal #christofascists #fascism
This is what the post looked like on TikTok at the time of writing: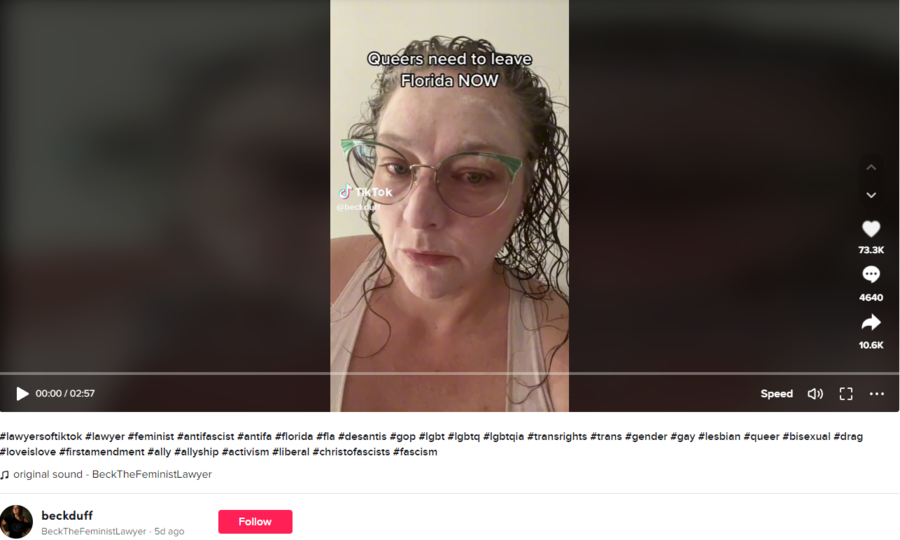 (Source: TikTok screenshot taken on Tue Apr 25 14:54:59 2023 UTC)
The nearly three-minute video is narrated by Beck Duff, who also goes by the handle BeckTheFeministLawyer. About 15 seconds into the clip, she makes her case:
Florida has taken their Cristo-fascist takeover to a whole new level. ... the Florida legislature has defined drag as a sex crime against children, and in the same legislative breath, have decided that sex crimes against children are punishable by the death penalty and only by an 8-4 vote instead of unanimous decision. Make no mistake, this is the beginning of a queer holocaust.
Craig Trocino, associate professor of clinical legal education at the University of Miami School of Law, told Lead Stories in an April 25, 2023, phone interview that the claim in the video conflates a couple of different bills in the Florida legislature. He continued:
There's one statute that's criminalizing the drag show situation. And then there's the other statute that's going to attempt to create a death penalty sanction for someone convicted of sexual battery on a child under 12. Those are separate statutes.
Senate Bill 1438, titled "Protection of Children," addresses drag shows but doesn't mention them by name, instead describing them as an "adult live performance." The legislation reads:
A violation of subsection (3) constitutes a misdemeanor of the first degree, punishable as provided ...
A misdemeanor is punishable by up to a year behind bars.
House Bill 1297 lays out new potential penalties for "Capital Sexual Battery." The legislation says it provides:
... for death sentences for certain child sexual offenders; ... providing legislative intent concerning capital punishment for certain child sexual offenders; providing for separate death penalty proceedings in such cases ...
Florida defines capital sexual battery this way:
A person 18 years of age or older who commits sexual battery upon, or in an attempt to commit sexual battery injures the sexual organs of, a person less than 12 years of age commits a capital felony
Trocino points out that "there's a wide, wide gulf between a year in prison and life without the possibility of parole" or the death penalty -- the difference between the proposed penalties for admitting someone to a drag show and being convicted of capital sexual battery. In his phone interview with Lead Stories, he continued:
The Eighth Amendment bars ... excessive fines and cruel and unusual punishments. And for decades the cruel and unusual punishment was limited. The jurisprudence on that area has evolved to deal with a narrowing of crimes and circumstances that allow for the death penalty. So broadening it beyond a homicide case would be in violation of the Amendment.
The bottom line, according to Trocino, is that even if the penalty for taking someone to a drag show was death, it would be unconstitutional. But as illustrated before, the legislation isn't suggesting the death penalty as a punishment for admitting a child to a drag show.