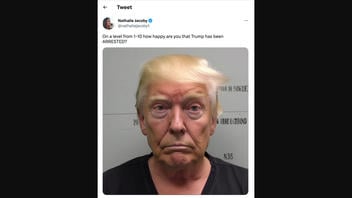 Is this booking photograph of Donald Trump real? No, that's not true: This is a picture created using artificial intelligence. Media outlets including AP and CBS reported that former President Trump did not have a mug shot taken when he was processed and placed under arrest during his April 4, 2023, arraignment in the New York court system.
The claim appeared in on Twitter (archived here) where it was posted on April 4, 2023. The tweet read:
On a level from 1-10 how happy are you that Trump has been ARRESTED?
This is what the post looked like on Twitter at the time of writing: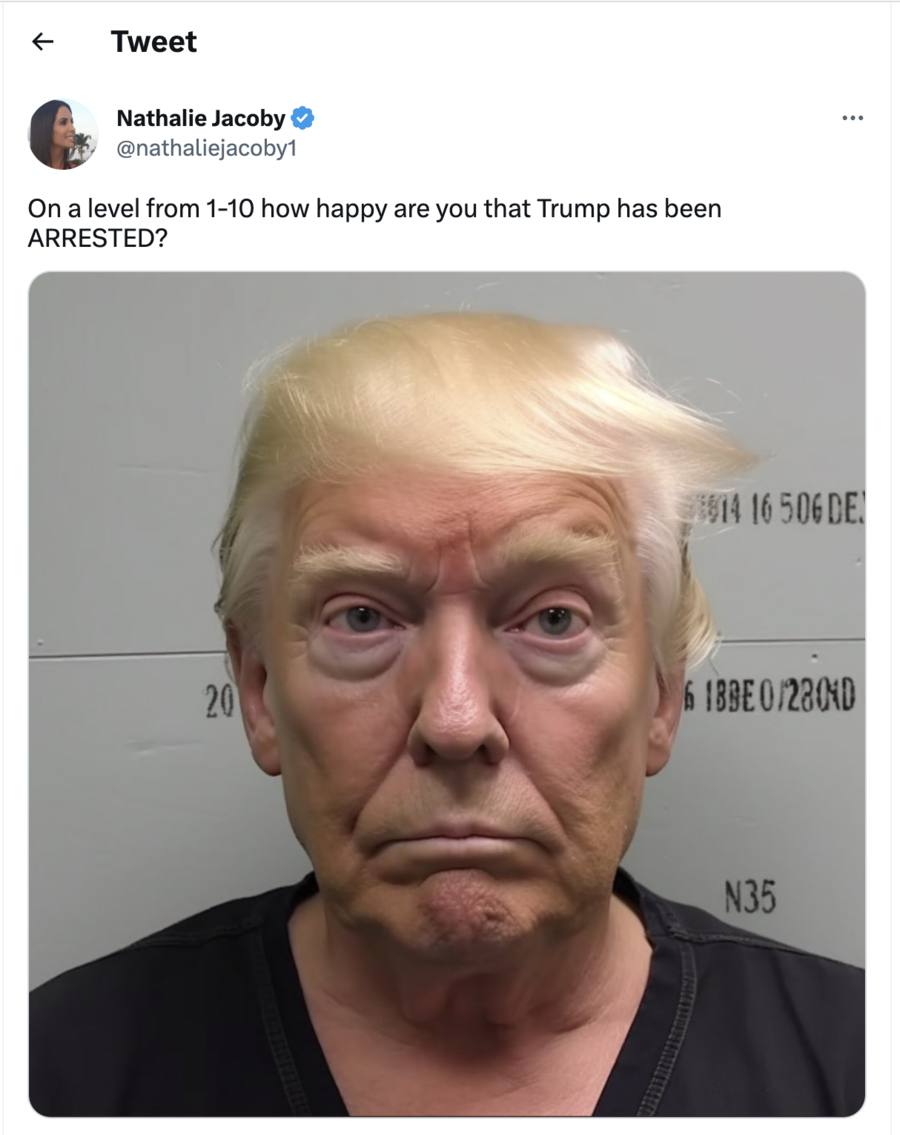 (Source: Twitter screenshot taken on Wed Apr 5 14:55:52 2023 UTC)
The artificial generated photo purportedly of former President Trump has him in a black top with an assortment of letters and numbers in the background. Usually, if there are numbers and letters behind a person having their mug shot taken, it is a height measure to signify how tall the person is. Scrambled, nonsensical words are a common feature of AI images at this point in the technology's development.
Although the post does not label the photo as Donald Trump, the topic of the post, the timing of it and the setting all leave the clear implication that it's a mug shot of the former president. It is not.
No credible outlet has published a police mugshot of Trump. Even if a mugshot had been taken, New York law prevents police and courts from releasing one without permission of the defendant or a legitimate police purpose, such as hunting for a little-known fugitive.
According to The Associated Press, once Trump arrived at the Manhattan courthouse, he was fingerprinted and processed. There is no mention of a mug shot being taken in the many reports published about his arraignment, nor in the AP report:
Wearing his signature dark suit and red tie, Trump turned and waved to crowds outside the building before heading inside to be fingerprinted and processed.
CBS News wrote an article with the explicit headline, "Trump did not have a mug shot taken during his arrest."
We have reached out to the Manhattan district attorney's office for a comment. We will update this article when we receive a response.