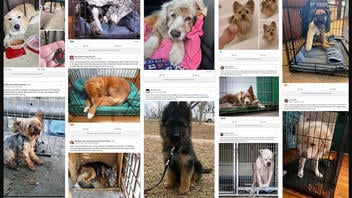 Was a dog picked up on the road in some town and is she "really depressed and not eating," and will sharing the post help to locate the owner of this "sweet girl"? No, that's not true: This found dog post is one of many narratives that are posted in local Facebook groups as part of a real estate scam scheme. The role of the initial post -- in this case a found dog -- is to encourage people in a local community to share the post to friends nearby. Then, hours or days later, the post will be edited to become a real estate ad that is targeted to that same local community. Lead Stories found many versions of this post with identical wording naming different locations and featuring photos of several different dogs. Lead Stories also identified rent-to-own real estate ads with this found-dog narrative in the post's edit history.
One example of this post was published into the Ontario, Canada-based Facebook group, "Hamilton/Burlington/Stoney Creek buy and sell" by the Facebook page "Mary Stewart" on March 29, 2023. It opened:
Hello, I haven't found the owner of this sweet girl we picked up on the road in Hamilton. She's really depressed and she's not eating. We took her to the vet she's not chipped. Please Bump this post and help me fine the owner
This is what the post looked like on Facebook at the time of writing: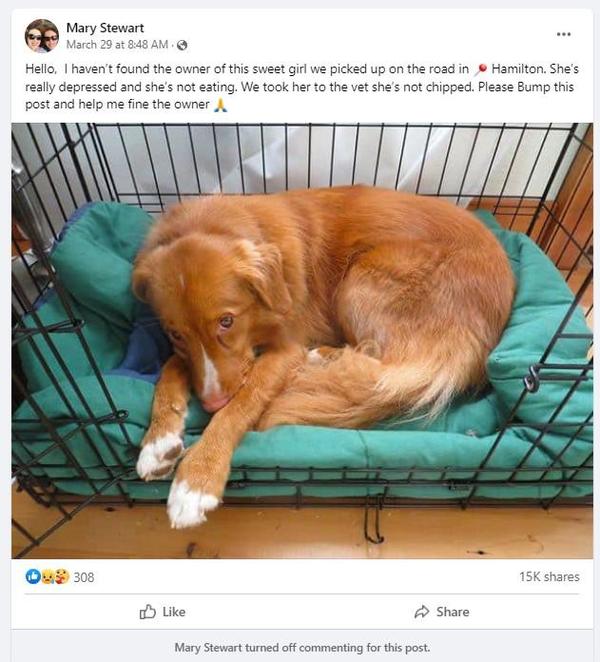 (Source: Facebook screenshot taken on Wed Apr 5 14:51:07 2023 UTC)
One of the first clues that this post is part of this real estate scam and not a real post about a found dog can be seen in the lowermost margin of the post above. Mary Stewart turned off the commenting for this post. People truly trying to find a dog's owner would leave the commenting open so there could be a discussion, and so people who may know the dog could be alerted through what Facebook calls "tagging". Turning off the commenting also prevents people from warning others that this is a scam.
The second clue to the dishonest nature of this post is that "Mary Stewart" is not a personal profile and had no activity in this group prior to making this post. The page Mary Stewart was created on the same day the post was made -- March 29, 2023. Commenting on the page overall has also been limited, although two people have left reviews saying it's a scammer. Lead Stories discovered another page profile, created on March 12, 2023, and named "Julie Kelley," which was using the same profile image and posting the same found-dog narrative -- but with a photo of a different dog. The caption even contains the same, "help me fine the owner" typo.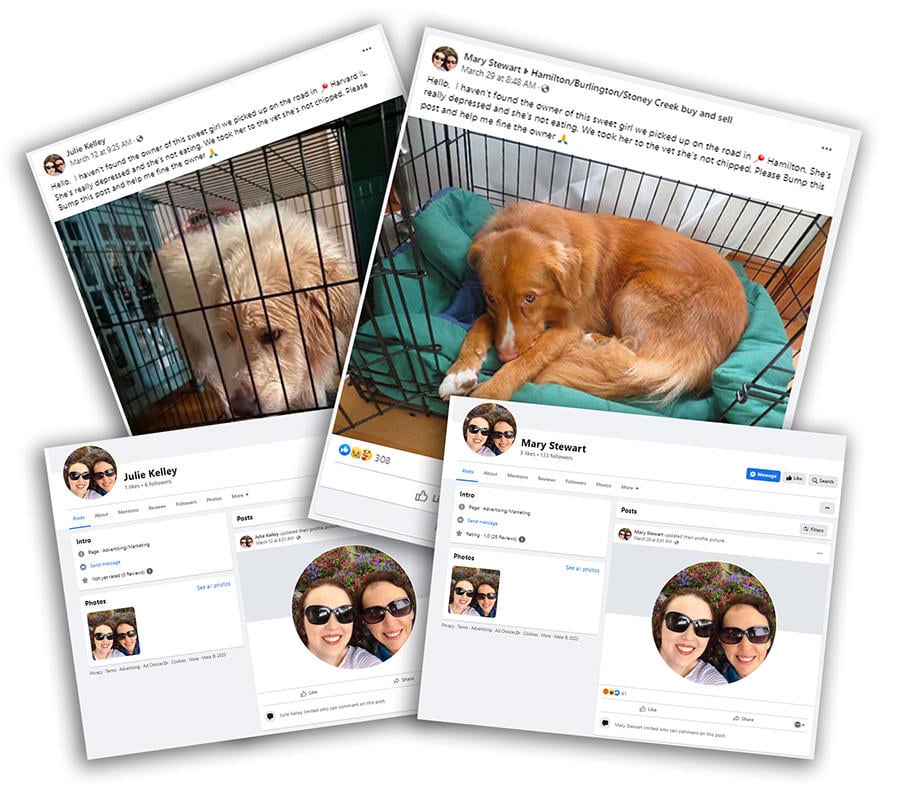 (Source: Lead Stories composite image with Facebook screenshots taken on Wed Apr 5 14:51:07 2023 UTC)
Lead Stories used phrases from the post while omitting the name of the town to conduct a Facebook search. We found posts with photos of 12 different dogs (below), and each of these versions featured multiple postings in local Facebook groups with the names of different towns substituted for the location where the dog was purportedly found.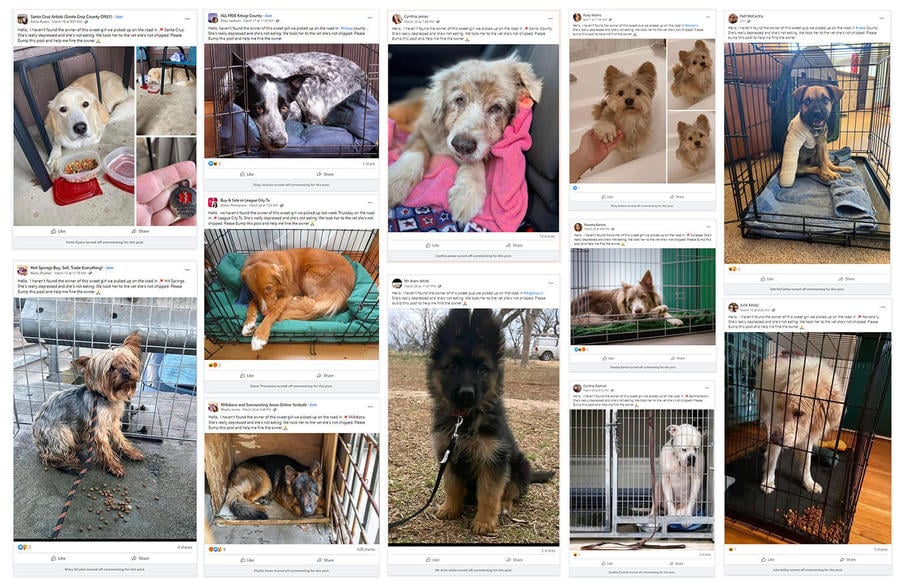 (Source: Lead Stories composite image with Facebook screenshots taken on Wed Apr 5 14:51:07 2023 UTC)
Search results for the phrase, "She's really depressed and she's not eating" also returned several too-good-to-be-true "rent-to-own" real estate advertisements with interior and exterior photos of homes. One example is the post (below left) which is currently captioned:
My Grandparents are Urgently looking for a family that can occupy their Vacant Home before they move to their Retirement Home.The house has a garden and is pet friendly for only $540 per month RENT TO OWN! 3-beds, 2-baths, 1,510sqft. Ready for move in

Find more details here

https://lowincomehomes48.godaddysites.com/

I will be notified and I will contact you to set up an appointment

#BOOMchallenge
A Facebook user can view the post's edit history by clicking on the menu in the top right corner of the post. The edit history (below right) shows that originally the post featured the found dog caption and was edited after amassing many shares.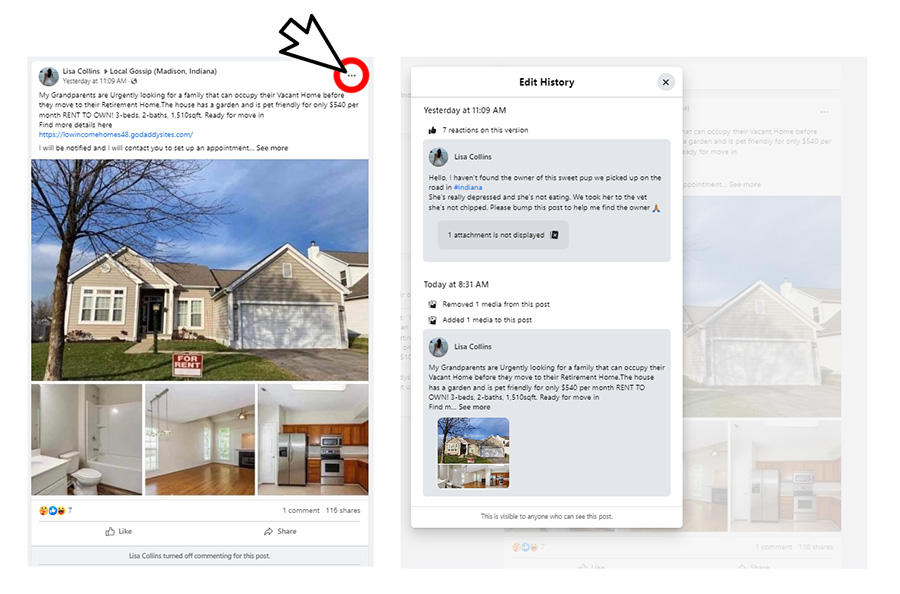 (Source: Lead Stories composite image with Facebook screenshots taken on Wed Apr 5 14:51:07 2023 UTC)
Found dogs are not the only false narrative employed by this network. Lead Stories has debunked a wide variety of posts designed to inspire people to share in their community, these include a missing autistic boy, a woman left for dead on the side of the road, warnings of men shadowing women in department stores, and a man who was photographed stealing catalytic converters.
Commonly, such posts use links that lead to landing pages with disclaimers or false promises and contact information requests that can be used to gather personal data, including financial information, from people who are lured in.
(Editors' Note: Facebook is a client of Lead Stories, which is a third-party fact checker for the social media platform. On our About page, you will find the following information:
Since February 2019 we are actively part of Facebook's partnership with third party fact checkers. Under the terms of this partnership we get access to listings of content that has been flagged as potentially false by Facebook's systems or its users and we can decide independently if we want to fact check it or not. In addition to this we can enter our fact checks into a tool provided by Facebook and Facebook then uses our data to help slow down the spread of false information on its platform. Facebook pays us to perform this service for them but they have no say or influence over what we fact check or what our conclusions are, nor do they want to.)